2010 Italian Dressage Championships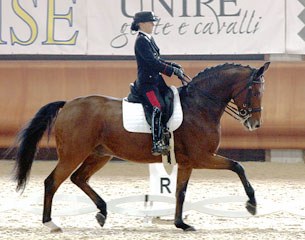 Kimberly Fergola, Chiara Biliotti, Maddalena Zambaiti and Valentina Truppa were the grand champions at the 2010 Italian Dressage Championships hosted during the 2010 CDI La Mandria in Italy on 15 - 17 October 2010. The Italian Championships are doublefold though. There are champions on a technical level as well as freestyle champions.
Valentina Truppa left no doubt who the highest scoring Italian Grand Prix rider is. Aboard Eremo del Castegno (by Rohdiamant) and Chablis (by Castro) she won all four big tour classes. With her second ride Chablis, a 13-year old Danish warmblood gelding, Truppa claimed the technical and freestyle championship with top scores. The disappointment for not going to the 2010 World Equestrian Games with Eremo was virtually wiped off the table when Valentina won the Grand Prix with 73.319%. Ester Soldi and Harmonia twice claimed the silver in the championship. Silvia Benzan won bronze in the technical Grand Prix championship.
Big absentees at the Italian championships were WEG riders Piergluigi Sangiorgi (on Flourian) and Susanna Bordone (on Dark Surprise), as well as Silvia Rizzo (on Donnerbube II).
Zambaiti, Biliotti, Fergola, Marconi Dominate Youth Riders Classes
At young riders level three riders battled for the medals: Maddalena Zambaiti, Chiara Biliotti and Riccardo Sanavio. Aboard her 15-year old Hanoverian mare What's Up (by Wittinger), Biliotti won the team test (64,316%) and placed third in the individual test (65,632%). Her scores were so close to those of the two higher ranked riders that Biliotti, the 2008 Italian JR Freestyle champion, ended up with the highest total in the technical championship.
Maddalena Zambaita and her Hanoverian mare Wild Wadi (by Weltruhm x Aderlass) won the freestyle championship with 71.02% ahead of Biliotti and Marialessia Pancani on Lorentin II (61.50%).
Kimberly Fergola and the Dutch warmblood Utah de la Fazenda rose to the top in the junior riders division. With a victory in the team test (67,355%) and a second place in the individual (68.643%), she totalled 135.998 points to claim the gold medal. Francesca Rapazzoli and Classiker were good for silver (134.779%) while the bronze went to Claudia Brambilla on Luce del Sol (129.281%).
The junior riders' freestyle championship take place at the Youth Riders Dressage Championships in Pontedera, Italy, 19 - 21 November 2010.
At FEI pony level Carlotta Marconi won the Pony Freestyle Championship aboard her 9-year old German Reitpony mare Diva's Girl. Marconi added her second national title to her list of achievements as in July she already became Technical Pony Champion with her first ride Ferdi Folklore's Puccini at the national championships in Busto Arsizi.
Related Links?
Scores 2010 CDI La Mandria
Truppa, Sanavio, Biliotti, Marconi Win 2009 Italian Dressage Championship
Campanella Wins 2008 Italian Freestyle Dressage Championships