2010 World Equestrian Games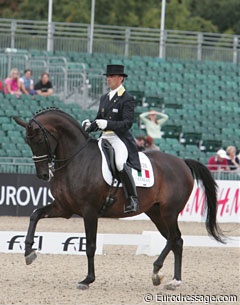 While most nations have already announced their dressage WEG team selection weeks ago, Italy continues to struggle with the official nomination of its dressage riders. On 7 September, the Italian Equestrian Federation (FISE) announced that no team but two individuals would compete in Kentucky, but a few hours later they retracted that and removed the list from their website.
Initially Italy would send a team to the World Equestrian Games but on 7 September FISE surprisingly announced that only two individuals would go: Susanna Bordone (Dark Surprise) and Pierluigi Sangiorgi (Flourian). Shocking absentee is Italy's best performing rider of the moment, Valentina Truppa with Eremo del Castegno (by Rohdiamant).
The Italian Equestrian Federation made a few changes this year to streamline their organisation of dressage. Laura Conz was appointed chef d'equipe and in May the British David Holmes was hired as dressage director. Remarkably  Holmes was listed as chef d'equipe in the FISE press release of 7 September.
First the WEG qualification criterium was scoring a 64% twice with an O-judge, but  then in June the dressage collegium considered it necessary to suddenly lift that selection score to 66%, which forced several riders to compete at extra shows throughout Europe.
O-judge Katrina Wüst was hired to give a few clinics to the Italian high performance riders but some of the team candidates never got the opportunity to ride for Wüst and get an evaluation of their test riding. An official veterinarian was supposed to inspect the short listed team horses prior to departure to Kentucky, but several of the WEG candidates never saw this vet.
When Eurodressage contacted David Holmes to ask about team selection, he replied that the announcement would be made "shortly."
It will be interesting to see if Italy will be sending a complete team to Lexington and whether team anchor Valentina Truppa will be on it.  Valentina's father Enzo Truppa could not provide Eurodressage any info on team selection at this time.
Photo (c) Astrid Appels
Related Links
Italian Equestrian Federation Elects New Board and Hires David Holmes
Laura Conz Appointed Italian Dressage Chef d'Equipe