Italian Dressage News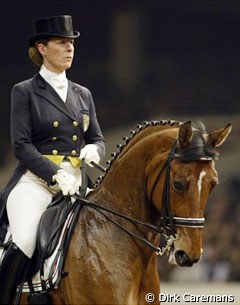 The Italian Equestrian Federation (FISE) has appointed Laura Conz as Italian dressage chef d'equipe. Conz has not received a fixed term contract but will be assisting the Italian Grand Prix riders leading up to the 2010 World Equestrian Games in Lexington, KY, USA.
"I will do my best to work closely with the riders and the rest of the team to ensure that we can achieve the best results possible," Conz told Eurodressage.
The 47-year old Conz is a highly accomplished Italian Grand Prix rider. In 2001 she was national Dressage Champion and the last ten years she has trained and competed Le Havre, Etalon, Golden Toy and Fibrin at Grand Prix level. In 2004 she was appointed technical delegate of the Italian Dressage Team and she currently coaches Italy's most successful young rider, Ricardo Sanavio.
FISE recently hired David Holmes as new Sport Director but the native Brit has also become new head of the FISE Dressage Department. 
"We are aiming to put  strong team support in place such as technical advisors, vets, physiotherapists and sport psychologists to support our riders as much as we can," Conz explained. "We plan also to do some General Meetings to improve team mentality and get the team members to work together in a very positive atmosphere."
Several Italian Grand Prix riders are aiming to qualify for the 2010 World Equestrian Games. The hopeful riders have to score twice above 64% with an O-judge. For team selection, the Italian dressage committee will take results into account achieved at CDI's as of 1 January 2010.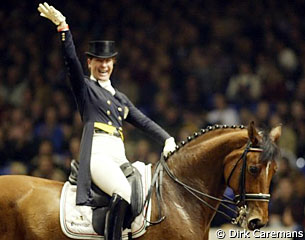 "Everybody has to be focused and convinced to do the best we can and we want to be good," Conz stated. "We want to send good combinations to the WEG."
Only a limited amount of money is made available by FISE to support its dressage riders (in comparison to the favoured show jumping discipline).
"Funds are tight and everyone is aware of this, especially in this WEG year. However, we aim to invest as much funding as possible in preparing the potential team riders for WEG," said Conz. 
As new Italian chef d'equipe Conz has revealed that her personal goal is to qualify a team for the 2010 Olympic Games in London.
Photos © Dirk Caremans
Related Links
Beatriz Ferrer-Salat Wins 2002 World Cup Qualifier at San Patrignano
Ricardo Sanavio to Represent Italy at Young Rider World Cup Finals