2010 World Championships for Young Dressage Horses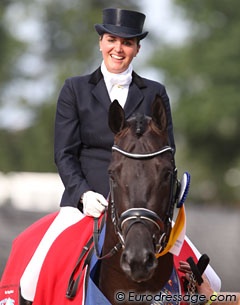 The black non-licensed KWPN stallion Astrix, whose name etymologically means little star, became the big winner of the 5-year old division at the 2010 World Championships for Young Dressage Horses in Verden, on Saturday afternoon 7 August 2010.
Under last year's gold medal winning rider Emmelie Scholtens, the black Dutch warmblood (by Obelisk x Olivi) pushed for power in his age division with a very expressive and active round in which he carried himself well and was uphill at all times.
Little Star, Big Winner
Bred by Eef Ten Bosch, Astrix is by Obelisk (by Matador/T) out of Upshot, an Olivi x Fruhling dam. The breeder sold the black colt as a 2,5 year because he stayed too small. Peter and Marijke Perlee saw a future in the tiny colt but had to deal with disease and slow growth. "He got sick and was totally not ready for the stallion licensing," Perlee told Dutch journalist Dirk Willem Rosie. The next year it still didn't work and could not go to the licensing.
The stallion proved to be talented for dressage and muscled up through dressage training. Under Marie Jose Hulsman he competed in the 2009 Pavo Cup Finals and finished 14th which was good enough to be invitied to the 2010 Dutch WCYH selection trials. Because Hulsman had to undergo surgery, Perlee asked Scholtens to ride Astrix in the trials. This is how a new combination came to be. 
With a 9.18 finals score Scholtens and Astrix beat Claudia Ruscher on the Belgian owned Hanoverian licensed stallion Lissaro van de Helle by a fraction of points.
Newcomer Ruscher Takes Two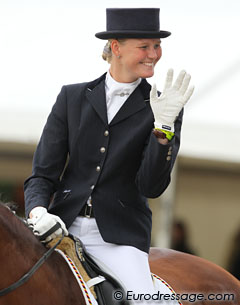 Lissaro (by Lissabon x Matcho AA) scored 9.08 to win silver medal. His walk and canter work were amongst the best of all fifteen finallists. Ruscher also landed a third place and bronze medal aboard Eugene Reesink and Antonius Schulze-Averdiek's Westfalian licensed stallion Schumacher (by Stedinger x Weltmeyer). The black stud impressed with his rhythmically engaged hindleg and his rideability. He scored 8.76.
The 28-year old Claudia Rüscher competed in the World Championships for the first time. Though she has become the double Bundeschampion with Lissaro and reserve champion with Schumacher she has never been outside Germany to compete and Verden was her first international event. Claudia rides the stallions and youngsters together with her sister Annette at her parents stallion Station Ruscher-Konermann in Greven, Germany. 
DJ One More Time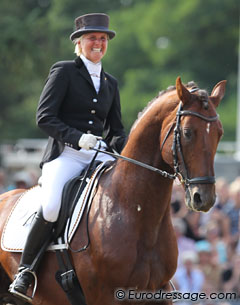 Finishing just outside the medals were Uta Gräf and the liver chestnut Rhinelander stallion Damon Jerome H (by Damon Hill x Guy Laroche), who is nicknamed "DJ". Owned by Prof. Dr. Hitschold, Damon Jerome H has three outstanding gaits and was presented in the most beautiful way by Uta Gräf. The uphill moving stallion was always light in the bridle but could have been a bit more sparkling and electric. In the prize giving ceremony the stallion showed what potential he really has in trot as he moved his hind legs with super activity underneath his body while lifting his front legs up in the sky. 
Gräf and her life partner, veterinarian Stefan Schneider, manage the equestrian facility and vet practice Gut Rothenkircher Hof in Kircheimbolanden, Germany. All horses in Gräf's barn have a stall of 3 x 6 m with a conjoined paddock they can walk in on their own choice. There is no indoor school so all horses are trained outside year round. They are regularly hacked through the hills. While Gräf is focused on dressage, her partner is a big fan of Doma Vaquera, the Spanish style of riding to conduct daily duties on a working cattle ranch. 
Best Mare, Grevens Sa Va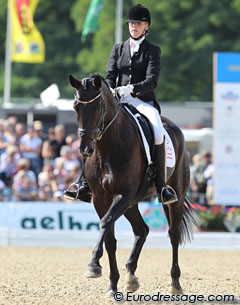 The best performing mare in the 5-year old division at the World Championships was the Danish warmblood Grevens Sa Va, presented by 22-year old former Danish team young rider Camilla Ahlers Pedersen. Sa Va's  trot work is active, engaged and the nose was always nicely at the vertical. The canter work was engaged with a lot of expression in the medium canter. The mare is a bit stiff in the legs and is not the elastic super star, but she was well presented and scored points for her high class walk.
The judges liked her lightfootedness and her correctly functioning trot (8.8), The walk had a clear rhythm and good relaxation with much swing in the body (9.0). The canter had a clear beat but could have been more uphill (8.4). With another 8.2 for submission and 8.7 for general impression, the mare averaged 8.62 to finish fifth. 
Grevens Sa Va (by Soprano x Romancier) is bred by Svend Poulsen and Dorrit Greve from Egtved, Denmark, and comes out of one of Denmark's most successful dam lines, elite mare Grevens Rubina. Sa Va's dam Rubina also produced American Tuny Page's upcoming Grand Prix horse Ice Cup (by Future Cup) and last year Grevens La Cru (by Lauries Crusador xx) got the bronze medal at the Danish Warmblood Elite Mare Show. Grevens Roulette (by Rush Hour) was the Filly of the Year in 2007.
Grevens Sa Va is in foal to Rockefeller (by Rubin Royal x Grundstein II) and last year had a Don Schufro colt. The legacy continues..
Danish Mares Impress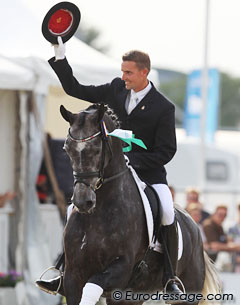 There was more girl power in the 5-year old finals. Pernille Rugaard's grey Danish warmblood mare Torveslettens Stamina finished sixth under Andreas Helgstrand. The grey dame has unlimited power and potential in trot. Her cadence and suspension are phenomenal. Unfortunately Stamina got a little distracted in the walk so the rhythm could have been better. In canter she got a bit croupe high and got crooked in the final simple change, but the ground cover and engagement were very good. 
The judges loved the trot (who wouldn't!) and scored it 9.2. Her walk, which was slightly tense, got 7.2 and the canter earned her 8.9. With 8.1 for submission and 8.8 for general impression she ended up with 8.54 in total.
Torveslettens Stamina was flushed last year and had two foals in 2010 from recipient mares. Two colts by Furstenball (by Furst Heinrich x Donnerhall x Classiker) were foaled. One, Torveslettens Fifty Fifty (click link for video), has proven to be a stunning mover and sold for 50% to Helgstrand during the World Championship week. The other is called Torveslettens Fort Knox. 
More Text and Photos (36 pictures!!) in our photo gallery below!
(Click "1 of 6" to scroll all gallery pages below the big image)
Text and Photos © Astrid Appels
Back to the 2010 WCYH index