2010 World Equestrian Games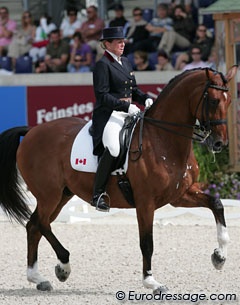 Dressage Canada announced the combinations that have been named to the Canadian Dressage Team for the 2010 World Equestrian Games in Lexington, KY, September 27 - October 1, 2010.
The Canadian team, trained by American Olympian Robert Dover, was announced on Friday 6 August 2010 but no reserves were listed.
Dover stated that, "Equine Canada will be naming its reserves on Monday and all 6 combinations will have their final training camp starting September 15th at the farm of Kathy Priest, near the Kentucky Horse Park.
I congratulate all the riders as well as their horse owners and supporters and look forward to a very successful WEG!"
The Canadian WEG team includes:
Ashley Holzer of Toronto, ON and Pop Art, a 13-year-old Dutch Warmblood gelding owned by Rusty Holzer and Moreen Nicoll, earned an average qualifying score of 72.329%
Belinda Trussell of Newmarket, ON and Anton, a 10-year-old German-bred gelding owned by Robyn Eames, earned an average qualifying score of 69.595%. 
Bonny Bonnello of Calgary AB, and Pikardi, a 13-year-old Canadian Warmblood gelding co-owned by Bonnello and Jean Bell, earned an average qualifying score of 66.932%.
Victoria Winter of Toronto, ON, and Proton, a 16-year-old Baden-Wurttemburger gelding owned by Cindy Ishoy, earned an average qualifying score of 66.745%.
Photo © Astrid Appels
Back to the 2010 WEG index