Greatest Oldies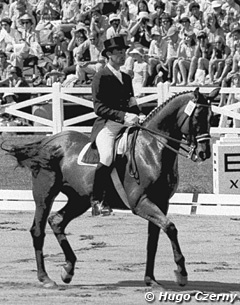 Bred for jumping, tried as an eventer and finally a world class dressage horse for many years: The story of Mehmed is one of a horse which had to fight hard against prejudice in his career and still became a world beater. All this because he had been in the capable hands of a genius, the late Dr. Reiner Klimke.
Mehmed was born on 23 May 1961 and was bred by Heinrich Pape in Wachtern near Stade, Germany. He was by the rather old fashioned looking Hanoverian Ferdinand, who stood at the Celle State Stud and was also the sire of the well known jumping horses Ferdl of Alwin Schockemöhle and Hugo Simon's Flipper. Mehmed's dam Altliebe by Altried had jumping blood, too, so a career in this popular discipline seemed quite logical for the bay colt with its thin irregular blaze.
The colt grew into a quite harmonious looking gelding of about 170 cm height. With his pedigree and far from being a natural beauty he was tried as an eventing horse first. Though he was hard and fast enough for this strenuous sport he soon proved to be too cowardice over fences, a serious disadvantage in this discipline. Ruth Klimke, wife to Dr. Reiner Klimke, recalls: "Even later Mehmed was a coward over low fences at home." So in 1967 Dr. Reiner Klimke, a former European champion and Olympian in three- day- eventing, scouted Mehmed and bought him as a dressage hope. "The big lines of the horse's body were to my husband proof of Mehmed's quality big movements. This fact convinced him to buy the gelding."
Dr. Reiner Klimke, a true legend of this sport, was famous for many reasons. Firstly, he was able to train quite normal horses to become outstanding and competitive. From all his horses Mehmed was probably the least talented one at the beginning, though "he owned a unique cadence in his trot and walk." Moreover Mehmed was a very sensitive horse.
In their first year together Mehmed and Klimke weren't able to win at L-level and few were impressed by the Olympic champion's new acquisition. But only a year later in 1968 Mehmed won 6 dressage competitions at L-level and the impulsion he showed in his gaits was remarkable.
Dr. Reiner Klimke was a very busy man, working as a lawyer and notary in his hometown of Münster, and his wife Ruth was usually responsible for all the important elementary work of his horses. Ruth, a skilled Grand Prix rider herself, also helped with the bay Hanoverian, though "I have to admit Mehmed wasn't "my" horse. He was very difficult to sit, but his canter was dreamlike."
Over the next three years Mehmed became the prime example of Klimke's mastership as thanks to his patient and systematical training he trained the average looking horse into a well muscled athlete. The Klimkes were more and more convinced they had a dignified successor for their great Dux, who was retired in 1969, but many others doubted it.
Beautiful and noble horses of great elegance, such as Mariano, Pepel, Piaff, Van Eick, Lenard, Immanuel or Liostro competed successfully then and Mehmed couldn't attract very much attention compared to these.
But after three years of consistent training Dr. Reiner Klimke showed Mehmed at Grand Prix level and was able to win the renowned Hamburg dressage derby in 1970. A first success and the first time the horse came into the public spotlight as well as face the first criticism.
1971 was a year of change for German dressage. Successful horses like Remus, Dux and Mariano were retired and the team was in urgent need of suitable replacements to defend its position against the strong Soviet Union, which had beaten the German team in the World Championships the year before. 1971 became the year of Mehmed's break through in the sport, though he remained the centre of criticism in the equestrian public.
Two years after Dux' retirement Dr. Klimke was victorious again, winning the Hamburg Derby as well as the Grand Prix at Rotterdam, Donaueschingen and Münster. Mehmed's nomination for the German team in that year of upheaval was secured. Together with Liselott Linsenhoff's experienced Swedish stallion Piaff, the title defender, and Josef Neckermann's most beautiful Hanoverian Van Eick he competed at the European championships in Wolfsburg.
There his championship debut turned out well and Mehmed won team gold and placed 5th individually. As a consequence he joined the German team for the 1972 Olympic Games, which was selected in November 1971 and consisted of six pairs. Klimke's fourth Olympics seemed within reach, but the criticism about Mehmed's questionable beauty and elegance unfortunately continued.
In 1972 there were three Olympic trials in Germany and Mehmed took part in the ones of Wiesbaden and Aachen. Both times he placed 3rd behind a new star on the scene, Liostro.
This impressive Hanoverian chestnut by Der Löwe xx, trained by the young Herbert Rehbein under "Bubi" Günther's supervision, was presented by Rehbein's pupil Karin Schlüter. She had already won the 1970 women's division of the German championships.
Liostro was a much more shining horse than Mehmed, but less reliable. Moreover Schlüter missed Klimke's international experience, but of course her team nomination, though heavily discussed in retrospect, was well earned.
So in the end Mehmed was only named the reserve horse for the Olympics on home turf in Munich. It remains a theory if the German team, which won silver behind the Soviet Union, were to have won gold with Mehmed because Liostro wasn't able to perform to his utmost.
Only a year after the disappointment of having missed Olympic nomination Mehmed began one of his most successful seasons. He won the two most important German indoor Grand Prix shows then, Berlin and Dortmund. This time there was no doubt the Hanoverian with great impulsion and balance would make it on the team again. Mehmed, the horse which first looked so little like a typical dressage talent, had matured so much he was able to become a double European champion at Aachen in 1973. He won with 28 points ahead of Olympic silver medallist Pepel and the Russian thoroughbred Tarif, while Olympic champion Piaff finished in 4th place.
Mehmed's victory was the first great triumph of his training. It was the proof how valuable classical dressage training is and how it transforms every horse in a positive way. Though the judges now honour Klimke's masterpiece, each of Mehmed's performances remains an issue of critique Was he a real dressage horse? It was the fundamental question whether to favour talent and beauty or the product of skillful training. To people who saw dressage training as an end in itself and not as a way to reach personal glory Mehmed was the best European champion this sport could have. Mehmed led the 1973 overall rankings world wide and continued his string of success as a 13-year old in 1974, winning Berlin, Dortmund and Wiesbaden.
Though the World Championships might have seemed a clear matter to Klimke it wasn't.
Piaff was on very good form again as was the evergreen Pepel. Sweden's Ulla Hakansson and her ex- jumper Ajax or Granat, the rising talent of Christine Stückelberger,were all considered favourites. And not to forget Harry Boldt's new horse, the black Westfalian Golo, who was another example what classical dressage training can do, in this case with a horse with bad conformation.
But in front of the beautiful Christiansborg castle in Copenhagen Mehmed's precision and impulsion were once again superior and helped to compensate his piaffe-passage tour, which never was of the same brilliance. He won the Grand Prix, but only 8 points ahead of the powerful Granat, also not a born dressage horse, but equally well trained. Many thought this Holsteiner might win the individual title because of his better piaffe and passage, but Mehmed surprisingly won the individual title. Piaff came almost 60 points behind him as silver medallist. For the Klimkes this triumph was the most meaningful in Mehmed's whole career. "For an athlete the Olympic Games are the most important event. But for my husband and me it had been these World Championships since we weren't the favourites and won," Ruth admitted.
Soon after Copenhagen Mehmed lost the lead to Granat at Aachen but managed to perform successfully in 1975. He won the Hamburg derby again, as well as Munich, Rotterdam and Münster and became German champion in Berlin. But unfortunately the bay wasn't able to participate in the 1975 European championships in Kiev to defend his title as Klimke was tied up in his lawyer's practise. Despite his absence, Mehmed was on the long-list for the 1976 Olympic Games.
The Olympic season of 1976 got on its way and Mehmed found his usual form again.
At the Olympic trial at Leverkusen he came 2nd in the Grand Prix and the Special behind another Hanoverian, Woyzeck, who had won the individual silver in Kiev. Mehmed placed in the top three at Aachen, too and this time his Olympic nomination was a formality.
On 27 June 1976 he was selected together with Woyzeck and the Trakehner Ultimo, ridden by young Gabriela Grillo. The horses flew to Montréal without incident and were transported from the airport to the idyllic village of Bromont, where the equestrian disciplines were located.
There was no doubt that Granat and Woyzeck would fight for gold and silver. Mehmed's flat passage and his average piaffe left him behind, though he was a serious contender for the bronze, which his rider had already earned 8 years earlier at the Mexico City Games.
In the Grand Prix he displayed his strong points as well as the weak ones and finished in the expected third position. His high quality extended trot, the best of all horses at Bromont, as well as his complete precision and the ideal frame, in which he performed the program, were the highlights of his test. The reliable horse he always used to be Mehmed performed similarly in the Special to win the individual bronze medal. Four judges placed him 3rd, while Gustav Nyblaeus, a highly regarded Swedish judge, put him even 2nd place.
It was the second time Klimke, a true amateur in a discipline on the verge of becoming a professional sport,  traveled home with an Olympic gold and bronze medal on a self- trained horse. But this time with a kind of horse many never considered to become an Olympian one day. It was a great feat of Dr. Reiner Klimke to school Mehmed against the odds and claim a fixed spot at the top on the international scene for years.
In 1977 the 16-year old Mehmed had nothing left to prove. After a career that spanned over a decade he was retired at the CHIO Aachen. A horse, nor bred for the job he did, nor extraordinary talented or shining at first, had managed to become the most money-making dressage horse in Germany so far. Mehmed had won about 90, 000 euro in prize money at 101 competitions, of which 93 were at S- level and 34 at Grand Prix. He had earned an unbelievably 208 placings at S-level in total. He was one of the most consistent performers German dressage ever had.
After his retirement the Hanoverian stayed in his master's stable in Münster, where he was taken care of by Klimke's longtime groom Claudia Rosner, who loved him dearly.
Mehmed was lucky to enjoy almost 10 years of retirement. In 1986 he had to be put down at the age of 25 due to a brain tumour in the stable he had moved to 22 years before.
Mehmed will forever remain the prime of how classical dressage training which can shape and improve every horse and thereby transform even a less able horse into a World Champion. Mehmed was a testimony to the unique talent of his rider, who was a rare genius and personality and who made so much of all his horses.
To find out more about Mehmed's international performances read:
Dr. Reiner Klimke, Albert Stecken, Helmut Müller, München 1972- Olympische Reiterspiele, Münster 1972 (in German, out of print, available second hand)
Reiter Revue (publisher), Kavalkade- Olympische Reiterspiele Montréal 1976, Mönchengladbach 1976 (in German, out of print, available second hand)
Photos © Hugo Czerny and Werner Ernst - No Reproduction Allowed!!
The author likes to thank Mrs. Ruth Klimke for her kind support in writing this article.
Related Links 
History of the European Dressage Championships
Greatest Oldies: Limandus, the Happy Athlete
Greatest Oldies: Dutch Courage, a Pioneer for British Dressage
Greatest Oldies: Dutch Gold, Like Father Like Son
Greatest Oldies: Dr. Reiner Klimke's Ahlerich
Greatest Oldies: Nicole Uphoff's Rembrandt: A Living Work of Art
Greatest Oldies: Absent, An Akhal Teke on the Olympic Stage
Greatest Oldies: Dante, One in a Century
Greatest Oldies: Dynasty, A Horse Who Lived Up to His Name 
Greatest Oldies: Marzog, King of Suppleness