2010 VSN Trophy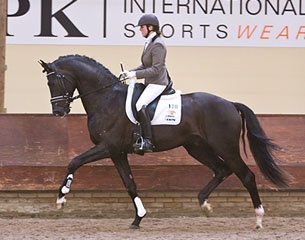 The 3-year old black beauty Bretton Woods became the winner of the 2010 VSN Trophy Finals at the Dutch Equestrian Federation's equestrian centre in Ermelo, The Netherlands, on January 10, 2009.
The VSN Trophy is a circuit for 3-year old Dutch bred horses organized by the United Sport Horse Dealers of Holland (VSN). There were six selection trials in 2009 held in Luttenberg, Zevenaar, Roosendaal, Assen, Weert and Houten. For the finals the rising 4-year olds enter the arena in group of two or three and are assessed on their gaits, rideability and general impression. The four best scoring horses are ridden by a guest judge rider. This year it was Stephanie Peters.
Bretton Woods is bred by Mrs. Jansen-Blanken from Joppe, The Netherlands, and owned by Nico Witte and Anton van Limpt. This stallion, who didn't make it past the second phase of the KWPN stallion selection, is by Johnson out of the preferent and elite mare Annabel (by De Niro). Guest judge rider scored the stallion a 10 for rideability and potential and his steady rider Scholtens claimed "he's the best young horse I've ever sat on."
The runner up in the 2010 VSN Trophy finals was Geert-Jan Raateland aboard Tim Coomans' dark bay mare TC Beau Deax (by Ravel). The mare stood out in walk and canter but lacked self carriage in trot and still leaned quite on the bit. Former young rider Raateland also finished third with Bolsan B (by Sandro Hit x Gribaldi). The gorgeous young stallion lacked some balance and was sometimes croup high.
Belgian rider Laurens Vanderbeeke finished fourth with dark bay stallion Bravour, a Painted Black x Chronos x Linards offspring, which still needs to do the stallion performance test with the KWPN.
Photo courtesy: Sjoert.com
Results
Pl.
Horse

Walk

Trot

Canter

Ride-ability

Overall
Impression

Subtotal

Guest Judge
Rider

Final

Score

 
 
 
 
 
 
 
 
 
 
1
BRETTON WOODS
(by Johnson)

8,0

9,5

9,5

9,0

9,5

45,5

20,0

65,5

2
TC BEAU DEUX
(by Ravel)

8,5

8,5

9,0

9,0

9,0

44,0

16,0

60,0

3
BOLSAN B 
(by Sandro Hit)

7,5

8,0

9,0

8,5

8,5

41,5

17,0

58,5

4
BRAVOUR
(by Painted Black)

9,0

9,0

7,5

8,5

8,0

42,0

16,0

58,0

5
BEFORE YOU KNOW
(by Scandic)

8,5

8,0

8,0

8,0

8,5

41,0

 

41,0

6
BONITO
(by Uphill)

8,0

8,0

8,5

8,0

8,0

40,5

 

40,5

7
BORENCIO 
(by Florencio)

7,5

8,5

8,0

8,0

8,0

40,0

 

40,0

 
BOTICELLI
(by Vivaldi)

7,5

8,5

8,0

8,0

8,0

40,0

 

40,0

9
BOOGIE WOOGIE 
(by Du Moulin)

8,0

7,5

8,0

8,0

8,0

39,5

 

39,5

10
BELLESTRADE
(by Olivi)

7,5

8,0

7,5

8,0

8,0

39,0

 

39,0

 
BARRYCHELLO
(by San Remo)

8,0

8,0

8,0

7,5

7,5

39,0

 

39,0

12
B.B. KING
(by Santano)

7,5

8,0

8,0

7,0

8,0

38,5

 

38,5

 
BARICELLO
(by Sandreo)

8,0

7,0

8,0

8,0

7,5

38,5

 

38,5

14
BARRICHELLO
(by Universeel)

7,5

7,5

7,5

8,0

7,5

38,0

 

38,0

 
ARAGORN'S BOULAHROUZ
(by Dutch Dormello DDH)

7,5

7,5

8,0

7,5

7,5

38,0

 

38,0

 
BARON 
(by Samba Hit II)

7,0

8,0

7,5

8,0

7,5

38,0

 

38,0

 
TC BANDITH 
(by Samba Hit II)

8,5

7,5

7,0

7,5

7,5

38,0

 

38,0

18
PLEASURE'S BLITZ
(by Painted Black)

7,5

7,0

8,0

8,0

7,0

37,5

 

37,5

 
LEXUS
(by Licotus)

7,0

7,5

7,5

8,0

7,5

37,5

 

37,5

20
BOAZ
(by Don Romantic)

8,0

7,0

7,0

8,0

7,0

37,0

 

37,0

 
BON JOVI 
(by UB 40)

7,5

7,5

7,0

7,5

7,5

37,0

 

37,0

 
BARRANCAS RAVA 
(by Don Picardi)

8,5

7,0

7,0

7,0

7,5

37,0

 

37,0

 
BON JOVI
(by Florett As)

7,5

7,0

7,5

8,0

7,0

37,0

 

37,0

24
BIJOUX
(by Sandreo)

7,0

7,0

7,5

7,5

7,5

36,5

 

36,5

25
BEACH BOY 
(by Sorento)

6,5

8,0

7,0

7,0

7,5

36,0

 

36,0

 
BALLERINE 
(by Negro)

6,5

7,0

7,5

8,0

7,0

36,0

 

36,0

27
BRUËLL 
(by UB 40)

7,0

6,5

7,0

7,0

6,5

34,0

 

34,0

 
BLØF
(by Painted Black)

7,0

6,5

7,0

7,0

6,5

34,0

 

34,0

29
BERNARD 
(by Wilawander xx)

7,5

6,0

6,5

6,5

6,0

32,5

 

32,5

 
BARON 
(by Johnson)

6,0

6,0

7,0

7,0

6,5

32,5

 

32,5
Related Links
Thirty-Two Youngsters Qualified for 2010 VSN Trophy Finals
Annerijke Wins 2009 VSN Trophy
Zaragoza Wins 2008 VSN Trophy
Game Boy Wins 2004 VSN Trophy
VSN Trophy Winner Valley Sold to Belgium