Dutch Dressage News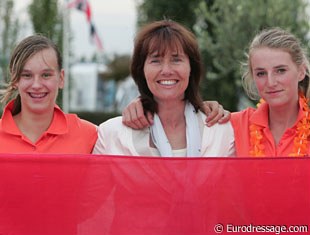 Christa Laarakkers has been replaced as Dutch pony chef d'equipe by Tineke Bartel. 58-year old Bartels is also chef d'equipe for the Dutch junior and young riders since 2006 and officially took over Laarakkers' position on 1 November 2009.
In March 2009 the Dutch Equestrian Federation (KNHS) announced its plans to reform the executive structure of dressage by relying more on the responsibility of the senior chef d'equipe, Sjef Janssen.
"The KNHS strives for a better communication and influx of youth riders to the senior categories by appointing less coaches for dressage. Now we only have Sjef Janssen and Tineke Bartels," the KNHS stated.
Laarakkers was appointed pony chef d'equipe in the summer of 2006. She fulfilled her job for three years. Bartels' contract will extend to Septemnber 2012.
Photo copyrighted: Astrid Appels/Eurodressage
Related Links
Laarakkers to Succeed De Kok as Dutch Pony Chef d'Equipe
Mieke de Kok, New Pony Chef d'Equipe
Tineke Bartels to Succeed Jan Peeters as Dutch Chef d'Equipe