2009 Pavo Cup Finals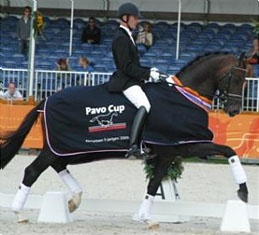 Theo Hanzon and the Dutch warmblood licensed stallion Zhivago won the 2009 Pavo Cup Finals for 5-year olds. The dark bay stallion by Krack C x Jazz freewheeled to the victory, winning the semi finals, the first round of the finals as well as the second round with guest judge riders testing the quality and potential of the horse.
Guest judge riders Stefan van Ingelgem and Sander Marijnissen were very enthusiastic about Zhivago and both scored him a 10 for potential. Zhivago is owned by De Radstake and Joop van Uytert.
The German bred mare So What (by Sandro Hit x Donnerhall) became the reserve champion under Margreet Prosman. Gerdine Maree and the KWPN licensed stallion Ziesto (by Lancet) finished third.
TC Athene Wins 4-year old 2009 Pavo Cup Finals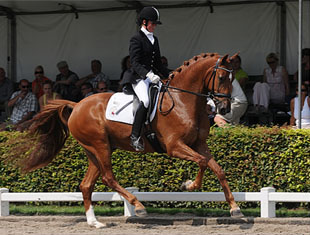 Jessica Buying and the Dutch warmblood gelding TC Athene have won the 2009 Pavo Cup Finals for 4-year olds. Buying took the lead after the second round (1st round of the finals) and the horse scored the highest marks under the two guest judge riders as well.
TC Athene is by United out of elite mare Orleans (by Jazz) and owned by Tim Coomans. The long legged chestnut gelding moved with much expression and guest judge riders Sander Marijnissen and Stefan van Ingelgem praised the horse's basic gaits and potential, even though the latter remarked that trainingwise there was still a lot of work to be done.
Kirsten Beckers and Broere Argentino (by Jazz x Ulft) became the Reserve champions. The guest judges liked the horses basic gaits and rideability. Mrs Van Driel-van Daal's stallion Angusch (by Special D x Jazz) finished third under Diederik van Silfhout.
Photo courtesy: Diana Bloemendal
Results
4-year olds - Results Finals - 1st Round 
Horse - Rider - Points Semi Finals - Points Finals 1st Rounds - Total so far
TC ATHENE - JESSICA BUYING - 84,5 - 85 - 169,5
BROERE ARGENTINO - KIRSTEN BECKERS - 86,5 - 81 - 167,5
AARON - JANA FREUND - 83,5 - 84 - 167,5
ANGUSCH - DIEDERICK VAN SILFHOUT - 83- 84 - 167
ANNE - YVONNE COPAL - 82 - 83 - 165
ANNE BETH - EMMELIE SCHOLTENS - 79,5 - 85 - 164,5
ASTON MARTIN NL - EMMELIE SCHOLTENS - 80,5 - 83 - 163,5
ANNERIJKE - JUDITH RIBBELS - 81,5 - 81 - 162,5
PRESIDENTS AVANTI - LAURENS VAN LIEREN - 79- 82- 161
APACHE - YVONNE COPAL - 79 - 79 - 158
ANDRODINE - MARGREET PROSMAN - 77,5 79- 156,5
ARAMIS - PATRICK VAN DER MEER - 80 - 76 - 156
ALOESCIA - CINDY VAN VUGT - 79,5 - 76 - 155,5
AZZURRO - PATRICK VAN DER MEER - 78 - 75 - 153
ASTRIX - MARIE-JOSÉ HULSMAN - 75 - 78 - 153
AUTHENTIC - NANDA SIEBEN - 75,5 - 77 - 152,5
ARTIEST - MARIEKE VAN DER PUTTEN - 76,5 - 76 - 152,5
ANIENI- K - MARGOT KOSTELIJK - 74,5 - 77 - 151,5
AVIGNON T. - KATIE ROBICHEAUX - 74,5 - 77 - 151,5
ARENDA VDP - JUDITH RIBBELS- 76 - 75 - 151
APOLLO - LEONTHIENE VERMULST - 75,5 - 75 - 150,5
ANDRETTI - MARJOLIJN HART - 73,5 - 77 - 150,5
PRESIDENTS ALLRIGHT - SUSAN PULLENS - 74,5 - 74 - 148,5
FIDERFRAUKE - TRUDI HOUWEN - 73,5 - 74 - 147,5
ALEXANDRO P - SARAH VAN FESSEM - 74,5 - 73 - 147,5
ANIMANA'S AMBER - ERIC VAN DE WILDENBERG - 73,5 - DNS 
ATLEET - KIM LEDUC - 69,5 - DNS
4-year olds - Results Finals - 2nd Round with guest judge riders
Horse - rider - Semi Finals - 1st Round Finals -- Subtotal ---- Guest Judge ----- Total
1 TC ATHENE - JESSICA BUYING - 84,5 - 85 -- 169,5 --- 195 ----- 364,5
2 BROERE ARGENTINO - KIRSTEN BECKERS - 86,5 - 81 -- 167,5 --- 175 ---- 342,5
3 ANGUSCH - DIEDERIK VAN SILFHOUT - 83 - 84 -- 167 --- 175 ---- 342
4 ANNE BETH - EMMELIE SCHOLTENS - 79,5 - 85 -- 164,5 --- 165 ---- 329,5
5 AARON - JANA FREUND - 83,5 - 84 -- 167,5 --- 160 ---- 327,5
6 ANNE - YVONNE COPAL - 82 - 83 -- 165 --- 155 ---- 320
5-year olds - Results Finals - 1st Round 
Horse - Rider - Points Semi Finals - Points Finals 1st Rounds - Total so far
ZHIVAGO - THEO HANZON - 86,5 - 87 - 173,5
HUNTER DOUGLAS ZAN TROPEZ - PIM CANDEL - 85,5 - 83 - 168,5
SO WHAT - MARGREET PROSMAN - 85 - 82 - 167
ZIZI TOP - HANS PETER MINDERHOUD - 84 - 83 - 167
ZOLENA - ANNAREIN KERBERT - 82,5 - 84 - 166,5
HUNTER DOUGLAS ZIËSTO - GERDINE MARÉE - 83,5 - 82- 165,5
ZAMBUKA - JENNIFER SEKREVE - 80 - 80 - 160
ZORRO - GEERT-JAN RAATELAND - 80 - 80 - 160
AKKERLANDS ZELLY - MARJOLEIN GEVAERT - 78,5 - 78 - 156,5
ZECCHINO - REMY BASTINGS - 78,5 - 77 - 155,5
ZENOBIA B - LOTJE SCHOOTS - 79,5 - 75 - 154,5
ZERLINNEKE - SHANI PITCHO - 78,5 - 75 - 153,5
ZERO GRAVITY - JOHAN ROCKX - 77,5 - 75 - 152,5
ZAMORA - LYNNE MAAS - 77,5 - 75 - 152,5
ZARDANDO - 5THEO HANZON - 77,5 - 75 - 152,5
ZARAGOZA - JOSÉ VAN HAAREN - 76 - 76 - 152
ZYGRANDE LE COUPIED - CEYLAN AVINAL - 77,5 - 74 - 151,5
ZJENGIS KHAN - NIKKI SCHAAP- 76- 75- 151
ZSA ZSA - JOSÉ VAN HAAREN 7- 7,5 - 73 - 150,5
ZONDAGSKIND - THEO HANZON - 75 - 75 - 150 
DON JOVI - MIE KNUDSEN - 76,5 - 73 - 149,5
ZANZIBAR - INE VAN DEURZEN - 76,5 - 73 - 149,5
ZORIANA - GERJANNE VAN OS - 77 - 72 - 149
RED CHILLI - MARGREET PROSMAN - 76 - 72 - 148
ZANTROS S - ANGELA VAN DEN BERG - 76,5 - 70 - 146,5
ZZ TOP - HANS PETER MINDERHOUD - 74 - 72 - 146 
ZUCCHERO - MIE KNUDSEN - 76 - 70 - 146
ZANZIBAR - DIEDERICK VAN SILFHOUT - 69,5 - DNS
5-year olds - Results Finals - 2nd Round with guest judge riders
Horse - rider - Semi Finals - 1st Round Finals -- Subtotal ---- Guest Judge ----- Total
1 ZHIVAGO - THEO HANZON - 86,5 - 87 -- 173,5 --- 200 ----- 373,5
2 SO WHAT - MARGREET PROSMAN - 85- 82 -- 167 --- 175 ---- 342
3 HUNTER DOUGLAS ZIËSTO - GERDINE MARÉE - 83,5 - 82 -- 165,5 --- 175 ---- 340,5
4 ZIZI TOP - HANS PETER MINDERHOUD - 84 - 83 -- 167 --- 170 ---- 337
5 HUNTER DOUGLAS ZAN TROPEZ - PIM CANDEL - 85,5 - 83 -- 168,5 --- 160 ---- 328,5
6 ZOLENA - ANNAREIN KERBERT - 82,5 - 84 -- 166,5 --- 155 ---- 321,5
Related Links
Broere Argentino and Zhivago Lead the 2009 Pavo Cup Semi Finals
Previous Winners
Zuidenwind and Wynton Win 2008 Pavo Cup Finals
Westpoint and Vivaldi Win 2007 Pavo Cup Finals
Santano and Ucelli T Win 2006 Pavo Cup Finals
Uptown and Dreamcatcher Win 2005 Pavo Cup Finals
Florencio and Sandreo Win the 2004 Pavo Cup Finals
Special D and Robin Hood, 2003 Pavo Cup Winners
Rubels and Paster, 2001 Pavo Cup Champions
Natcho and Osmium Wins 2000 Pavo Cup Finals
Broere Stallions Dominate 1999 Pavo Cup Finals
Lucky Times and Mariena Win 1998 Pavo Cup Finals