Oldenburg Breeding News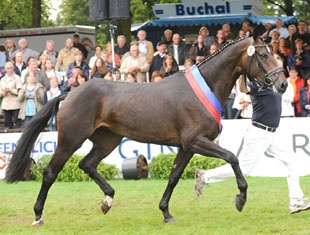 Carlotta became the grand champion of the 2009 Elite Mare Show in Rastede, Germany on 23 July 2009. The 3-year old dark bay mare is bred and owned by Heinz Wulf and is by Donnerball out of Cinderella
(by Santander H x Inschallah AA). She shone in the Brilliant Ring, the champion's ring which included 20 mares this year.
"This year we had a competition with a big, high quality top group in the Brilliant Ring," said Dr. Wolfgang Schulze-Schleppinghoff, breeding director of the Oldenburg Verband.
Photo copyrighted: Kiki Beelitz
Carlotta descends from strongly Arabian influenced Cilla II mare family, which is considered one of the crown jewels of Oldenburg dressage horse breeding. Cilla's daughter Cileste produced the licensed stallions Welt Hit I to VI, a Bundeschampion and six FEI level competing relatives.
At the same event, Carlotta also won the 3-year old Riding Horse Test under Ralf Hannover with a score of 8.17 on July 24, 2009.
Two Oldenburg approved stallions stood out with four daughters each in the Brilliant Ring: Blue Hors Romanov (by Rohdiamant x Grundstein II) and Sir Donnerhall (by Sandro Hit x Donnerhall). Three Romanov offspring were ranked in the top ten, including the reserve champion Femina who is out of the 2003 Oldenburg Elite Mare Champion Fabina (by Donnerhall x Pik Bube I). Femina is bred by Blue Hors stud.
The Oldenburg show jumping mare champion was Raja Luzandra, a Ludwig von Bayern x Lordanos x Argentinus x Grannus offspring bred by show jumping rider Horst Schlüsselburg.
Results Brilliant Ring
1. Carlotta (Donnerball x Santander H) - Heinz Wulf
2. Femina (Romanov x Donnerhall) - Blue Hors
3. Sweet Pepper (Sir Donnerhall x Dream of Love) - Martine Ehlinger
4. Florell (Romanov x Donnerhall) - Inge Bastian
5. Weijana (Furst Heinrich x Donaumonarch) - Ulrich Kahle
6. Roma Krack (Romanov x Krack C) - van Rompaey x Vercalsteren
7. Kiralla (Depardieu x Freiherr) - Helmut Osterkamp
8. Aida Luna (Rousseau x Royal Angelo) - Gerhard Ehmann
9. Ria Cola (Cola x Rouletto) - Joerg and Cordula Sostmann
10. Feldprinzessin (Sir Donnerhall x Davignon) - Elke Richard
Alaska (Abke x Grannus) - Ludger Thomas
Guilianova (Clinton x Contender) - Georg Dierker
Deauville (Daddy Cool x Sandro Hit) - Sissy Max-Theurer
Waldelfe (De Niro x Romancier) - Breeding station Kotschofsky
Taiga (Don Schufro x Rubinstein) - Heinrich Themann
Orthilia (Gribaldi x Donnerschlag) - Kristine Munch Nielsen
Her Highness (Romanov x Sandro Hit) - Lilian Sanktjohanser
Sandro Dee (Sandro Hit x Alabaster) - Judy Mc Gaughan
Feine Raphaela (Sir Donnerhall x Rubinstein) - Hans Albers
Sue (Sir Donnerhall x Welt Hit II) - Klaus Gusternberg
Related Links
Forty-nine Mares Selected for the 2009 Oldenburg Elite Show in Rastede
Weihegold Wins 2008 Oldenburg Elite Mare Show in Rastede
Rebelle Wins 2007 Oldenburg Elite Mare Show in Rastede 
Silberaster Wins 2006 Oldenburg Elite Mare Show in Rastede 
Loxana, Dancing Diamond at 2005 Oldenburg Mare Show in Rastede 
Love Story V, Champion of the 2004 Oldenburg Elite Mare Show in Rastede 
Fabina, Rastede Oldenburg Champion 2003 
1999 Oldenburger Champion Mare Lady Madonna sold to the USA 
Donna Doria, the 2000 Oldenburg Champion Mare at Radstede