2007 Pavo Cup Finals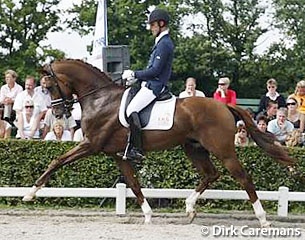 This afternoon, the chestnut KWPN stallion Vivaldi (Krack C x Jazz) and Hans Peter Minderhoud became the new 5-year old Pavo Cup champion. The chestnut achieved the highest overall mark of 382 points after a tough duel with the licensed stallion Vivaldo (Polansky x Montecristo) under Mirelle van Kemenade-Witlox.
Vivaldi scored two 10's under guest judge riders Seth Boschman and Carl Hester. Boschman liked riding both stallions. "I had a super feeling on both of them. There is actually little to say, except that both stallions are fantastic to ride." British Grand Prix rider Carl Hester was also very enthusiastic about Vivaldi. "He's the best 5-year old I've ever ridden. He's so forwards and has a enormous engine which you only have to steer. I think I want to take him home."
The third place went to the liver chestnut Vontango B (by Contango x Jazz) presented by Madeleine Witte-Vrees. Hans Peter Minderhoud and Johnson (by Jazz x Flemmingh) finished fourth.
The best mare was Vironia under Christa Laarakkers who landed a fifth place. KWPN stallion Citango (by Contango x Jazz) closed the ranks in sixth place.
Westpoint Wins 2007 Pavo Cup Finals for 4-year olds
The KWPN licensed stallion Westpoint (by Jazz x Michelangelo) has won the 2007 Pavo Cup Finals for 4-year olds. The black stallion was in the lead from the start, winning the qualification round and final round and scored the highest under guest judge riders Seth Boschman and Carl Hester.
The six finallists, which were ridden by Boschman and Haster, were three mares and three stallions. The mares were Winoa (Jazz x Flemmingh) under Bart Veeze, Wendolyn II (Briar x Donnerhall) under Emmelie Scholtens, and Wodini (Gribaldi x Zeoliet) under Alex van Silfhout. Hester liked the mares very much. "I really like horses that are forwards on their own and three mares were like that."
The three stallions in the finals were Karolus van Wittenstein (Krack C x TCN Partout), under Patrick van der Meer, Wynton (Jazz x Matador) under Madeleine Vrees-Witte and Westpoint under Emmelie Scholtens.
Westpoint was the winner, scoring 10 under Carl Hester and 8.5 under Seth Boschman. Westpoint had a total of 362 points and became the 2007 Pavo Cup Champion. "It was one of the most pleasant rides I ever had on a young horse," Carl Hester said about Westpoint. "He's got power from behind and moves nicely uphill. Westpoint definitely has talent for the upper level work and is a horse for the future."
Wynton placed second overall with 351.5 points in total. He received a 9.5 from Seth Boschman and 9.0 from Carl Hester. "I liked the stallion. He was fresh and active and very easy to ride," Boschman commented.
The third place went to Karolus van Wittenstein. Boschman scored him 9.5 and Hester 9.0. His overall score was 347 points.
Winoa (345 pts), Wodini (342 pts) and Wendolyn II (327.5 pts) placed fourth till sixth. Winoa (345).
Text courtesy: KWPN
Photos © Dirk Caremans
Related Links 
Westpoint and Vivaldi Lead After Semi-Finals of 2007 Pavo Cup Finals
Santano and Ucelli T Win 2006 Pavo Cup Finals
Uptown and Dreamcatcher Win 2005 Pavo Cup Finals
Florencio and Sandreo Win the 2004 Pavo Cup Finals 
Special D and Robin Hood, 2003 Pavo Cup Winners
Rubels and Paster, 2001 Pavo Cup Champions
Natcho and Osmium Wins 2000 Pavo Cup Finals
Broere Stallions Dominate 1999 Pavo Cup Finals
Lucky Times and Mariena Win 1998 Pavo Cup Finals