2006 Pavo Cup Finals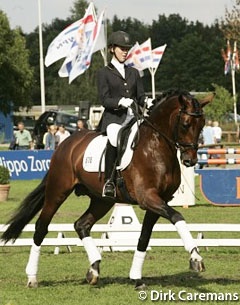 The 2006 Pavo Cup Finals for 4-year old dressage horses has been won by the KWPN licensed stallion Santano (Sandro Hit x Silvano N). The bay stallion impressed with his suppleness and suspension.
Test riders Heather Blitz (USA) and Stefan van Ingelgem (BEL) liked the stallion very much and scored them 9.5 and 10. With an overall score of 365 points, Santano and his rider Majke van Grasstek were the new Pavo Cup Champions.
Reserve champion is the KWPN and Oldenburg licensed stallion Johnson (Jazz x Flemmingh). Van Ingelgem scored him 9.5 and praised him for his eagerness to work. Blitz agreed with him but liked to have seen the horse more forwards. She scored it 7.5.
Third place went to the mare Vodarijke (Metall x Highline). Under Sarah van Fessem, the mare scored 8 and 8.5 under the test riders. Last year, Vodarijke was the reserve champion and the 2005 KWPN Mare Championships.
Ucelli T Wins 2006 Pavo Cup Finals for 5-year olds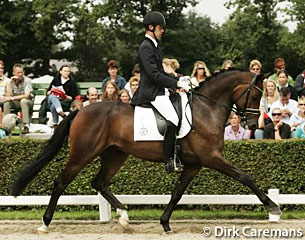 The bay KPWN gelding Ucelli T (by Olivi) won the 2006 Pavo Cup Finals for 5-year olds under Hans Peter Mindehoud. Ucelli improved during the competition, scoring 82.5 the first round, 90 the second and from test riders Heather Blitz and Stefan van Ingelgem he received 8.5 and 9.0. Enough for the overall victory.
The favourite for the title, last year's Pavo Cup Champion Uptown (Kennedy x Ubis), was unable to fulfil the expectations. On the first day he led the ranking with 87.5 points and he maintained the lead in the second round with 85 points, but under the test riders, the bay was completely unfocused and tense. 8.0 and 8.5 were the test riders' scores and Uptown landed a second place.
The KWPN stallion Uphill (by Oscar) placed third. The dark bay had impressive gaits and is very eager to work, but Blitz liked to have seen him more balanced and lighter in the forehand. She gave him 7.5. Van Ingelgem liked the horse more and scored him 9.0.
Results 4-year old Pavo Cup Finals 
Pl - Rider - Horse (pedigree) - semi finals - 1st finals - test rider Heather Blitz - test rider Stefan van Ingelgem - total score
1. Maike van Grasstek - Santano (Sandro Hit x Silvano - 83 - 87 - 95 - 100 - 365
2. Hans P Minderhoud - Johnson (Jazz x Flemmingh) - 84 - 82 - 75 - 95 - 336
3. Sarah van Fessem - Vodarijk (Metall x Highline) - 83 - 84 - 80 - 85 - 332
4. Danielle de Lange - Vironia (Oscar x Weinberg) - 78,5 - 87 - 75 - 90 - 330,5
5. Hans P Minderhoud - Vivaldi (Krack C x Jazz) - 84,5 - 81 - 80 - 75 - 320,5
6. Mirelle van Kemenade - Vivaldo (Polansky x Montecristo) - 85,5 - 79 - 75 - 80 - 319,5
Results 5-year olds
Pl - Rider - Horse (pedigree) - semi finals - 1st finals - test rider Heather Blitz - test rider Stefan van Ingelgem - total score
1. Hans P Minderhoud - Ucelli T (Olivi x Gribaldi) - 82,5 - 90 - 85 - 95 - 352,5
2. Hans P Minderhoud - Uptown (Kennedy x Ubis) - 87,5 - 85 - 80 - 85 - 337,5
3. Emmelie Scholtens - Uphill (Oscar x Apollonios) - 82 - 85 - 75 - 90 - 332
4. Theo Hanzon - Ulla Daula (Osmium x Pion) - 84 - 80 - 90 - 75 - 329
5. Florentine Rootveld - Up Seven (OOSeven x Jazz) - 85 - 87 - 75 - 80 - 327
5. Hans P Minderhoud - Game Boy (Gribaldi x Pion) - 82 - 80 - 85 - 80 - 327
Photo courtesy: Dirk Caremans
Related Links
Vivaldo and Uptown Lead 2006 Pavo Cup Semi-Finals
Uptown and Dreamcatcher Win 2005 Pavo Cup Finals
Florencio and Sandreo Win the 2004 Pavo Cup Finals 
Special D and Robin Hood, 2003 Pavo Cup Winners
Rubels and Paster, 2001 Pavo Cup Champions
Natcho and Osmium Wins 2000 Pavo Cup Finals
Broere Stallions Dominate 1999 Pavo Cup Finals
Lucky Times and Mariena Win 1998 Pavo Cup Finals