2006 North American Young Riders Championships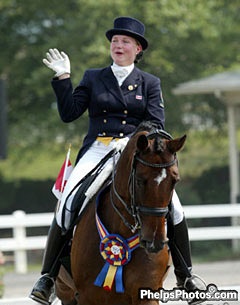 Pia Fortmuller of DeWinton, AB claimed the Individual Gold Medal at the CN North American Junior and Young Riders' Championships (NAJYRC) in Lexington, VA.
After helping the Canada West Team win the Gold Medal in the Team competition and sitting fifth in individually on August 2, Fortmuller came back even stronger on August 4, piloting her mother, Dagmar Fortmuller's 11-year-old Hanoverian mare Donagna, to a score of 69.500% in the Individual Championship.
"Donagna is so consistent, and is there for me 100%," commented an excited Fortmuller, who has been riding the mare, bred by her grandmother Ursula Bahlsen, for six years. "She is always the same in the warm up as she is in the ring, so I always know what to expect and I love that about her."
Fortmuller, who is coached by her mother, Dagmar, as well as Canadian Olympian Leslie Reid, explained that after working so hard, winning the gold was an amazing feeling. "To earn the marks I did was very rewarding and very exciting."
Exclusively for Junior riders, aged 14 - 18, and Young Riders, 16-21, the NAJYRC gives up and coming riders the opportunity to experience representing their country as a team, and prepares them for future international competition. Featuring the three Olympic disciplines of Dressage, Eventing and Show Jumping, the NAJYRC draws competitors from the United States, Canada, Mexico, Puerto Rico, and the Caribbean Islands.
Taking the silver medal with a score of 69.400% was Bobby McKee of USA Region 5, while Caroline Roffman of USA Region 3 received Bronze.
Canada has had immense success so far at this year's Championships, with the Junior Riders' Dressage Team capturing the Team Silver Medal, followed by a Bronze Medal finish by the Junior Riders' Show Jumping Team. The Young Rider Ontario/Alberta Eventing Team earned Bronze in the CCI** Team Final, while team member Jessica DiGenova received Bronze in the CCI** Individual Final.
Photo copyrighted: Mary Phelps / Phelpsphotos.com
Complete coverage of the North American Young Riders Championships at Horsesdaily.com
Related Links
Catherine Malone Wins the Gold at the 2005 NAYRC
Mary Haskins-Grey and Fregat, 2003 North American Young Riders Champions
Jacqueline Paxton Earns Double Gold at 2002 NAYRC
Eurodressage On the Scene at the 2000 North American Young Riders Championships
Meet the 1998 NAYRC Medallists: Labrucherie, Perry, Hites
Scores - 1998 North American Young Riders Championships