2003 North American Young Riders Championships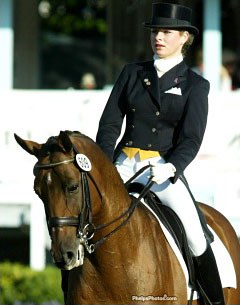 Not Lindsay Koffler, nor Michael Shondel, but Region 1 young rider Mary Haskins Gray became the 2003 North American Young Riders Champion in dressage.
Riding a phenomenal kur to music, Haskins Gray scored a superb 74%, won the class and defeated the provisional championships' leader Michael Shondel.
In the Individual Finals, the PSG kur to music, gold medal hopeful Lindsay Koffler finished second on Alfredo (by Akzent I) with an 68% freestyle and claimed the individual silver medal. Californian John Murrey retained his third place position and with a 67% kur score, he and his horse Festival received the bronze medal.
The unfortunate fourth place went to Floridian Michael Shondel and Wallaby (by Werther). Shondel won the team test, finished second in the individual test and fourth in the kur to music. Due to Haskins Gray overall top score, Shondel finished in the unfortunate and ungrateful fourth overall position.
With her individual NAYRC gold, Mary Haskins Gray concluded an already extraordinary 2003 show season. Winning all through Young Riders classes at the 2003 Festival of Champions, Haskins Gray and Fregat became the 2003 American Young Riders Champions in Gladstone, NJ, mid June 2003.
Fregat is a 10-year old Budyonne bred warmblood. Mary Haskins Gray, located in Greensboro, NC, took over Fregat in 2002. Haskins Gray already had NAYRC experience as she competed her thoroughbred mare Black Tie at the 2001 NAYRC at Tempel Farms. Haskins Gray is currently in school in Raleigh and training with Dennis Callin.
Saturday's Young Riders Dressage Consolation Finals were won by Region 1 rider Mary Alice Malone Jr. on Marko. With a 62.933% score, Malone Jr. dominated the consolation class of 17 competitors. Finishing second were Region 6 Lindsey Anderson and Intrepid, the 2002 NAYRC individual bronze medallists, who received 62.400%.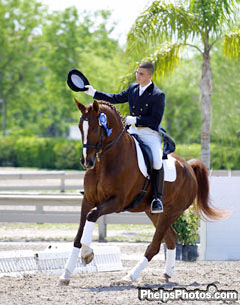 In the team championship's competition, USA Region 3 claimed the gold medal. The Region 3 dressage team comprised Jodie Kelly riding Welt Kaar, Trae LaPorte with Fleetwood, Megan McKoy on Volsung, and Michael Schondel aboard Wallaby. The team had a total combined score of 195.066. The Silver Medal went to USA Region 1 with a total score of 192.888. The team consisted of Mary Haskins Gray and Fregat, Lauren Hopper riding Mephisto, Catherine Malone aboard Kashmir, and Mary Alice Malone, Jr. with Marko. USA Region 2 received the Bronze with Lindsay Koffler riding Alfredo, Martin Kuhn with Romulus, Courtney Massie aboard Galateo, and Lauren Spreiser on Bellinger receiving a team score of 192.000.
The North American Young Riders' Championships began in 1974 as an eventing challenge between the United States and Canada in Jokers Hill, Ontario. Canada swept all three team medals in the competition that was then known as the North American Junior Team Championships. A dressage championship was added in 1981, and since that year the Young Riders' Championships have been recognized by the FEI and are conducted in accordance with FEI General Regulations. Show jumping made its debut in 1982 in British Columbia, when the first complete Championships were held.
Next year's North American Young Riders' Championships will be held at Tempel Farms in Wadsworth, IL, August 11-15, 2004.
Images copyrighted: Mary Phelps/Phelpsphotos
Related Links
Jacqueline Paxton Earns Double Gold at 2002 NAYRC
Eurodressage On the Scene at the 2000 North American Young Riders Championships
Meet the 1998 NAYRC Medallists: Labrucherie, Perry, Hites
Scores - 1998 North American Young Riders Championships