2006 Bundeschampionate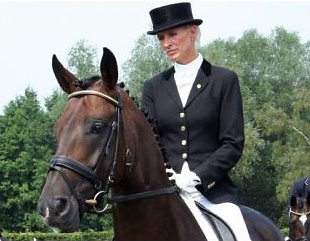 Peppo and Biagotti W were the winners of the Bundeschampionate qualification classes held at the Westfalen Woche in Munster-Handorf, July 26, 2006.
Tobias Nabben won the 5-year old Dressage Horse class aboard Peppo, a Oldenburg stallion by Pik Noir x Noble Roi xx. The combination scored 8.7 and beat Brigitte Wittig on her own bred Bohigas W, a Breitling x Fabriano offspring. Wittig received 8.5 from the judges and placed second ahead of Katrin Bettenworth on Dos OW (Di Caprio x Drosselklang) who achieved an 8.2 mark.
Brigitte Wittig did reign supreme in the 6-year old Dressage Horse division with Biagotti W, a Breitling x Diego xx bred Oldenburg mare. Their 8.4 mark was the highest of the class. Helen Langehanenberg and Roman Lifestyle W, a Hanoverian stallion by Rotspon x Wolkentanz I, finished second with 8.3. Carola Koppelmann and Rom, a Rotspon x Wolkenstein II mare, landed a third spot with 8.2.
Results
5-year old Dressage Horses
1. Tobian Nabben - Peppo - 8.7
2. Brigitte Wittig - Bohigas W - 8.5
3. Katrin Bettenworth - Dos OW - 8.2
4. Peter John Weston - Absolut - 8.0
5. Sebastian Heinze - Rotwelsch - 7.5
6. Henrike Sommer - Marquise Monet - 7.4
6. Bettina Weitkamp Neuhaus - Abahatschie - 7.4
6. Brigitte Wittig - Brioni W - 7.4
9. Jonas Wittenbrink - Fürst Felix - 7.3
10. Katrin Bettenworth - Denaro - 7.2
11. Sebastian Heinze - Dr.Petterson - 7.0
11. Claudia Ruscher - Bella Donna - 7.0
13. Oliver Oelrich - Satchmo RH - 6.9
14. Hiltrud Mormann - Soubirous - 6.7
6-year old Dressage Horses
1. Brigitte Wittig - Biagiotti W - 8.4
2. Helen Langehanenberg - Roman Lifestyle W - 8.3
3. Carola Koppelmann - Rom - 8.2
4. Svenja Irina Meyer - Ashley W - 8.1
5. Ingrid Berger - Röwer BE - 8.0
5. Ingrid Klimke - Damon Hill NRW - 8.0
7. Leonie Bramall - Auric's Märchenprinz - 7.6
8. Sandra Kotter - Farewell III - 7.2
9. Daniel Hoffstadt - Calinus - 7.0
10. Jutta Weitkamp - Pernod - 6.6
11. Heiner Schiergen - Lord of Loxley - 6.4
12. Arnd Erben - Wanthano - 6.3
13. Henrike Sommer - Langazzo - 6.2
14. Dieter Weichert - Ra - 6.1
15. Stefanie Schnell - Donner Werther - 5.9
16. Willi Feltes - Mon Baron - 5.8
17. Mirelle van Kemenade - Dream Catcher - 5.7
18. Petra Wulfers - Laurel - 5.5
Back to the 2006 Bundeschampionate Index