2004 Pavo Cup Finals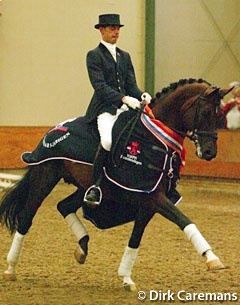 Hans Peter Minderhoud can add two more titles to his already impressive list of achievements. At the 2004 KWPN Paardendagen in Ermelo, Minderhoud won the Pavo Cup Finals in both the 4 and 5-year old division. In the 5-year old class, he was unbeatable aboard World Champion Florencio, in the four-year old division he reigned aboard Sandreo.
The match for the top placings in the 5-year old division wasn't as exciting as the four-year old one. Five year old Westfalian branded and NRPS approved stallion Florencio (Florestan x Weltmeyer) was a league of his own and won the Pavo Cup Finals with 366.5 points, far ahead of second placed Spargo. Ridden by Theo Hanzon, Spargo (Krack C x Boreas) also competed at the World Championships in Verden but the bay excelled more in Ermelo. There, he became reserve champion. Guest judge rider Rien van der Schaft said Spargo was "a fantastic horse" and praised him for his natural balance The British based but Dutch born Leida Strijk finished in third place aboard the 18.3 hh tower of power Stradivarius (Krack C x Contango).
The four-year old KWPN Pavo Cup Finals turned out to be a Sandro Hit and Krack C festival. In 1999 Sandro Hit won the World Young Horse Championships in The Netherlands. This victory seemed to have awakened an interest for this stallion, who is bred out of German bloodlines, with the Dutch breeders. The Sandro Hit offspring, born in 2000, dominated the 2004 Pavo Cup Finals in Ermelo. Hans Peter Minderhoud rode the winner Sandreo, a Sandro Hit x Flemmingh stallion who is licensed for the KWPN society.
Four-year old reserve champion was the Krack C x Pion offspring Tuschinski. Guest judge rider Susanne Miesner especially liked this licensed stallion and gave him 95 points in the finals. His overall score of 348.5 put him in second place. Finishing third was the mare Terlia (Krack C x Architect) ridden by Floris Coster. The mare was pretty tense under both guest judge riders, but Rien van der Schaft gave her 93 points. "If she's trained by the right rider, this mare is a true future prospect," Van der Schaft commented.
Image copyrighted: Dirk Caremans
Show Results
4-year olds
1. Sandreo (Sandro Hit x Flemmingh) - Hans Peter Minderhoud - 351.0 points
2. Tuschinski (Krack C x Pion) - Yvonne Copal - 348.5 points
3. Terlia (Krack C x Architect) - Floris Koster - 343.5  
4. Trento B ( Krack C x Ramiro Z) - Kim Leduc - 315.5  
5. Amstelland's Tadassa (Sandro Hit x Silvano N) - Karen Galema - 309  
6. Touche (Sandro Hit x Jazz) - Miranda Rongen - 306  
7. Tamarinde (Jazz x Matador II) - Niels Brax - 295.5  
5-year olds
1. Florencio (Florestan I x Weltmeyer) - Hans Peter Minderhoud - 366.5 points
2. Spargo (Krack C x Boreas) - Theo Hanzon - 349.0  
3. Stradivarius (Krack C x Contango) - Leida Collins-Strijk - 317.0  
4. Stefano (Gribaldi x Actueel) - Bart Veeze - 312  
5. Scandic (Solos Carex x Amiral) - Remy Bastings - 310  
6. Sisther de Jeu (Gribaldi x Amor) - Goffe Nil van der Zijden - 306.5  
Complete Show Results and more news at www.kwpn.nl
Related Links
Special D and Robin Hood, 2003 Pavo Cup Winners
Rubels and Paster, 2001 Pavo Cup Champions
Natcho and Osmium Wins 2000 Pavo Cup Finals
Broere Stallions Dominate 1999 Pavo Cup Finals
Lucky Times and Mariena Win 1998 Pavo Cup Finals