2004 Olympic Games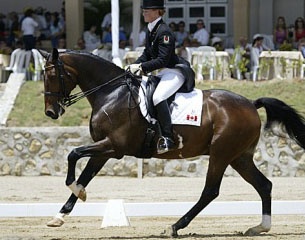 The first of two final Canadian Dressage Olympic selection trials gets underway this weekend June 18 th   – 20 th at York Equestrian Centre in Cedar Valley, Ontario.
"This is a very exciting time for Dressage in Canada." said Kim Goodyear, Chair of Dressage Canada's High Performance Committee.  Earlier in the year, 36 horse and rider combinations signed their intent to declare form with 16 of those actually declaring.  From this group, 10 horse/rider combinations successfully received their FEI certificate of capability, a requirement for those wishing to be eligible for the 2004 Olympic dressage team. Out of these eligible combinations, 8 achieved their qualifying scores for Stage One and 6 are attending the two final selection trials to be held over a 2 week period from June 18 th to July 3 rd .
"This is a sure sign of vast improvement for our country." stated Goodyear.  "The trials will be very exciting and I am looking forward to working with all of the athletes in the next few weeks.  Any of our contenders will do an excellent job for Canada."
Competition will indeed be exciting as the remaining six declared riders vie for one of only 3 spots on the 2004 Canadian Olympic dressage team heading to Athens. British Columbia's Leslie Reid and Mark, owned by Deryol Andrews, is Canada's first Olympic Dressage Team Member having earned a bye when they achieved an average of over 70% (70.089%) in the Grand Prix test at two CDI*** competitions in 2004.  Reid and Mark are exempt from participating in the trials although Reid will be present when the team is named following the final selection trials being held June 30 th   – July 3 rd at Blainville Equestrian Park in Blainville, Quebec. 
In descending order of their qualifying score average coming into the first final selection trial, the six trial participants are:
RIDER , HORSE, OWNER, QUALIFYING AVERAGE 
Cindy Ishoy, Proton, Cindy Ishoy, 68.565% 
Belinda Trussell, Royan II, Belinda Trussell, 67.805% 
Christilot Boylen, Lucky Lemon, Dora Boylen-Pabst, 67.278% 
Ashley Holzer , Imperioso, Ashley Holzer, 66.968% 
Evi Strasser , Quantum Tyme, Evi Strasser, 65.717% 
Jacqueline Brooks, Gran Gesto, Brinc Ltd. and Anne Welch, 65.008%
The final selection will be tabulated as follows:  
- The average of Grand Prix scores received in order to qualify for the first selection trial: 33% 
- Grand Prix score from Trial # 1 (York Equestrian Centre): 33% 
- Grand Prix score from Trial # 2 (Blainville Equestrian Park) : 34%
Upon completion of the final selection trials in Blainville, Dressage Canada's High Performance Committee will announce the results of the team selection standings in descending order of the final score totals.
Dressage joins Eventing as the one of only two equestrian disciplines where Canada has earned a team Olympic berth. Jumping will be sending one individual. Keep tuned to www.DressageCanada.org as the Athens Olympic countdown continues.