2018 Norwegian Dressage Championships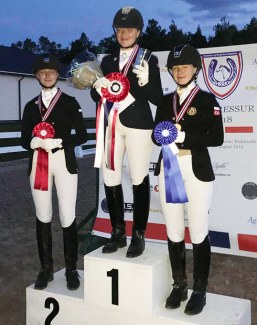 Pony rider Dina Odegard-Martinsen, children rider Sophie Skaug, junior rider Mathilde Merethe Klaesson, young rider Cathrine Oppegaard, and senior Grand Prix rider Louise Almlund Løkken became the winners of the 2018 Norwegian Dressage Championships held at the Hønefoss Og Ringerike riding club on 23 - 26 August 2018. 
Nineteen combinations competed in the FEI level pony category for D-size ponies. Dina Ødegård-Martinsen was the clear winner building up a significant point advantage after round 2 and 3. Aboard the experienced, 14-year old Dutch NRPS pony Beukenhof's Ricardo (by Morgenland's Fabian x Wester Aikema's Adios) she scored 69.017% in the team test, 69.431% in the individual and 73.540% in the Kur to Music to total 211.988 points for gold. The battle for silver and bronze was a tough one with silver medalist Maren Aarflot Strandheim finishing on 207.955 points and Madelen Olsen on 207.700 points. 
With only one starter in the children's division the podium was quite empty, but Sophie Skaug's gold was still well earned. Aboard Chrismas Callisto, a 15-year old chestnut gelding, she scored 68.500 and 66.000% to win the Norwegian Children's title.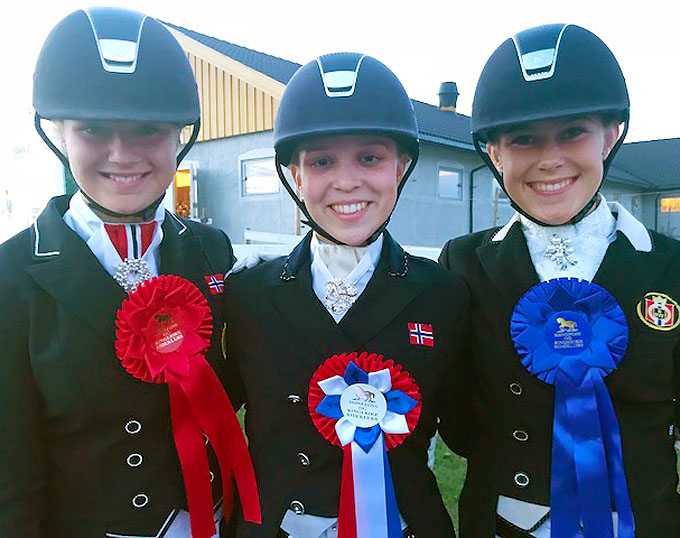 Sixteen juniors gathered for the Nationals and Mathilde Merethe Klaesson and her 8-year old Danish warmblood gelding Sandbaeks Rio-El (by Skovens Rafael x De Noir) bested the field with a total of 213.191 points. She scored 68.604% in the team test, 71.447% in the individual and 73.140% in the Kur to Music. Anine Morch-Aas and the 13-year old Swedish bred Maserati (by Metall x Purioso) go silver with only one percentage point difference after posting 69.234%, 70.702% and 72.250%. Heidi Christin Elvenes and the 8-year old Swedish bred Rio da Carma (by Skovens Rafael x Jaguar) followed in the distance with bronze on 205.604 points.
Nineteen Young Riders' pairs came to the Hønefoss Og Ringerike riding club at the end of August and it was Cathrine Oppegaard on the 13-year old Dutch warmblood Arion van 't Heemskind (by Sunny Boy x Kennedy) who brought home the gold medal and title with a total of 208.179 points. The pair scored 67.325% in the team tst, 67.939% in the individual and 72.915% in the Kur to Music. Christine Falbach and Norwegian team routinier Ravell's Herkulas, a 17-year old Danish warmblood by Hertug x Agent, landed silver with 206.021 points and Lotte Andal and the 9-year old Danish mare Skikkild's Ralina (by Skovens Rafael x Helenikos) finished with bronze on 201.331 points.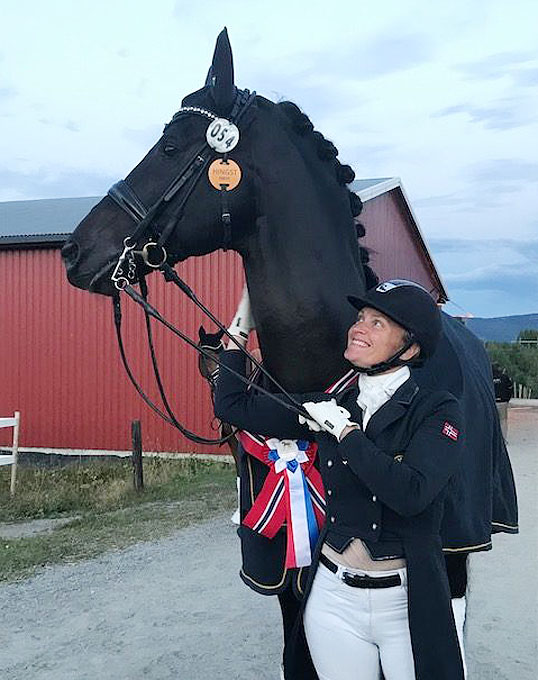 Ten combinations contested the senior Grand Prix division and Louise Almlund Løkken dominated her rivals aboard her 13-year old Danish bred stallion Mr Gold G (by Milan x Lobster). Lokken was the only rider at the 2018 Nationals able to reclaim her title from last year in all divisions, and this for a third consecutive time! She won all three rounds to total 212.767 points for gold. With 67.737% in the Grand Prix, 70.440% in the Special and 74.590% in the Kur to Music, Løkken stayed well ahead of come back rider Cathrine Rasmussen, a former Norwegian Grand Prix team rider had her last international outing at the CDI Herning in March 2016. Aboard the 11-year old Danish bred Dream Time (by Don Schufro x Leandro) she made her return to the Grand Prix arena at the Norwegian nationals to finish with silver after scoring 66.974%, 68.920% and 72.710%. Jonas Elvebakk and the 11-year old KWPN mare Citta (by Jazz x Candyboy) earned bronze with 67.184%, 66.440% and 70.565%.
Photos © Elizabeth Farbrot
Results - 2018 Norwegian Dressage Championships
Pony Riders
1. Dina Ødegård-Martinsen -  Beukenhof's Ricardo - 69.017 - 69.431 - 73.540 --- 211.988
2. Maren Aarflot Strandheim - Untouchable II - 69.060 - 67.805 - 71.090 --- 207.955
3. Madelen Olsen -  Schermeer's Hof Simba - 68.889 - 68.211 - 70.600 --- 207.700
4. Alma Løvås-Sandvik -   Gold Queen - 68.333 - 68.293 - 70.770 --- 207.396
5. Emma Borchgrevink -  Herikos Bredager - 67.436 - 67.724 - 70.005 --- 205.165
6. Sofie Magnussen Pedersen - Atlas Stengaard - 64.786 - 68.577 - 70.610 --- 203.973
7. Emma Spook-Fintl -   Emely's Surprise - 66.496 - 65.163 - 67.370 --- 199.029
8. Thea Christine Fallet Vormeland -  Fen-He MW - 64.444 - 65.732 - 67.185 --- 197.361
9. Benedicte Eggers Staalesen -  Mr. Magicv - 64.573 - 64.472 - 67.505 --- 196.550
10. Anja Kristine Jernsletten - Skoglys Zack - 61.765 - 67.236 - 66.595 --- 195.596
11. Thea Synnøve Christensen Larsen - Skoglys Macanto - 63.889 - 65.610 - 65.960 --- 195.459
12. Live-Helena Sunde-Kvålsgard -   FS Cracker Jack - 63.846 - 65.191 - 62.110 --- 191.147
Children
1. Sophia Skaug - ChrisMar Callisto - 68.500 - 66.000 --- 134.500
Junior Riders
1. Mathilde Merethe Klaesson - Sandbæks Rio-El - 8.604 - 71.447 - 73.140 --- 213.191
2. Anine Mørch-Aas -  Maserati  - 69.234 - 70.702 - 72.250 --- 212.186
3. Heidi Christin Elvenes -  Rio da Carma - 66.577 - 68.377 - 70.650 --- 205.604
4. Camilla Sønsteby Holen - Valerio - 65.270 - 67.237 - 69.450 --- 201.957
5. Sahra Edseth Solbakken -   Lucas Af Langsmosegaard - 65.676 - 67.632 - 68.510 --- 201.818
6. Therese Bjerkan -  Dejá-Vú - 64.910 - 66.4476 - 9.675 --- 201.032
7. Julia Lysgård Hammer - Ricca Donna - 64.414 - 64.561 - 71.685 --- 200.660
8. Marte Sofie Hasti Konningen -  Stall-K's Bon Jovi - 61.712 - 66.211 - 68.160 --- 196.083
9. Kathrine BørstadJ - Heibergs Rustichello - 64.775 - 63.991 - 66.960 --- 195.726
10. Nora Saxebøl Eek - ML Gold Rush - 61.937 - 65.175 - 67.025 --- 194.137
11. Tonje Tone Lundsberg -  Ulana - 63.423 - 63.816  - 65.050 --- 192.289
Young Riders
1. Cathrine Oppegaard - Arion v t' Heemskind - 67.325 - 67.939 - 72.915 --- 208.179
2. Christine Falbach - Ravell's Herkules - 69.386 - 66.535 - 70.100 --- 206.021
3. Lotta Åndal - kikkild's Ralina - 66.842 - 66.184 - 68.305 --- 201.331
4. Marie Håland -  Werdell -65.570 - 66.228 - 69.260 --- 201.058
5. Carmen Grønvold Johannessen -  Don Chameur - 66.140 - 65.658 - 69.065 --- 200.863
6. Camilla Steen -  Stall-K's Ankulgård Rainbow - 66.404 - 63.684 - 67.705 --- 197.793
7. Kaja Wilhelmsen Rokstad -  Danisco for U - 63.465 - 65.877 - 68.050 --- 197.392
8. Malene Broholm Nielsen - Wik's Lewis - 65.132 - 62.807 - 67.755 --- 195.694
9. Kaja Tharaldsen Olsen -  Solhøj's Lord Falcor - 63.114 - 63.728 - 68.360 --- 195.202
10. Stine Olsen Lund - Ravell's HexiaH - 62.368 - 64.254 - 66.875 --- 193.497
11. Vilde Antonsen - Don Dino - 65.526 - 63.553 - 61.340 --- 190.419
Senior Grand Prix
1. Louise Almlund Løkken - Mr. Gold G  - 67.737 - 70.440 - 74.590 --- 212.767
2. Cathrine Rasmussen - Dream Time - 66.974 - 68.920 - 72.710 --- 208.604
3. Jonas Elvebakk - Citta - 67.184 - 66.440 - 70.565 --- 204.189
4. Helena Liholt Gulli -  Tobajo Picez - 67.263 - 63.740 - 69.180 --- 200.183
5. Camilla Frydendahl Sørensen -   Summer - 62.974 - 65.840 - 69.235 --- 198.049
6. Linndis-Marie Nordvoll Olsen -  Stall-K's Rofino - 64.868 - 65.500 - 66.325 --- 196.693
7.  Anine B Thoresen -  Rasputin III - 64.895 - 63.000 - 68.190 --- 196.085
8. Mona Mangseth - Quater Figlio - 64.711 - 64.020 - 65.735 --- 194.466
9. Elisabeth Røisli - Liva af Skovsøgård - 61.711 - 61.240 - 59.675 --- 182.626
10. Astrid Kvam - Fitou E - 63.158 - 59.76 - 00.000 --- 122.918
Related Links
Johannessen, Fjornes, Gulli, Rode, Lokken Win 2017 Norwegian Dressage Championships
Solbakken, Fjornes, Gulli, Lokken Win 2016 Norwegian Dressage Championships
Sunshine, Rain, and New Title Winners at 2015 Norwegian Dressage Championships
Hammer, Magnussen, Brynildsen, Jebsen Win 2014 Norwegian Dressage Championships
Rimestad, Andresen, Christensen, Hestengen Win 2013 Norwegian Dressage Championships
Jebsen Wins 2012 Norwegian Dressage Championships