2014 Norwegian Dressage Championships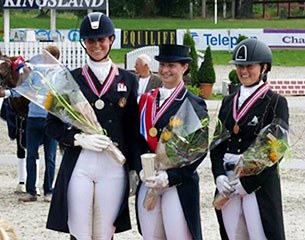 Pony rider Amy Hammer, junior rider Amalie Haug Magnussen, young rider Carina Brynildsen and Grand Prix rider Lillan Jebsen won the gold medal at the 2014 Norwegian Dressage Championships held in Drammen, Norway on 1 - 3 August 2014. Blessed with ideal weather, the Norwegian Nationals were a highlight of the summer season.
In the FEI pony division Amy Hammer and her 12-year old chestnut Delight (by ) reigned supreme winning all three rounds with seventy percentage scores. The pair bested the competition with 72,265%, 71,463% and 73,500% and edged out Nora Ekrem on the 9-year old bay gelding Davidoff (by Dreamdancer x Dressman), who also rode two seventy percentage scores but dropped to a 68.049% in the individual test. the bronze went to Cathrine Oppegaard on the 12-year old Odbjergs Bordeaux (by Stackarps Dayton x /Højlunds Motley). 
"My pony was calm and focused in the arena," Hammer told Hestesport. "The weekend had such a greay atmospphere and weather. My goal was to show good harmony between me and Delight. He's amazing to train and compete."
In the absence of Norway's top junior rider combination Alexandra Andresen on Belamour, room was created for Amalie Haug Magnussen to move into gold medal position on the 13-year old Ravell's Herkules (by Hertug x Agent). She scored 68,784%, 69,561% and 71,700% to win the division, but she felt fierce competition from Kristin Lie Aas on her 10-year old Danish bred gelding Danois (by De Noir x Cavan), who improved throughout the weekend. After a mediocre start, Aas was third in the individual test and won the kur to music to earn silver. Helena Liholt Gulli and the 13-year old stallion Tobajo Picez (by Cortez x Pik Trump) were the individual test winners but finished third in the kur and ended up with bronze.
" It was a lot of fun," Haug Magnussen commented. "I was very well prepared and my worked great as ever."
Carina Brynildsen, who was a member of the Norwegian junior riders team at the 2014 European JR Championships, switched to the young riders' division for the Norwegian National Championships, with success. Aboard the black Shiraz Black (by Sandro Hit x Donnerhall) she wielded the axe of power and won all three rounds with 72,193%, 72,456% and 75,225%. Astrid Rikheim and her 13-year old Cartier (by Cavan x Romancier), who have been getting their feet wet in the Under 25 Grand Prix division this year, shifted back to young riders for the nationals and finished with silver. The bronze went to Nora Katharina Tusnes on the 13-year old Aquila Foldager (by Akinos x Loran), who was second in the Kur.
"I have to admit I had never ridden some parts of the program, so just remembering the test was a challenge," Brynildsen told Oblad. "I knew we could do it, but it depended on my focus and my horse's form. Shiraz is on an absolute peak form and I wanted to get gold. We were both motivated and my focus was on the task."
At Grand Prix level, Norwegian routinier Lillan Jebsen and her 17-year old Dutch warmblood Pro Set (by Jetset D) ended their show career with a final gold medal and national title. Jebsen, who was the 2012 Norwegian GP champion, scored three winning marks of 70,746%, 70,800% and 73,750% and referred Camilla Kalseth on the 15-year old Carte d'Or (by Solos Carex x Cannon Row) to a silver medal place. Ellen Birgitte Farbrot and her 14-year old dark bay Akon Askelund (by Akinos x Pari Ace Dane) were third overall and got bronze.
Photo © Dressur Sa Klart
Results - 2014 Norwegian Youth Riders Championships - Drammen
Pony Riders
1. Hammer, Amy -  Delight - 72,265  -  71,463 -  73,500   --- 217,228
2. Ekrem, Nora - Davidoff - 70,342 -   68,049  -  72,900  ---  211,291
3. Oppegaard, Cathrine - Odbjergs Bordeaux - 67,906 -   67,602 -   69,975 ---   205,483
4. Kleppe, Kristine  - Schermeer's Hof Simba - 66,581 - 67,236 - 68,575 --- 202,392
5. Horn, Ellen Karina  - Truly Yours - 69,615 - 66,992 - 65,750 --- 202,357
6. Solbakken, Sahra Edseth - Valerossi - 69,658 - 59,065 - 69,850 --- 198,573
7. Lillerud, Signe-christine Forberg  -  Vestenås Padova Nova  -  65,897 - 65,447 - 67,050 --- 198,394
8. Klaesson, Mathilde Merethe - Atlas Stengaard -  65,256 - 67,439 - 65,525 --- 198,220
9. Petersen, Corinna  - SR Finally Cattis Choice -   65,256 - 65,000 - 67,600 --- 197,856
10. Mansåker, Amalie Erdal  -  Bonan-Kick -    62,521 - 67,114 - 66,575 ---- 196,210
11. Hammer, Julia  - Empire P -   64,274 - 64,797 - 63,850 --- 192,921
12. Johansen, June Furuly - Grythöjdens General   -  63,077 - 64,268 - 57,325 --- 184,670
Junior Riders
1. Magnussen, Amalie Haug - Ravell's Herkules - 68,784  -  69,561  -  71,700  ---  210,045
2. Aas, Kristin Lie - Danois -  65,270 -   68,377  -  72,300  ---  205,947
3. Gulli, Helena Liholt -   Tobajo Picez -  64,189  -  70,044    71,150  ---  205,383
4. Edland, Ingeborg -  Vedels Makenzie  -  64,820 - 65,921 - 67,675 --- 198,416
5. Andresen, Alexandra - Don Massimo  -  67,658 - 69,737 - 59,675 --- 197,070
6. Mellerud, Mathilde Nilseng -  River Dance II -    63,559 - 65,877 - 67,200 --- 196,636
7. Roberg, Marthe - Worsteiner - 62,387 - 65,044 - 68,750 --- 196,181
8. Nygaard, Ingrid Transet -  Red Robin-   61,171 - 62,895 - 65,600 --- 189,666
9. Håland, Marie -  Wictory D -  61,847 - 62,018 - 65,125 --- 188,990
10. Gotaas, Mona - Hoferbe  -  60,946 - 63,246 - 64,575 --- 188,767
11. Clausen, Merete - Lady-D  - 60,315 - 61,930 - 64,750 --- 186,995
12. Lode, Vibecke Østebø - Bragholts Diadora - 59,640 - 63,202 - 63,800 --- 186,642
Young Riders
1. Brynildsen, Carina - Shiraz Black - 72,193 -   72,456 -   75,225   --- 219,874
2. Rikheim, Astrid Karen Westberg -  Cartier - 70,789 -   69,211  -  70,575  ---  210,575
3. Tysnes, Nora Katharine - Aquila Foldager - 69,518  -  64,474  -  70,600 ---   204,592
4. Rognøy, Jeanett -   Ravell's Hexia  - 67,412 - 64,298 - 67,300 --- 199,010
5. Hals, Anniken   -   Faunus -  63,991 - 63,333 - 69,350 --- 196,674
6. Rode, Maria Døhli -  Danielo -   64,737 - 63,991 - 67,300 --- 196,028
7. Svensson, Christina -   Schnell's Day Dream Believer -  64,298 - 63,465 - 66,575 --- 194,338
8. Hammerstad, Madeline  -  Højmarks Afrodite - 65,088 - 63,333 - 65,400 --- 193,821
9. Bjerkåsholmen, Fredrikke Dorati -   Scalas Schafero -  63,246 - 63,377 - 66,000 --- 192,623
10. Finne, Frida  -  Spider Mann-  62,237 - 63,728 - 65,700 --- 191,665
11. Eide, Helena kvestad  -  Kiss-Tartuffe - 63,904 - 63,246 - 63,700 --- 190,850
12. Lauring, Anna Katrine -  Fafner -   63,114 - 63,202 - 62,950 --- 189,266
Grand Prix Riders
1. Jebsen, Lillann - Pro-Set - 70,746  -  70,800 -   73,750  ---  215,296
2. Kalseth, Camilla - Carte D'Or - 65,746  -  66,567  -  68,900  ---  201,213
3. Farbrot, Ellen Birgitte - Akon Askelund - 62,368  -  65,767  -  68,100  ---  196,235
4. Finjarn, Charlotte - Svalegårds Walk on Water - 63,772 - 63,767 - 66,175 --- 193,714
5. Rasmussen, Lars  - Monsun -  64,298 - 65,100 - 63,550 --- 192,948
6. Askeland, Kjerstin  - Galaxy - 63,728 - 58,333 - 62,000 --- 184,061
7. Andersen, Therese Schwartz -  Don Dior  - 58,816 - 59,733 - 62,350 --- 180,899
Related Links
Rimestad, Andresen, Christensen, Hestengen Win 2013 Norwegian Dressage Championships
Jebsen Wins 2012 Norwegian Dressage Championships