2013 Norwegian Dressage Championships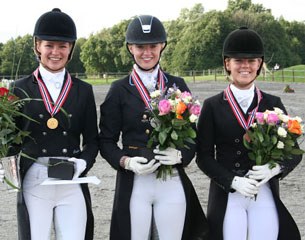 Pony rider Ingrid Rimestad, junior Alexandra Andresen, young rider Camilla Maria Christensen  and senior Grand Prix rider Trude Hestengen became the winners of the 2013 Norwegian Dressage Championships held at the Borge Riding Club in Frederiksborg, Norway on 7 - 11 August 2013. While the youth divisions were well stacked with the best pairs in the country, the Grand Prix division was lean cuisine with only five riders showing up.
In the pony division routinier Ingrid Rimestadt and her 12-year old chestnut German bred Jumanji (by Jacobspeel's Rocky x Luzern) were unbeatable in all three championship rounds, scoring consistently above 70% to finish on a total of 216.203 points. Amy Hammer and Delight were good for silver with three solid rounds to total 210.327 points, while junior rider Amalie Haug Magnussen was back in the saddle of her pony Aladin II and earned the bronze with a total of 205.641.
In the junior division Alexandra Andresen left no doubt about it that she's the one to beat, claiming her third national title in a row. The individual silver and bronze medallist at the 2013 European Junior Riders' Championships rode her Westfalian stallion Belamour (by Belissimo M) to a total of 224,701% and referred Carina Brynildsen on the Hanoverian Shiraz Black (by Sandro Hit) to a second place with a 220,301 total. Stine Gotesen's 13-year old Grand Prix horse Worsteiner (by Wolkentanz x Warkant) has recently been allocated to junior Marthe Roberg and the brand new pair finished third at the Nationals with 207.353 points.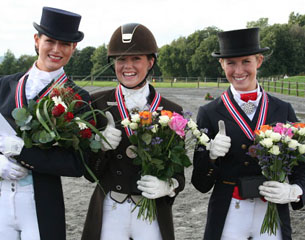 In the Young riders category Camilla Maria Christensen and her 11-year old Darnish warmblood Traneenggårds Akondo (by Come Back II x Andiamo) topped the leader board with three winning rounds and a total of 217.653 points. Catharina Lorentzen Lund and the liver chestnut Norwegian warmblood bred Zidana Arkide (by Don Schufro x Arkedin) landed second place with 2à8,326 points, while Pernille Markussen and her 16-year old Supertramp (by Elitaer x Mahogoni) were good for bronze with 203.568 points.
In the absence of Norway's best Grand Prix riders who are all preparing for the 2013 European Championships in Herning, Denmark, next week, Trude Hestengen had free reign to win the national title on the Norwegian bred licensed stallion Tobajo Pik Disney (by Tobajo Picez x Walt Disnery). With 66.140% in the Grand Prix, 68.298% in the Special and 70.250% in the kur, she totalled 204,688 points and edged out KKjetil Skalleberg on Mister Chief (by Oma's Gucci x Irco Marco) with a 187.459 point total. Kjerstin Askeland and Galaxy (by Cavalet x Galvano) posted scores that lingered on the 60% range but it sufficed for bronze with a total of 180.838 points.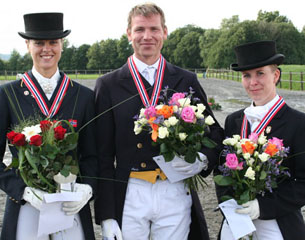 Photos © Vivian H Sandvold/ Dressur Sa Klart
Results - 2013 Norwegian Dressage Championships
Pony Riders
1. Rimestad, Ingrid Hagman -   Jumanji  - 72,393 - 70,935 - 72,875 --- 216,203
2. Hammer, Amy -  Delight -  69,487 - 69,390 - 71,450 --- 210,327
3. Magnussen, Amalie Haug -  Aladin II    FOLL    67,735 - 69,106 - 68,800 --- 205,641
4. Ganzarain, Emma - Jasper  - 67,564 - 68,821 - 68,625 --- 205,010
5. Oppegaard, Cathrine - Odbjergs Bordeaux -  66,966 - 66,870 - 70,050 --- 203,886
6. Klaesson, Mathilde Merethe  -  Nadyr du Bois   - 70,641 - 68,130 - 63,850 --- 202,621
7. Fari, Lisa Norland -  Odbjergs Idol -  64,487 - 66,220 - 68,875 --- 199,582
8. Ekrem, Nora - Davidoff -  65,684 - 65,569 - 66,450 ---- 197,703
9. Fjornes, Elisabeth Struve -   For Pleasure B - 64,957 - 65,528 - 66,250 --- 196,735
10. Kejr, Kristin -  Zeus - 65,470 - 66,870 - 64,200 --- 196,540
11. Hahn, Martine -  Ekko af Stensnæs - 64,744 - 64,309 - 63,800 --- 192,853
12. Pedersen, Andrea Kring - Lucky Star II - 64,316 - 64,228 - 63,950 --- 192,494
Junior Riders
1. Andresen, Alexandra Gamlemshaug  -  Belamour  - 72,477 - 74,474 - 77,750 --- 224,701
2. Brynildsen, Carina  -   Shiraz Black - 70,541 - 73,860 - 75,900 --- 220,301
3. Roberg, Marthe  -   Worsteiner -  68,153 - 67,675 - 71,525 --- 207,353
4. Østli, Line   -   Stall-K's Roomy -  66,982 - 67,500 - 67,675 --- 202,157
5. Aas, Kristin Lie    -  Danois -  65,180 - 66,667 - 69,350 --- 201,197
6. Hammerstad, Madeline   -   Højmarks Afrodite - 65,360 - 64,518 - 69,700 --- 199,578
7. Dalene, Pernille Storhaug -   Ørstedlunds Lucky Champ -    63,604 - 64,254 - 64,350 --- 192,208
8. Finne, Frida -  Spider Mann - 63,153 - 62,193 - 66,325 --- 191,671
9. Østberg, Maja  -   Davina van't Amaryllishof  -   63,829 - 62,018 - 65,800 --- 191,647
10. Rode, Maria Døhli   -  Mazurka Vestervang -  61,982 - 63,640 - 64,875 --- 190,497
11. Lyssand, Hanne Marie Børdal -   Roxy Music -  61,486 - 64,211 - 63,500 --- 189,197
12. Lode, Vibecke Østebø -   Bragholts Diadora - 60,450 - 63,509 - 63,000 --- 186,959
Young Riders
1. Christensen, Camilla Marie -  Traneenggårds Akondo - 71,096 - 72,632 - 73,925 --- 217,653
2. Lund, Catharina Lorentzen  -Zidana Arkide  -  70,833 - 67,018 - 70,475 --- 208,326
3. Markussen, Pernille  - Supertramp - 66,930 - 67,763 - 68,875 --- 203,568
4. Jensen, Caroline Steine  - Blue Hors Develino -  64,912 - 66,184 - 68,425 --- 199,521
5. Svensson, Christina  - Schnell's Day Dream Believer  -   64,342 - 64,912 - 63,675 --- 192,929
6. Sellæg Ulsten, Karianne  -  Anthony's Royal Scarlett - 61,184 - 66,711 - 64,450 --- 192,345
7. Fjornes, Elise Struve -  Maserati III - 60,833 - 63,202 - 66,650 --- 190,685
8. Johansen, Madeleine Ferner  -  Tranholms Cortillo -   61,886 - 61,053 - 66,025 --- 188,964
9. Finjarn, Charlotte  -  Svalegårds Walk on Water -   60,965 - 58,991 -67,875 --- 187,831
10. Thorsby, Veronika Marlen - Centano -    61,140 - 63,465 - 62,875 --- 187,480
11. Rognes, Jenny Holthe -   Østergaard's Eros  -   59,079 - 61,974 - 64,450 --- 185,503
12. Kristiansen, Cecilie -Marlow - 62,807 - 60,000 - 59,700 --- 182,507
Senior Riders
1. Hestengen, Trude - Tobajo Pik Disney  -   66,140 - 68,298 - 70,250 --- 204,688
2. Skalleberg, Kjetil -  Mister Chief  - 62,982 - 59,752 - 64,725 --- 187,459
3. Askeland, Kjerstin -  Galaxy - 60,351 - 59,787 - 60,700 --- 180,838
4. Jønsberg, Rebecca Helene -  O.P. Anderson -  60,877 - 57,128 - 61,400 --- 179,405
5. Jacobsen, Ilma Merethe Dolonen  -   Damkærs Laika   - 60,965 - 58,830 - 58,000 --- 177,795
Related Links
Kalseth Withdraws from Norwegian Team for 2013 European Championships
Norwegian Team Picked for 2013 European Dressage Championships
Norwegian Teams Selected for 2013 European Junior and Young Riders Championships
Norwegian Team Selected for 2013 European Pony Championships
Jebsen Wins 2012 Norwegian Dressage Championships