2012 Norwegian Dressage Championships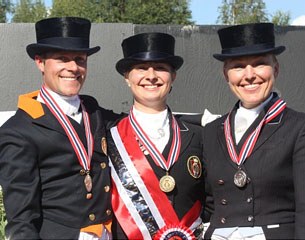 Lillan Jebsen and her 15-year old Dutch warmblood Pro-Set won the gold medal at the 2012 Norwegian Dressage Championships held at the Nes Riding Club in Årnes, Norway. In the absence of Norway's number one Siril Helljesen, who was competing at the 2012 Olympic Games, Jebsen was able to take the highest step on the podium even though the difference with the bronze medallist was only 0.3%.
Lillan Jebsen and her Jetset D offspring Pro Set won the first round, the Intermediaire II, with 71.491%, finished second in round 2 in the Grand Prix (71.085%) and topped the leaderboard again in the kur with 73.20%. Rasmussen and her Westfalian gelding Fernandez (by Florestan) was breathing down her neck with a second place in the Inter II and Kur (70,439% - 71,950%) and a win in the Grand Prix (71,766%). Jonas Elvebakk and his Danish bred Cartier (by Cavan) was third three times and got the bronze.
In the youth riders divisions the gold medal in the young riders' division went to Catharina Lortentzen Lund aboard the dark bay Norwegian bred mare Zidana Arkide (by Don Schufro x Arkiden). The pair scored round 67% in the first two rounds and got 71.575% for their kur. Best Norwegian junior rider was Alexandra Andresen on the Hanoverian licensed stallion Belamour (by Belissimo). She started out with a 68.964% in the first round but then twice cracked the 70% barrier in the next two rounds. Pony rider Ingrid Rimestad and her German bred riding pony Jumanji bested their age division with top scores.
Photo © Carina Carlsen
Results - 2012 Norwegian Dressage Championships
Seniors - Round 1 - Intermediaire II
1. Jebsen, Lillann - Pro-Set - 71,491 %
2. Rasmussen, Cathrine - Fernandez - 70,439 %
3. Elvebakk, Jonas - Cartier - 66,096 %
4. Gøtesen, Stine Marie - Maximillian- 65,395 %
5. Jacobsen, Ilma Merethe Dolonen - Damkærs Laika - 62,368 %
6. Njøten, Mette Ono  - Helios - 60,658 %
Seniors - Round 2 - Grand Prix
1. Rasmussen, Cathrine - Fernandez - 71,766 %
2. Jebsen, Lillann - Pro-Set - 71,085 %
3. Elvebakk, Jonas  - Cartier - 67,255 %
4. Njøten, Mette Ono -  Helios  - 62,638 %
5. Gøtesen, Stine Marie  - Maximillian - 61,340 %
6. Jacobsen, Ilma Merethe Dolonen - Damkærs Laika - 56,766 %
Seniors - Round 3 - Grand Prix Kur
1. Jebsen, Lillann C - Pro-Set - 73,200 %
2. Rasmussen, Cathrine -Fernandez - 71,950 %
3. Elvebakk, Jonas - Cartier - 68,600 %
4. Gøtesen, Stine Marie - Maximillian- 64,600 %
5. Njøten, Mette Ono - Helios - 62,325 %
6. Jacobsen, Ilma Merethe Dolonen - Damkærs Laika - 61,825
Seniors - 2012 Norwegian Championships - Overall Ranking

1. Jebsen, Lillann - Pro-Set - 71,491 - 71,085 - 73,200 --- 215,776
2. Rasmussen, Cathrine - Fernandez - 70,439 - 71,766 - 71,950 --- 214,155
3. Elvebakk, Jonas  - Cartier - 66,096 - 67,255 - 68,600 --- 201,951
4. Gøtesen, Stine Marie - Maximillian - 65,395 - 61,340 - 64,600 ---191,335
5. Njøten, Mette Ono - Helios - 60,658 - 62,638 - 62,325 ---- 185,621
6. Jacobsen, Ilma Merethe Dolonen - Damkærs Laika  - 62,368 - 56,766 - 61,825 ---- 180,959
Young Riders - 2012 Norwegian Championships - Overall Ranking
1. Lund, Catharina Lorentzen  - Zidana Arkide - 67,632 - 67,018 - 71,575 --- 206,225
2. Finjarn, Charlotte -  Svalegårds Walk on Water - 68,421 - 65,307 - 68,200 --- 201,928
3. Markussen, Pernille - Supertramp - 64,035 - 67,675 - 67,700 ---- 199,410
4. Rikheim, Astrid Karen Westberg  -  Sylvester Alcor Nord Z  - 64,298 - 65,175 - 68,375 --- 197,848
5. Sellæg Ulsten, Karianne - Anthony´s Royal Scarlett  - 60,658 - 63,596 - 64,500 ---- 188,754
6. Knudsen, Nora Øvstedal -  Stall-K's Cartier III- 61,623- 63,991 - 61,175 ---- 186,789
7. Skribeland, Marie Vermundsberget -  Donnerkeil  - 60,175  - 62,939 - 62,500 ---- 185,614
8. Johansen, Madeleine Ferner -  Tranholms Cortillo -  59,211 - 58,465 - 63,750 --- 181,426
9. Birkeland, Sandra - Matinique  - 60,614 - 60,219 - 60,100 --- 180,933
10. Børrestad, Brigithe - Nanof  -  59,825 - 59,561 - 61,150 --- 180,536
11. Svensson, Christina  - Schnell's Day Dream Believer - 57,851 - 61,535 - 59,875 ---- 179,261
12. Reiersen, Louise -  Lilly Marlene - 58,772 - 58,509 - 61,900 --- 179,181

Junior Riders - 2012 Norwegian Championships - Overall Ranking
1. Andresen, Alexandra Gamlemshaug  - Belamour - 68,964 - 72,895 - 74,900 --- 216,759
2. Syrstad, Silje Kristin - Quite Naughty - 67,387 - 68,553 - 70,500 --- 206,440
3. Brynildsen, Carina -  Uno IV  -  63,423 - 66,930 - 69,025 --- 199,378
4. Rognøy, Jeanett - Ravell's Hexia  - 65,360 - 65,746 - 65,175 ---- 196,281
5. Bjerkåsholmen, Fredrikke Dorati - Scalas Schafero - 61,081 - 66,798 - 67,825 --- 195,704
6. Hamre, Anna  - Hiliot Firfod  -  62,973 - 62,895 - 63,200 --- 189,068
7. Hammerstad, Madeline  - Højmarks Afrodite - 61,937 - 62,149 - 63,650 --- 187,736
8. Lode, Eline - Walther -  59,189 - 62,982 - 65,100 --- 187,271
9. Lauring, Anna Katrine - Fafner - 58,649 - 63,465 - 64,175 ---- 186,289
10. Jensen, Malin - Goethe -  58,514 - 63,070 - 63,500 --- 185,084

Pony Riders - 2012 Norwegian Championships - Overall Ranking
1. Rimestad, Ingrid Hagman - Jumanji  - 69,786 - 72,154 - 74,275 --- 216,215
2. Nordmarken, Carina Hagen - Kirz Kaninpil Kærlund - 71,624 - 71,301 - 71,075 --- 214,000
3. Klaesson, Elise  - Nadyr du Bois - 68,974 - 71,423 - 70,800 --- 211,197
4. Oppegaard, Cathrine - Odbjergs Bordeaux  - 67,735 - 65,041 - 70,350 ---- 203,126
5. Birkeland, Zandra - Fen-He MW - 64,316 - 67,195 - 68,050 ---- 199,561
6. Aas, Kristin Lie -Ria H - 65,256  66,463 - 67,525 ---- 199,244
7. Hammer, Amy  - Empire P - 65,684 - 65,976 - 64,450 --- 196,110
8. Håland, Marie - Herikos Bredager  -  62,692 - 67,764 - 64,175 ---- 194,631
9. Blikstad, Rebecca Thams - Pålands Cornelis  - 64,829 - 66,789 - 62,275 ---- 193,893
10. Pedersen, Andrea Kring - Lucky Star II  - 65,769 - 62,602 - 64,825 ---- 193,196
11. Ganzarain, Emma - Jasper -  63,846 - 67,154 - 61,825 ---- 192,825
12. Horn, Ellen Karina - Truly Yours - 64,487 - 66,016 - 57,550 - 188,053
Related Links
Norwegian Teams Selected for 2012 Nordic Baltic Championships
Norwegian Pony, Junior and Young Riders A-Team for 2012 Announced