2015 Norwegian Dressage Championships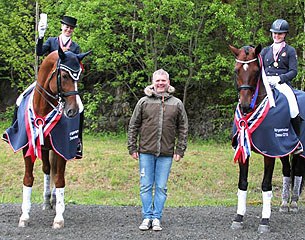 A Scandinavian country encompassing mountains, glaciers and deep coastal fjords, Norway is the land of the vikings but also a budding dressage nation. A full field of competitors gathered at 2015 Norwegian Dressage Championships in Baerum (NOR) on 23 - 25 May 2015, with four new champions rising up to take out the title, each claiming hattrick wins: Sahra Esdseth Solbakken in the ponies, Amalie Haug Magnussen in the juniors, Helena Liholt Gulli in the Young Riders, and Trude Hestengen in the senior division.
With a clean sweep of the pony division, Sahra Edseth Solbakken and her 15-year old German pony stallion Valerossi (by Nadin x Valido) scored 70.684%, 70.935% and  72.850%. Sahra is really proud of her pony.
"He has done an absolutely fantastic job in this competition. This championship has been so instructive for me and Valerossi," Sahra told Eurodressage. "He has a very good personality and he loves to be scratched and cuddled."
Borrowing the pony from Anne-Kristin Sæthern, Valerossi is coached by Gunn Skovholt and Mette Henriksen in Norway.
"Valerossi is very good in the half pirouettes and this weekend we got 9 on a half pirouette to the right," she said proudly. "He was very cool during this Championship and was so focused on me and that is a very good feeling.  My goal for the season is the Nordic Championships and then onto the  European championships.  I'm also riding the daughter of Valerossi called Duvel. She is only five years old, but she is very nice!"
Junior Champion Amalie Haug Magnussen and the 14-year old Ravell's Herkules (by Hertug x Agent) also took out all three tests, and with scores of 72,793 %, 70,175 %, and 72,425 %, Amalie says her horse hardly put a foot wrong.
"We had all kinds of weather during the championships, rain and cold, sunny and also a little warmer," said Amalie. "I was lucky as I escaped riding in heavy rain!"
A cheerful horse who is always doing his best, Ravell likes to travel to competitions as he gets lots of attention, apples, and massages several times a day.
"We bought him from Andreas Helgstrand two and a half years ago when I was still a pony rider. He has been the perfect schoolmaster for me and we have taken home several ribbons during the last two years," she said. "Herkules strongest side is his perfect temperament, trot extensions and half passes. His weakest side is maybe his collected walk as he can be a little high in the neck."
Hoping to be selected for the 2015 Europeans, Amalie is training with Siril Helljesen. She has recently moved with her to her new place in Østfold, south of Oslo.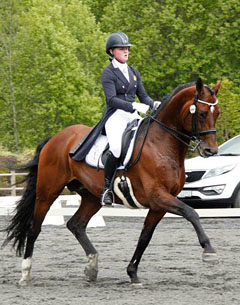 Helena Liholt Gulli took the Young Rider title with her 14-year old Norwegian Warmblood stallion Tobajo Picez (by Cortez x Pic Trumpf), winning all three rounds with 70.219%, 71.013%  and 75.600%.
"The weather was good the first day, but it was a little bit rainy on the second and last day," said 19 year old Helena. "Picez was really focused and with me during the whole championship and he did his job well!"
Starting off as an international sow jumping horse, Tobajo Picez is a real gentleman, but Helena knows he also thinks he is the king of the world sometimes.
"He is really kind and easy to handle in different situations," she said. "He is actually born on the farm that I grew up on and I've been riding him since march of 2014."
Trained by Picez' breeder Tormod Bakke Johnsen as well as by Dutch judge Wim Ernes once a month, Helena says Picez' strengths are his extended trot and canter. Studying Economics at a school in her home town, she hopes to be representing Norway at the European Championships.
Senior Champion Trude Hestengen says she had a very good show at the Norwegian Championship. Her 10-year old Norwegian Warmblood Tobajo Pik Disney, who is sired by Young Riders' champion Tobajo Picez out of a Walt Disney mare, did three nice tests with just a couple of minor mistakes.
"It was a long time since we had ridden the Intermediaire II so that was actually our lowest score with 72%. The Grand Prix was very good with a 73.5 %, and with new music for the freestyle we scored 76 %. In total we won with over 20% between us and the runner-up,"  said the very proud 31-year old Trude.
Trude describes Pik Disney as a horse with lots of expression. He knows he's an eye-catcher with his beautiful bronze colour and masculine look.
"He is very rideable and learns fast. I saw him for the first time as a four year old at the stallion licensing in Norway, and fell in love with him," Hestengen reminisced. "I knew the owners and they asked if I wanted to ride and train him if he was licensed. One year later I got the opportunity to buy him."
Trude is trained by her husband Lasse Kasparek Hestengen and the couple has their own dressage stable in Denmark. She hope to participate in the 2015 European Championships in Aachen.
by Sarah Warne - Photos © Siri Furre
Related Links
Scores 2015 Norwegian Dressage Championships
Kjell Myhre Appointed Norwegian Junior and Young Rider Team Captain
Norwegian Teams Selected for 2014 European Junior/Young Riders Championships