2016 Norwegian Dre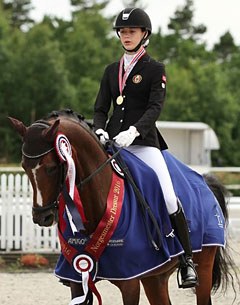 Pony rider Sahra Edseth Solbakken, junior rider Elisabeth Struve Fjornes, young rider Helena Liholt Gulli and senior Grand Prix rider Louise Almlund Lokken became the grand champions of the 2016 Norwegian Dressage Championships held at the Epona Equestrian Centre in Kristiansand, Norway, on 17 - 19 June 2016.
The 2016 Norwegian Championships covered classes from pony level to Grand Prix and also included the national paralympic championships.
The pony division was split into two categories for smaller and taller ponies. In the tallest pony class, from which normally the team ponies for the European Pony Championships are picked, the winner was routinier Sahra Edseth Solbakken on the bay 14-year old Rhinelander bred Valerossi (by Valido x Nadler I). She won all three rounds and got the gold with scores of  72.564%, 72.439% and 74.050%. In the smaller pony category Emilie Næss and Enets Lucas got the gold medal with a total score of 204,238.
Junior rider Elisabeth Struve Fjornes and the 11-year old Swedish warmblood Maserati (by Metall x Tip Top) became the national champion in her division after winning the first two rounds with 68.964% and 72.719% and placing second in the kur with 71.500%. Young rider Helena Liholt Gulli persevered in her division and grabbed the gold and title aboard the 11-year old Norwegian warmblood Aathens Amon (by Tobajo Picez x Falleur). The pair scored 68.860%, 69.298% and 74.000%.
In the senior division for Grand Prix riders Louise Almlund Løkken and the 10-year old Danish warmblood Mr. Gold G (by Milan x Lobster) reigned supreme and won all three rounds for the gold. The pair scored 69.298% in the Grand Prix, 69.000% in the Special and 72.350% in the freestyle.  Silver went to Stine Marie Gøtesen on the 10-year old Norwegian bred Danilla (by Don Romantix x Schwadroneur), while Ellen Birgitte Farbrot and the 11-year old Danish bred Tahennya (by Hennessy x Supermax Macho) got bronze.
Results - 2016 Norwegian Dressage Championships - Kristiansand
Pony Riders
1. Sahra Edseth Solbakken - Valerossi  - 72,564    72,439    74,050 --- 219,053
2. Kristiane Askim Hillern - Untouchable II - 67,179    68,740    73,450 --- 209,369
3. Carmen Grønvold Johannessen - Davidoff - 68,077    67,683    71,450 --- 207,210
4. Anine Mørch Aas - Schermeer's Hof Simba - 65,427    69,268    71,850 --- 206,545
5.  Tuva Hansen - Odbjergs Bordeaux - 65,726    67,032    70,000 --- 202,759
6. Camilla Sønsteby Holen - Valerio - 69,359    66,301    65,200 --- 200,859
7. Madelen Olsen - Reality - 68,504    66,748    64,125 --- 199,377
8. Dina Ødegård-martinsen - Beukenhof's Ricardo - 67,222    66,586    64,575 --- 198,383
9. Ingebjørg Ådnegard - Lihmskovs Coppercoin - 66,496    64,268    66,750  --- 197,514
10. Sofie Magnussen Pedersen - Atlas Stengaard - 64,329    69,065    62,175 --- 195,569
11. Julia Hammer - Delight - 65,684    64,960    64,300  --- 194,943
12. Christiane Celina Petersen - SR Finally Cattis Choice - 65,171    65,598    63,625 --- 194,393
Junior Riders
1. Elisabeth Struve Fjornes - Maserati III - 68,964    72,719    71,500 --- 213,183
2. Christine Falbach - Ravell's Herkules - 66,847    71,009    72,700  --- 210,556
3. Cathrine Oppegaard -Smedegårdens Lucia -  68,063    68,596    69,925 --- 206,584
4. Nora Dal - Gershwin du Loing - 66,351    68,421    66,825  --- 201,597
5. Vilde Antonsen - Don Dino - 64,730    69,123    67,475 --- 201,327
6. Nora Ekrem - JJ Hamsun - 66,666    64,123    65,650 --- 196,439
7. Signe-Christine Forberg Lillerud - Højmarks Afrodite - 65,540    64,518    66,175  --- 196,233
8. Victoria Lavold Jørgensen - Roche Royal -  63,829    65,526    65,400 --- 194,755
9. Jenny Marie F. Aune - Afrodite IV - 63,153    66,535    65,050 --- 194,738
10. Andrea Kring Pedersen - Ansgårds Amulett -  64,189    64,781    65,075 --- 194,045
11. Amy Hammer - Sir Wellington - 63,468    66,535    63,650 --- 193,653
12. Marie Hoff - Fürstenfrau af Hvarre - 64,775    67,325    61,025  --- 193,124
Young Riders
1. Helena Liholt Gulli - Aathens Amon - 68,860    69,298    74,000  --- 212,158
2. Kristin Lie Aas - Danois - 69,912    66,053    74,000 --- 209,965
3. Ingrid Rimestad - Østersøens Don Juan - 68,290    66,973    71,800 --- 207,063
4. Line Østli - Roomy - 68,860    66,184    68,125 --- 203,169
5. Anna Katrine Lauring - Roosenstein - 66,710    67,237    69,000 --- 202,947
6. Nora Katharine Tysnes - Aquila Foldager - 66,097    65,219    70,125 ---   201,441
7. Madeline Hammerstad - Cabernet  - 65,658    67,895    67,225 ---   200,778
8. Frida Finne - Teglgårdens Romio - 67,737    62,219    68,000  --- 197,956
9. Mathilde Nilseng Mellerud - River Dance II - 63,026    67,500    63,700  --- 194,226
10. Martine Reiersen - Falerno - 62,807    63,114    65,800 --- 191,721
11. Maria Døhli Rode - Danielo - 63,991    64,298    60,500  --- 188,790
Grand Prix Riders
1. Louise Almlund Løkken - Mr. Gold G - 69,298    69,000    72,350  --- 210,648
2. Stine Marie Gøtesen - Danilla - 67,500    66,600    70,350 --- 204,450
3. Ellen Birgitte Farbrot - Tahennya - 66,579    64,833    68,800  --- 200,212
4. Lars Rasmussen - Monsun - 64,430    65,433    68,000  --- 197,863
5. Linn Ulleberg - Stagsted's Fago - 60,921    61,133    64,775  --- 186,829
6. Kristin Leirfall - Bjerggårdens Ouverture - 58,948    55,500    60,475  --- 174,923
7. Margrethe Janbu - Højersmindes Rositta - 53,289    52,567    60,225  --- 166,081
Related Links
Sunshine, Rain, and New Title Winners at 2015 Norwegian Dressage Championships
Hammer, Magnussen, Brynildsen, Jebsen Win 2014 Norwegian Dressage Championships
Rimestad, Andresen, Christensen, Hestengen Win 2013 Norwegian Dressage Championships
Jebsen Wins 2012 Norwegian Dressage Championships