F.O.C.U.S.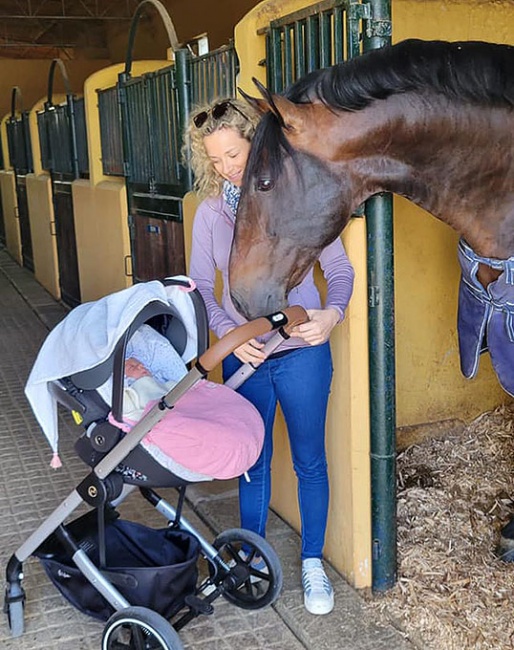 Just one month after giving birth to her first child Portuguese Olympian Maria Caetano is back in the saddle and focusing on her season target, the 2022 World Championships Dressage in Herning (DEN).
Baby Bliss
On 2 February 2022, Maria and her partner António Gomes Pereira welcomed baby girl Maria do Rosário into their family. 
Maria got the approval from doctor to return to the saddle a week ago and is back astride her loyal equine partners, which have been keep fit and on point by father Paulo Caetano and assistant Carolina Oliveira during her final semester of pregnancy and postpartum.
"It feels so nice to be back in the saddle," Maria told Eurodressage. "I'm enjoying being a mum a lot, but I was missing riding and competing!. 'm so lucky that my family helped me so much so I can start training so soon after giving birth. I started slowly two weeks ago riding Fenix de Tineo and now I'm already riding three to four horses per day. My body adapted super well again to finding the balance in the saddle. I was very happy about it."
Herning
For the 2022 show season, Maria has three Grand Prix horses to choose from: her Olympic star Fenix de Tineo and the two 10-year old Lusitano cross breds Hit Plus (by Bretton Woods x Peralta Pinha) and Happy Plus (by Bretton Woods x Rubin Royal). 
Not having competed since August 2021, Maria will return in front of the officials a first time next week at the Portuguese Squad meeting with team trainer Kyra Kyrklund. Her CDI come back is planned for April at the CDI Abrantes or Beloura.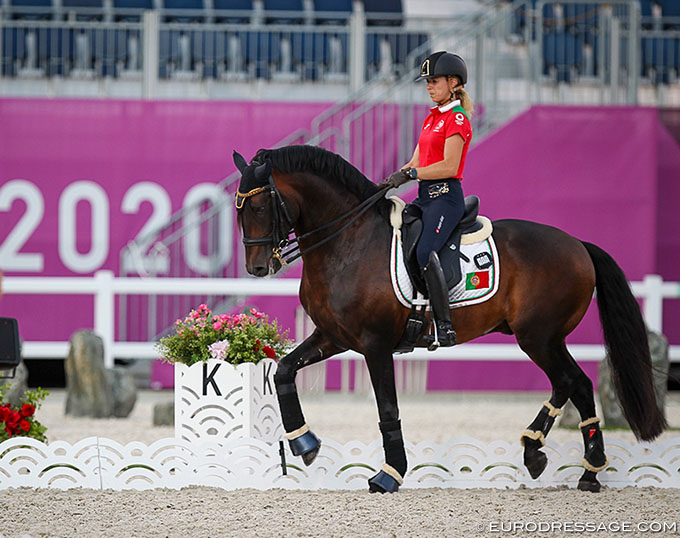 "After that I'll make a plan including some more CDIs abroad," said Maria.
In the lead-up to Herning, she will return to Germany and be based at Irina Zakhrabekova's Zetta Sport farm in Krefeld for the summer as optimal preparation for competition and coveted team selection.
Maria is a multiple Portuguese Grand Prix champion who has represented her country at the European and World Championships as well as the Tokyo Olympic Games. She has 49 international victories to her tally and is Portugal's most seasoned competitor of the moment with 301 CDI starts to her record. 
Based in Alentejo, Portugal, Maria's family is strongly embedded in the local agricultural sector. For generations they have been breeding cattle and black bulls. The family also has a strong affinity with the Lusitano horses as long-time breeders.
Affinity for Rubi AR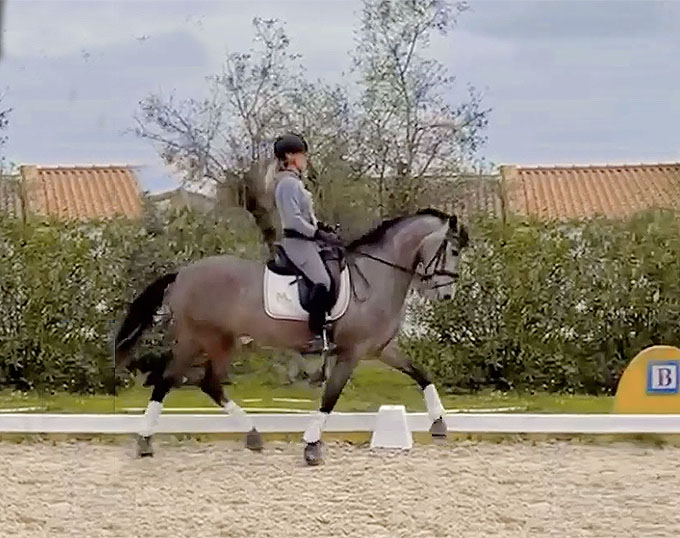 Maria's career making horse has been Coroado (by Rubi AR x Xaquiro). After campaigning him at the 2013 World Young Horse Championships in Verden they became one of the strongholds of the Portuguese team at the 2017 and 2019 European Championships as well as the 2018 World Equestrian Games. Maria was the first rider ever to score over 80% in a Kur to Music aboard a Lusitano bred horse. The 15-year old is currently recovering from injury. 
Making sure she is no one-hit-wonder, Maria has a whole string of young talent lined up for the future and feels strong affinity for the offspring of legendary Lusitano sire Rubi AR. She recently took over  two from her brother Joao: 5-year olds Nicaragua PC (by Rubi AR x Altivo PC) and Nottingham PC (by Rubi AR x Azeitona PC).
"I hope we can follow the steps of their older brothers Coroado and Fenix de Tineo," said Maria. "These two youngsters are bred at our stud and they have the swing and charm typical from Rubi bloodline, as well as an amazing ridability."
Five For the Future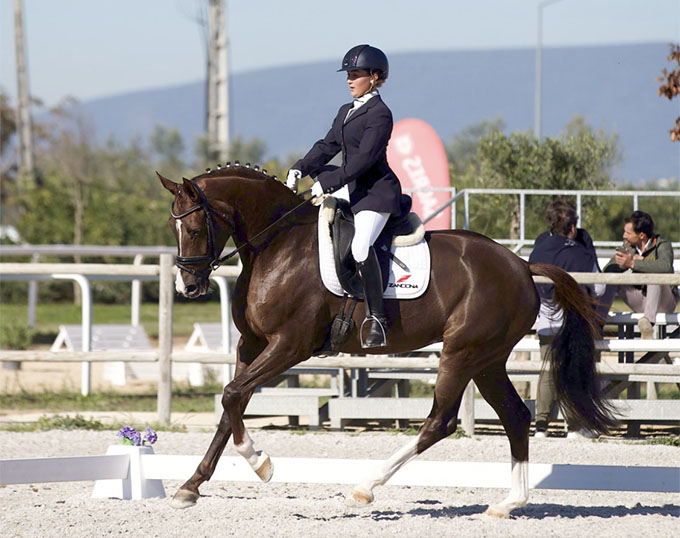 Maria has five young stars lined up alongside those two 5-year olds.
Nearing Prix St Georges level is 7-year old Lusitano stallion Lampiao das Faias (by Escorial x Nuxeque) and 12-year old Lusitano mare Gaupa R (by Átila x Nabuco) has promise for the highest level.
"Lampiao received the second highest score of the year at the Lusitano stallion approval, so we believe a lot on him as a sport horse as well as a breeding stallion," she added. "Guapa is an exceptional mover, full of energy that I also hope to bring one day to the arena in Grand Prix."
In addition there is the 6-year old Oldenburg mare Teutonia (by Top Gear x Furst Romancier), whom she says is "a very special mare that I really believe to have a future in Grand Prix." 
Photos © private - Astrid Appels
Related Links
Portuguese Olympian Maria Caetano Gives Birth to Baby Girl
Maria Caetano Expands String of Horses with For Jordan and Teutonia
Maria Caetano Is in It for the Long Term
Maria Caetano Returns to Portugal for Summer Training and Showing
Maria Caetano Relying on Lusitano Power, in the Present and Future
Corona Times: Hit & Run with Maria Caetano
Caetano and Coroado Write History for Lusitano Breed by Cracking 80% Barrier