Danish Warmblood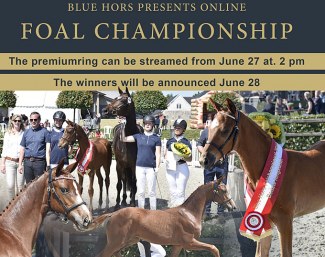 Blue Hors stud, one of Denmark's leading stallion stations in Randbol, will be hosting its annual Foal Championship on 27 June 2020.
The next day, on 28 June, Blue Hors will host a special "Streaming Auction" in partnership with the Danish Warmblood Society at which top quality future dressage and breeding prospects can be acquired through online bidding. 
Exceptional Foals in Exceptional Circumstances
"We are pleased that this year, despite the current Corona situation, we have succeeded in presenting an excellent foal year with Blue Hors stallions in the genes," said Blue Hors breeding director Martin Klavsen.
"With the help from the breeders, we have succeeded in presenting an excellent collection of more than 85 champion foals and for that we are truly grateful," Klavsen added. 
The 12 best fillies and the 12 best colts will be vying for the Blue Hors Foal Champion's title on 27th June 2020 at 14:00
Top Foals Sold in Streaming Auction on 28 June
Danish Warmblood has put together a particularly interesting collection of top foals, which will come under the hammer on June 28 in streaming auction. Online bidding can be done, while the foals are presented live on streaming. 
For more information, visit https://www.varmblodauktion.dk/
or read:
Danish Warmblood Society to Host "Streaming Auction" of Top Danish Foals on 28 June 2020