Danish Warmblood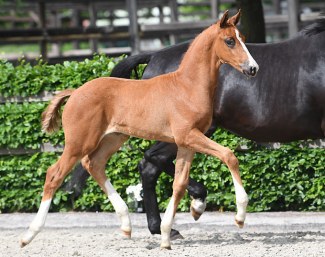 The Danish warmblood society, in partnership with Blue Hors stud, has hand-picked a collection of excellently bred Danish warmblood foals that will be offered for sale in a "Streaming Auction" on 28 June 2020. 
The Danish Warmblood streaming auction takes place on 28 June 2020 at 15h00. The online bidding take places while the foals are being presented live on the streaming.
Streaming Auction with Live Presentation
The 2020 Danish Warmblood Foal Auction is an streaming auction, which means an online auction with a twist. 
"The concept is slightly different from an online auction, which is purely based on a video of a foal," said Danish warmblood project co-ordinator Louise Ringbo. "On 28 June at 15h00, the bidding happens during the live presentation of the foals at Blue Horse stud.  Clients can actually see the foals in movement, while they bid on them online."
The streaming starts on 28 June at 15h00 with the first eleven foals. Approximately around 16h00 the second group of foals will be presented live.
The official website is www.varmblodauktion.dk/en/auctions
High Potential Foals in Streaming Auction
The Danish warmblood society has gathered a collection of 23 top foals with high potential for dressage and show jumping. Eighteen of them are dressage bred. 
Some highlights in the collection of outstanding foals include cat nr. 4, Stenagers D'Artagnan (by D'Avie x Wilkens x Ferro). This colt has a "top type and top gaits," says DWB director Casper Cassoe. "With him you get the whole package! He is by double World Young Horse Champion D'avie and from a well-bred dam-line consisting entirely of performance-tested main studbook mares."
Cat nr 5, colt Jestis La Liga (by Blue Hors Livius x Aljano x Akinos) is a stunning stallion prospect. This colt is a complete package. He is elastic with function and power from behind. He has a good conformation and excellent type. There are no compromises with him.
Cat nr 2, Lipas Alva (by Bon Coeur x Aljano x Leuthen) is a dark bay filly from a dam line that has produced international Grand Prix horses. This is a magnificent filly with exciting bloodlines and unlimited potential in her gaits.
Cat nr 3, Grevens Fakir (by Blue Hors Farrell x Jazz x Gribaldi) is the full brother to the 2018 Danish Warmblood Mare of the Year, Grevens Fakina. "He is beautiful and moves in a very functional way with top balance," said Cassoe. "You can already see the beautiful image he will give in the arena in the future."
Cat nr. 9, Fauzian (by Franklin x Blue Hors Romav x Blye Horse Don Schufro) comes out of a proven dam line that has produced licensed stallions as well as the Olympic medal winner Mistral Hojris. This colt has gaits with no boundaries. He is expressive, super elastic and moves with ease.
Cat nr 19, Sevilla Pillekaer (by Vitalis x Apache x Sir Donnerall) is a tall filly from a dam line that has already produced top auctionfoals and offspring sold to Grand Prix riders. She has  powerful movements and an effective hind leg.
Register and Bid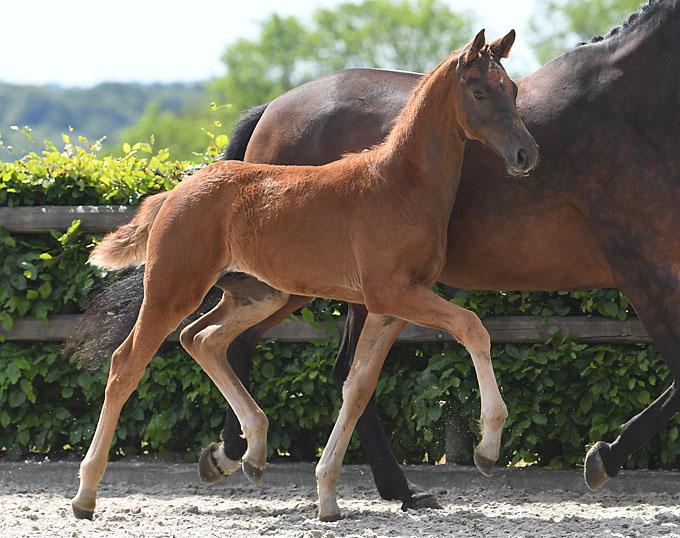 The Danish Warmblood Auction committee consists of a number of people who are always happy to help if you have any questions regarding an auction.
Explore the complete collection of foals at varmblodauktion.dk
You can register for bidding on the official website.
For more information, contact