Westfalian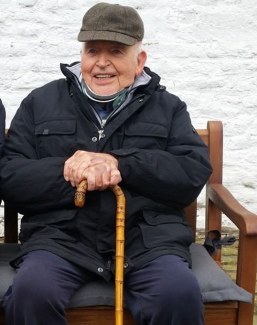 Renowned Rhinelander and Westfalian dressage horse breeder Eberhard Schulte-Böcker has passed away on 4 June 2020. He was 88 years old. 
Eberhard Schulte-Böcker lived in the castle, Rittergut Muthagen in Geilenkirchen. His father already bred cold bloods, and Eberhard was raised around horses. 
He started breeding in the 1960s and one of his foundation mares was Glocke (by Gong out of Erlenkette).
Between 1975 and 2009 no less than 125 Rhinelander foals were born at his yard. Eight of them were licensed stallions (Florestan I and II, Gasparon, Pollignax, Prinz Muthagen, Frank Sinara, Fiano, Federacci). Forty-five of the mares he bred received the state premium title. 
Already in 1983 he was decorated with the "Hans von Bemberg" prize for his breeding success, but the epitome of his breeding career came in 1986 when Florestan was born.
Schulte-Böcker bred Westfalian foundation stallion Florestan, who was by Fidelio out of Raute (by Rheingold). The bay was the champion of the 1988 Westfalian Stallion Licensing. He stood at the Warendorf state stud and created a new generation of dressage horses. He produced over 90 licensed sons, 2200 horses registered for sport with the Westfalian society. His offspring won 2.4 million euro in prize money.
He also bred international Grand Prix horses Favourit (Tinne Vilhelmson, Sanneke & Sönke Rothenberger) as well as successful sport horses Fiano.
Eberhard Schulte-Böcker was member of the Kreis Heinsberg Rhinelander breed society from 1974 till 2001. He was board member of the Rhinelander studbook from 1985 till 2001.
The breeding barn at Muthagen is now in the hands of son Walther, who bred World Young horse champion Victoria's Secret (by Vitalis).
Related Links
Florestan I Passed Away
Florestan Celebrates 25th Birthday
The Rothenberger's Favourit Passed Away
Favourit Sold to Tinne Vilhelmson
World Champion Victoria's Secret Sold to Denmark
Fiano Passed Away
Westfalian Fiano Joins Nature Protection Project Thurengeti