KWPN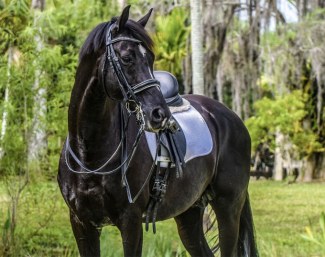 The KWPN licensed stallion Dark Pleasure has passed away at his U.S. home in Loxahatchee, Florida, on 26 December 2019, after having developed laminitis. 
"Following the sudden emergence of a rare, non-genetic, non-transmittable infection, Dark Pleasure succumbed to founder following treatment. Every avenue was explored to find a cure," Katie Hoog stated.
Bred by Wouter Plaizier in The Netherlands, the 2008 born stallion was by Ufo out of Wild Pleasure (by Jazz).
Career in Holland
He was approved at the 2011 KWPN Stallion Licensing and passed the 2011 KWPN Autumn Stallion Performance testing with 78 points. 
He was first competed by German Jana Freund on the 2012-2013 KWPN Stallion Competition circuit. They finished 17th in the semi-finals of the 2012 Pavo Cup. Under Gerdine Maree Dark Pleasure qualified for the 2013 World Young Horse Championships in Verden, but was withdrawn due to an injury. They finished fourth in the 2015 KWPN Stallion Competition Finals at Z-level.
In the early spring of 2016, Dark Pleasure sold to Femke de Laat and Dirk Kosters. They sold the stallion in 2018 to American Anne Howard (née Schmidt). He arrived at Stal Hoog in 2019. 
Legacy
Dark Pleasure has one licensed son, It's a Pleasure (out of a Blue Hors Zack dam). Kings Pleasure (by Dark Pleasure x Johnson) is approved with the Oldenburg studbook and Kaiman (by Dark Pleasure x Gribaldi) will be in the 2020 KWPN stallion test.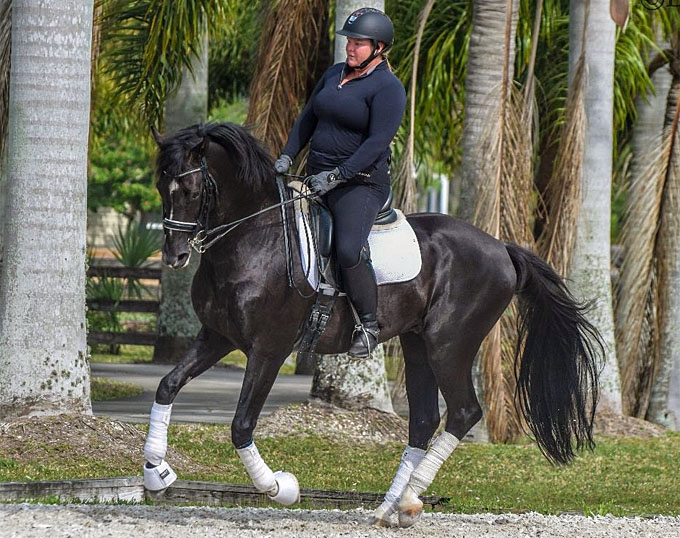 Stal Hoog and its partners have three mares in foal to Dark Pleasure for 2020, in addition to others.
"He was my whole heart and a piece of me went with him," said Katie Hoog. "We didn't have enough time together but every moment I was with him or in the saddle was a cherished one. He never said 'no,' he only said "Ok, let's try." He was the sweetest horse I've ever met. He was learning the one-tempis with ease and his piaffe was getting stronger every day to compliment his amazing passage. We were gearing up for the 2020 Global Dressage Festival and are now so sad to not be able to show the USA this very special horse. Our hearts are broken."
Photos © private
Related Links
Eurodressage Photo Database: Dark Pleasure
KWPN Approved Stallion Dark Pleasure to Stand at Stal Hoog in Florida
Dark Pleasure Sold to the U.S.A.
Femke de Laat Gets Ride on Dark Pleasure
Dark Pleasure to Gerdine Maree, Jana Freund Pregnant
Dark Pleasure and Dunhill Withdrawn from 2013 World Young Horse Championships
Desperado Wins 2011 KWPN Autumn Performance Testing