Oldenburg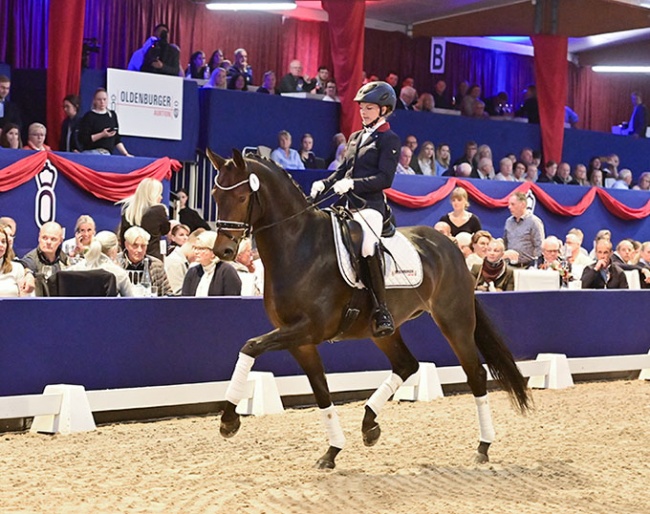 The mare D'Elegance became the price highlight of the 100th Oldenburg Elite Auction on 1 October 2023. The Oldenburg breed society celebrated this anniversary in Ankum as renovations to the Vechta Horse Center are underway. 
The 2023 Oldenburg Autumn Elite Auction brought afoot a large crowd to the Ankum Sport + See Hotel venue were this edition was hosted. 
International Buyers
D'Elegance (by D'Egalite x Sandro Hit x Riccione), bred by Gestut Bonhomme, sold for 146,000 euro to a well name stud farm in Austria. 
The second most expensive horse was Breaking News (by Bonds x Desperados x Brentano II), bred in The Netherlands by Mirjam Drenth and owned by Heinrich Giesselmann. This horse sold to Poland for 101,000 euro.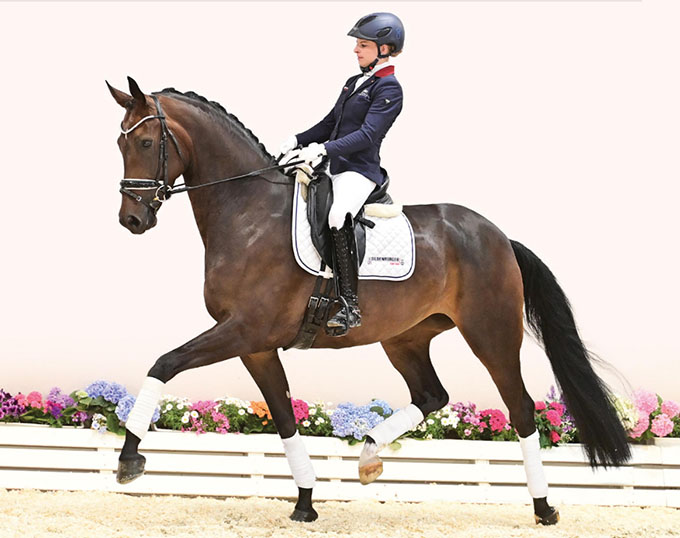 Escala Gold (by Belissimo M x Rohdiamant), who won bronze at the Bundeschampionate, sold to an American Grand Prix rider for 90,000 euro.  Forgio (by For Dance x Sergio Rossi) moves to the U.K. for 82,000 euro. Faible I.B. (by Furst Toto x Fidertanz) moves to Gunnarlunda in Sweden for 70,000 euro.
The most expensive jumper was Bella Rose (by Balou de Rouet x Corlensky G) which sold for 60,500 euro to The Netherlands.  
Bel Amie (by Vivaldi x Bordeaux) stays in Germany for 50,000 euro, Queen Sarah (by Q-Sieben x Sir Donnerhall) fetched 41,000 euro and sold to Poland. Formidable (by Feinrich x De Nir) sold for 40,000 euro just like Val Kilmer (by Valverde x Furst Wilhelm). Swedish horse dealer yard Gunnarlunda also bought Feine Dame (by Furstenball x Sarkozy) for 30,000 euro
A Swiss buyer paid 19,000 euro for Fine Romance (by Fidertanz x For Romance)
Good Prices for Foals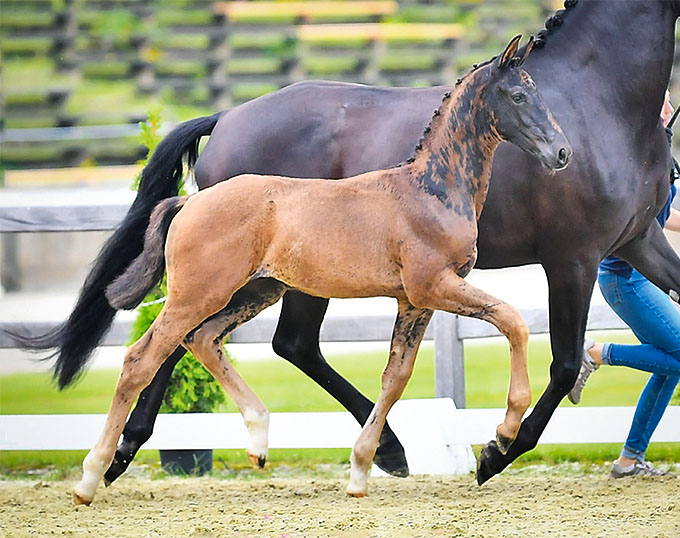 The most expensive foal in the auction was Viva Moon (by Vitalis x Zack x Furstenball), bred by Rolf-Peter Schulze, which sold for 73,000 euro to a dressage stable in Bremen.
Polish clients bought Fairlas (by Fair Deal x Totilas) for 50,000 euro. Polish clients were on a big shopping spree in Ankum. They also bought Dream Catcher (by Dream Royal x Sarkozy) for 17,500 euro, Emily (by Escaneno x Indian Rock) for 17,000 euro.
Felicio (by Feliciano x Spörcken) stays in Germany for 15,500 euro. Bon Index (by Bonds x Don Index) fetched 14,000 euro.
The American Merrie Velden bought Francis (by Franklin x Furstenball) for 11,000 euro. A Ukrainian customer got Victoria (by Vitalos x Millennium) for 13,000 euro.
100th Anniversary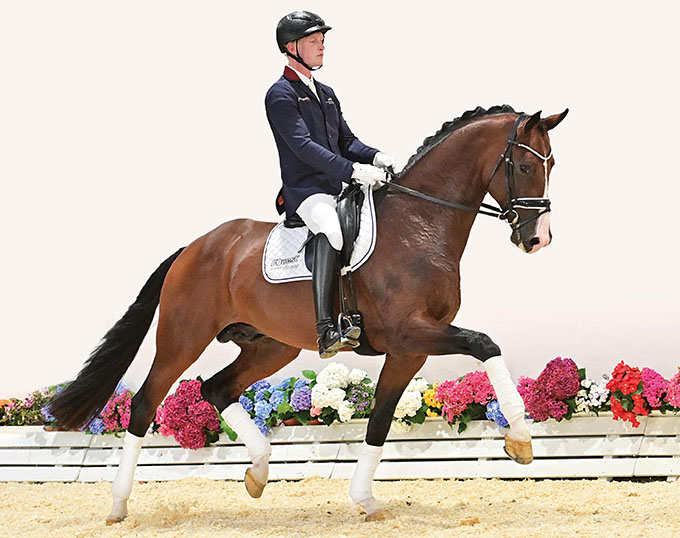 Auction manager and managing director of Oldenburger Pferde-Vermarktungs GmbH Roland Metz said about the anniversary in Ankum: "The 100th elite auction was a complete success - we were able to revive old times and celebrate a brilliant auction weekend together with a fantastic welcome evening in Ankum. We would like to thank all breeders and customers for their loyalty over the years and look forward to further successful auctions."
"The anniversary auction was a special highlight for everyone involved. A big thank you to Ullrich Kasselmann and Paul Schockemöhle for allowing us to welcome our customers here in Ankum. Our stars of tomorrow were once again sought after all over the world and, thanks to the worldwide friends of the Oldenburg horse, we are ready for the next 100 auctions," said auctioneer Thorsten Castle.
The average price for a horse in this auction was 37,500 euro, for a foal it was 16,500 euro.
Complete results: horses - foals