2023 CDI-W Devon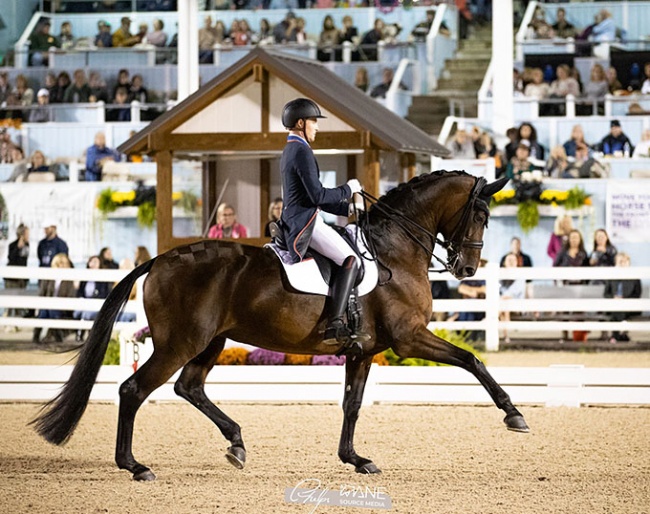 Benjamin Ebeling and the Danish warmblood Indeed became the winners of the World Cup qualifier at 2023 Dressage at Devon CDI-W on Saturday 30 September 2023. 
As a long-time staple on the North American League qualifier calendar for one of the biggest events in international dressage each year, top riders from around the country make their way to the historic show in Devon for a chance to ride in one of the best competition settings in North America.
Known for its electric atmosphere, Benjamin Ebeling and Indeed tapped into the energy of the fully-packed grand stands in the Dixon Oval to deliver a performance worthy of contesting for the World Cup title next spring, earning more than just a blue ribbon.
CDI-W Grand Prix Kur: Ebeling on Top
The field of competitors included 10 riders who competed under the lights for important League ranking points. 
Benjamin Ebeling delivered just that posting a score of 77.325% aboard the 2008 Danish Warmblood mare Indeed by Hofrat x De Niro). The pair is one step closer to their goal of qualifying for the FEI World Cup Dressage Finals in Riyadh, Saudi Arabia in 2024. Ebeling spoke highly of his partner tonight and the connection they have formed.
"She speaks for herself, we have developed a great partnership and we have spent a lot of time together, trying and failing, and failing is really part of the journey to get to successes like these. The freestyle is made up of all strong female diva roles which really suits her, it's all for her, and she knows it. She has been in the family, owned by Vantage Equestrian Group II, LLC for five years, and I have been lucky enough to have the ride on her for two years."
"I am really grateful and lucky to have the owners of Vantage supporting me," Ebeling continued. "I hope the thirty minutes of grooming and massaging her before the ride was enough. I feel that really spending time with her in the stables before the ride continues to develop the partnership. I don't want to just shake hands with her and get on, I want to really be in the know with her and have that deep conversation, sometimes I sing to her, sometimes I dance in her stall – she is a special horse and she needs that connection with someone."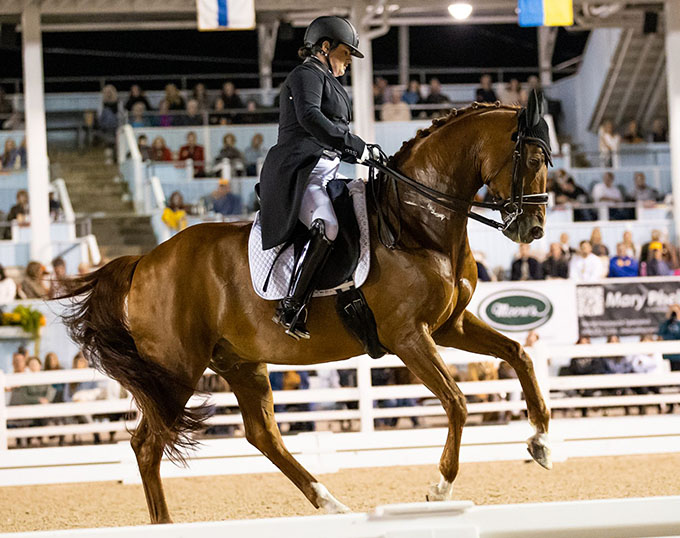 The theme of old guard versus new wave was in full effect on Saturday night during the freestyle as fellow up-and-coming rider, Tanya Strasser-Shostak, daughter of Evi Strasser, and her mom's mount, Fidelis Tyme claimed the second-place position on a personal best score of 74.280%. It was a big evening for Strasser-Shostak and the 2010 Oldenburg gelding by Moosbachhof's Fit for Fun x Peron, who not only competed in her first-ever CDI-W freestyle, and made it on the podium, but the Canadian rider also qualified for the reserve team spot on her country's team for the Pan American Games in Santiago, Chile later this fall.
"It is his first Grand Prix season, our first season together, our first musical freestyle under the lights – for both of us, first World Cup qualifier," Strasser-Shostak said, "there were a lot of firsts here tonight!" The pair only started doing CDI's in May, and now they are qualified for the Pan American Games on the Canadian team. "We thought, in preparation for the Pan Am's, let's do Devon and try to see how it goes. I mean, honestly, every ride on him is literally the biggest gift. I mean, I know that's super cheesy, but I'm so grateful to have him, he's just so honest and has such a big heart, he's so kind and he's very much with me." She continued stating, "I'm just so over the moon with it. The atmosphere tonight was just incredible. It is just amazing to have this type of venue in North America and such a positive crowd, and such a wonderful group of organizers that really make it fun and have everything running smoothly, even though it's such a big show."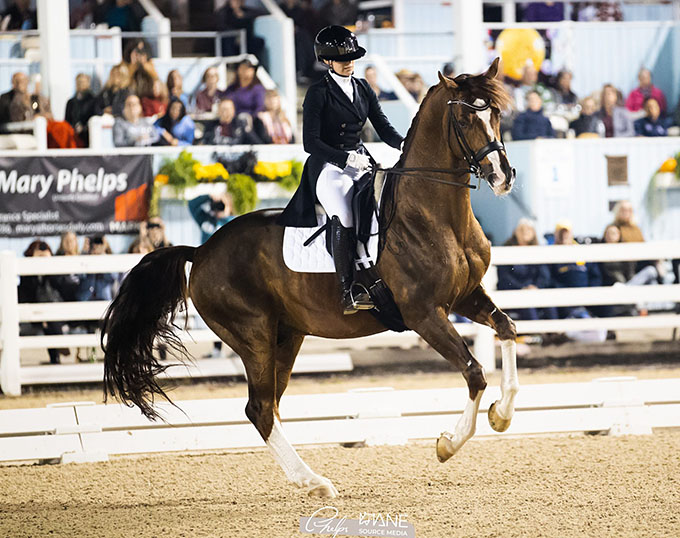 Rounding out the top three was the yet another talented young rider, Hope Cooper,  and Jane Karol's Flynn PCH, a 2006 Hanoverian stallion (by Falsterbo x Walt Disney) who were the final pair to enter the Dixon Oval. Having to contest against a field of tight scores, Cooper and the experienced Grand Prix mount danced under the lights of the Dixon to contemporary hits including, Mi Gente by J Balvin and Willy William and of course some Beyonce, delivering a score of 74.115% just missing out on the second-place position and settling into the third-place podium. 
"I am so proud of Flynn and it was so much fun. The atmosphere here is so electric and the people are cheering and clapping and I couldn't ask for a better horse or a better audience and it was just all the stars aligning to have so much fun tonight," Cooper said of her third place finish tonight. The freestyle was evolved from her U25 Freestyle with a different horse.
Under 25: Allison Nemeth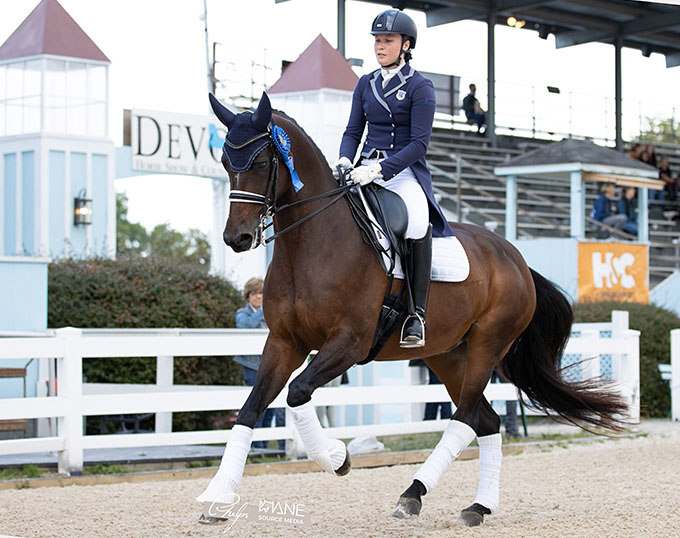 Top young riders kicked off CDI competition for the highly anticipated Saturday line-up of classes starting with the U25 Grand Prix 16-25.
 Earning the blue ribbon was Allison Nemeth aboard Karen Nemeth's 2011 Danish Warmblood mare Tiko (by Tailormade Temptation x Akinos) on a score of 65.590%. Nemeth also earned accolades last year at Dressage at Devon, but as the groom for the winner of the  Grand Prix Freestyle, Alice Tarjan, earning The Jeanne Pake Memorial Trophy.
Speaking into what it means to win the Grand Prix 16-25 at Devon, Nemeth said "It is a little unreal to me still, she and I just moved up to this level this year and I didn't have plans to do a CDI for quite a bit longer, so just to come here to Dressage at Devon was an awesome experience, and then to do this well, it's just been so good. The atmosphere here at Devon is not like any other show in the US." Regarding her experience of showing at Devon, "This is a really fun show, to be in the action the whole time is just, again, not something you get anywhere else in the US," Nemeth said, "For the horses it's just like a really good experience for them to go out there and try to stay with you and I was so glad she stayed with me out there today!"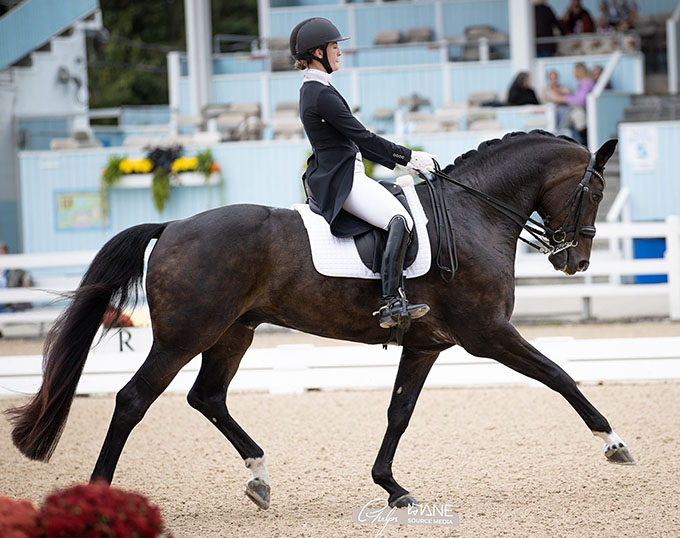 No stranger to Dressage at Devon, Vanessa Creech-Terauds and the 2012 Hanoverian gelding, Daniel L, owned and bred by Louise Leatherdale of Leatherdale Farms earned a score of 64.795% ultimately taking home the second-place position. As an accomplished Canadian FEI Dressage Rider for Team Leatherdale, this was not Creech-Terauds' first ribbon of the week. She and Leatherdale Farm's 4-year-old Hanoverian mare, Duett claimed the Reserve Champion title in the division earlier this week.
U.S. rider, Siena Harris-Gissler rode her newest mount, Status Royal OLD (Statesman OLD × Rubin Royal OLD) to a score of  64.615%. Previously campaigned in the U25 division by Benjamin Ebeling, Status Royal OLD is an experienced U25 mount. This 2010 Oldenburg gelding and his new rider of only a few weeks round out the podium with a third-place finish in first-ever test together in the Dixon Oval.
Grand Prix Special: Evi Strasser
The precursor to the main event, the 3* Grand Prix Special saw Canada's Evi Strasser and Déjà Vu Tyme go two for two here this year at Dressage at Devon, capturing the victory in both last night's 3* Grand Prix, as well as this evening's Grand Prix Special.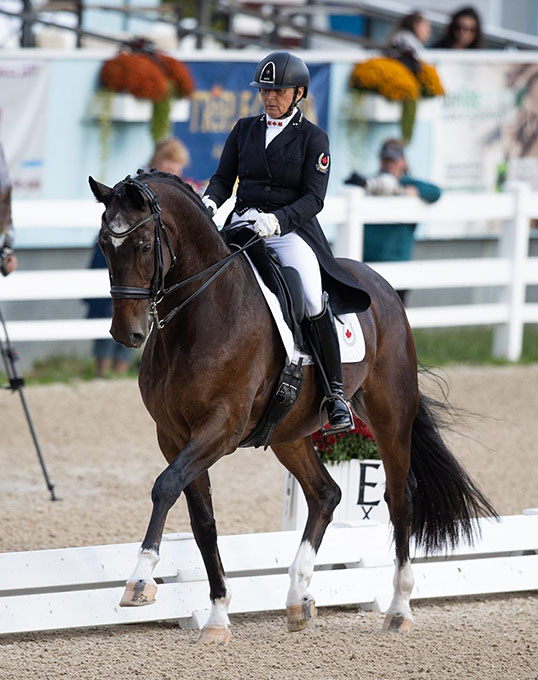 In a class of just three riders, the pair posted a 66.117% to take the victory over Christian Garweg, who posted a 64.745% aboard Karen Meyer's 2009 Dutch Warmblood Gelding, Excalibur RS (by Johnson × Lancer II). Rounding out the podium in third was Emily Wyman and Gretchen Stearnsand's Chigali, a 2007 Dutch warmblood gelding (by Kigali x Chronos).
-- Text PMG press release, edited by Eurodressage - Photos © Olivia Airhart/Phelps Media Group
Related Links
Scores: 2023 CDI-W Devon
Losos de Muniz and Strasser Win Grand Prix Classes at 2023 CDI-W Devon
Love Dance Named Grand Champion of the 2023 Devon Breed Show
Fidelis QC Named Foal Champion at 2023 Devon Breed Show