2023 European Dressage Championships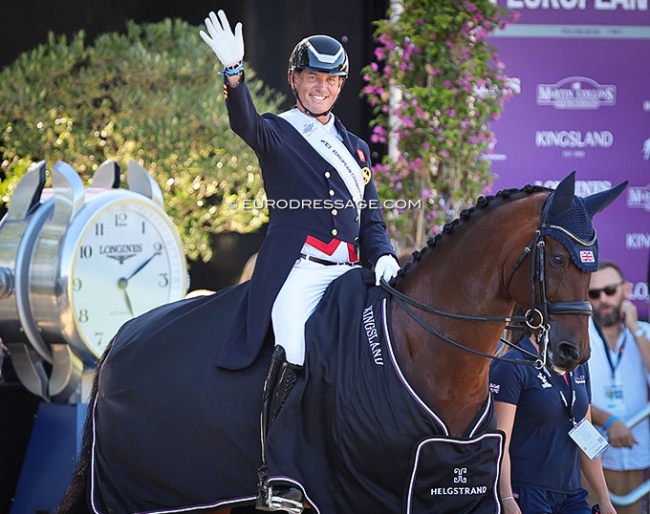 The horsemanship of the British is often a standard for good horsekeeping and Carl Hester sets the example that high performance competition horses can also live a horsey life without the need of wrapping them in bubble wrap.
At the press conference at the 2023 European Dressage Championships both Charlotte and Carl talked about how many of there horses live outside, 
"My horse lives outside all night long, with another horse, pretty much all year round – until we are flooded," Charlotte stated. Hester's yard, Oakelbrook Mill farm, is located near a river which sometimes runs over and floods the fields. 
An Outside Life
Carl clearly expressed that not everyone is in the position to give their horses the horsey life with ample turnout in fields, but this is their personal choice for the mental and physical well-being of their horses. 
"Not everybody is in the situation that we are in to be able to do this with horses," he explained. "I come from an island [Sark] where there are no stables, let alone bridles and saddles, so to me it was totally normal when I came to live [on the mainland] that horses lived normal lives.
"I know it doesn't suit every horse. Valegro couldn't live out 24 hours a day because he is too fat, and likes food – he couldn't be one of those horses. But for some horses like Vogue and Imhotep, the more highly strung horses, it's a brilliant way of keeping them.
"Grass is Natural"
"Grass is natural. People are horrified and I know they don't believe me sometimes when they come to the yard and see horses in a field, together. I don't do that with all horses, but I try to take care of that side of things."
The Grand National
Hester admits that it's not always easy when he hears his horses running, but the benefits outweigh the fear of potential injury.
"I'm the one who lives at the property so I hear them doing the Grand National at night, and no-one else has to worry about them galloping round," he said. "I spend my life hanging out the window wondering if they're all going to be in one piece in the morning!"
"Look What it Does for Our Horses"
"But I'm happy, for us, that they live like that. I know it's not for everyone. We don't impose our wishes on everyone else, saying you have to do this, but look what it does for our horses. That's all I need to say. For me it's natural and we have results from it and that's why we do it. It doesn't suit every horse but for those it does, it's wonderful.
"And it's a wonderfully cheap way in the cost-of-living crisis, this is how you keep the costs down!" he joked.
Photo © Astrid Appels
Related Links
Good Horsekeeping at Gut Schönweide: Social Boxes for Stallions based on Swiss Research
Good House Keeping: Finding the Right Balance in the Management of Dressage Horses
Uta Graf and Stefan Schneider, a Kingdom for a Horse