2023 CDI Dielsdorf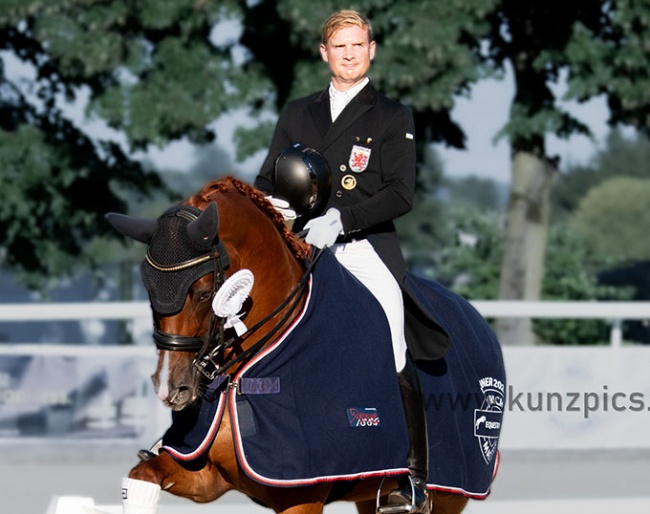 -- Text and photos by Lona Kunz
Luxembourg's Nicolas Wagner beat the sweltering heat to make it a double victory at the inaugural edition of the Zurich Equestrian Masters held at the Horse Park Zürich-Dielsdorf in Dielsdorf, Switzerland, on 17 - 20 August 2023. 
Changing Tactics
Luxembourg's Nicolas Wagner and his 14-year-old Hanovarian gelding Quarter Back Junior FRH (by Quaterback x Bonheur) won the Grand Prix with 70,978 on Friday 18 August 2023, edging out Lisa Müller and Swiss Charlotte Lenherr  on Sir Stanley W.
Wagner beat the sweltering 34 degrees heat for the victory, even though his mark was slightly lower than his usual scoring average.
"It was really hot; I was so glad we had the covered indoor to warm up in. He did feel a bit tired towards the end of the first ride which led to some mistakes, but we changed warm-up tactics before the Special, and I am very happy with him," he said.  
The changed tactics worked as he posted 73,191% in the Special.
"With a shorter warm up before the Special, he felt more elastic and so ready to go and we kept the momentum to the end. Now we go home, relax for a couple of days and start preparing for the Europeans in two weeks' time. This was a perfect last show before Riesenbeck!" Wagner said. 
Swiss Dress Rehearsal for Riesenbeck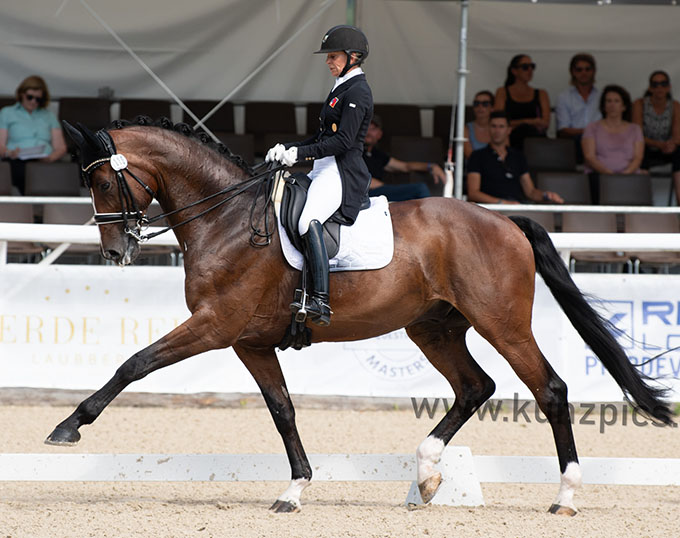 The Swiss equestrian federation used this 4* CDI on home ground as the last selection for Riesenbeck.
"We are so proud of the riders who all rode amazingly well," said Ruth Hass from the federation. "This is the first time we added on a CDI to the existing show in Dielsdorf with show jumping, vaulting and working equitation, but hopefully not the last. We did not have a lot of time to prepare, but we very much hope this CDI will become an annual event."
With Swiss Charlotte Lenherr on Sir Stanley W, a 13-year-old bay gelding (by Stedinger x Florencio) placing third in both 4* Grand Prix classes and Swiss Delia Eggenberger placing 5th with a personal best of 69,391% on 13-year-old Westfalian gelding Fairtrade (by Fiderstep x Santino) in the Grand Prix, a show on home ground was indeed excellent preparation for the European Championships.
Big Big Tour, Small Youth Divisions
With a total of 20 riders in the Grand Prix and 13 riders of those riding special, the big tour had a large field there weren't as many competitors for the other classes. The pony, junior and young rider classes had a little as 2 riders in some classes, the FEI Grand Prix 16-25 only had one competitor and there were 5 in each CDI 2* Intermediate.
"We hope to attract more competitors next year," Ruth said. She gave huge credit to the organizing committee led by Estelle Wettstein, who saw herself in a double role as competitor and president of the organizing committee.
Small and Medium Tour
Both CDI 1* classes had 12 competitors and Charlotte Lenherr (CH) came out as double winner on Davi G, an 8-year-old Oldenburger gelding (by Danciano x Fürst Romancier) with 71,794 in the Prix St. Georges and 70,490 in the Intermediate 1.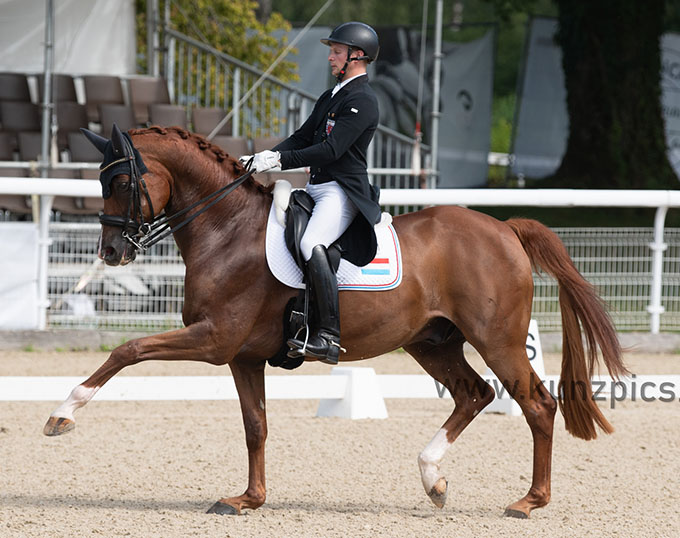 The two CDI 2* Intermediate classes were won by Swiss Andrina Suter on 10-year-old Hanovarian gelding Del Curto (by Dimaggio x Wolkenstanz II) with 71,235 in the Intermediate A and 70,529 in the Intermediate II, both of which are personal bests in the respective classes.
The competition came to a conclusion on Sunday afternoon with the Grand Prix Kur to Music, which was won by German Franziska Stieglmaier aboard the 12-year old Hanoverian Samurai (by St. Moritz Junior x Laureano). They scored a personal best of 74.920% and referred Swiss Gilles Ngovan on the 15-year old Danish bred Zig Zag (by Zack x Don Schufro) to second place with 73.040%.
"The facilities here are amazing, with an excellent covered warm-up arena and fantastic main arena. Especially the automatic watering system has been such a nice extra to have in this heat, which meant no carrying of water back and forth. I very much enjoyed this show and can only give high praise to the organizers," said double winner Nicolas Wagner before he returned home.
Related Links 
Scores: 2023 CDI Dielsdorf
Swiss Junior Robynne Graf Has Third Iron in the Fire for 2023 Show Season