2023 Bundeschampionate Qualifier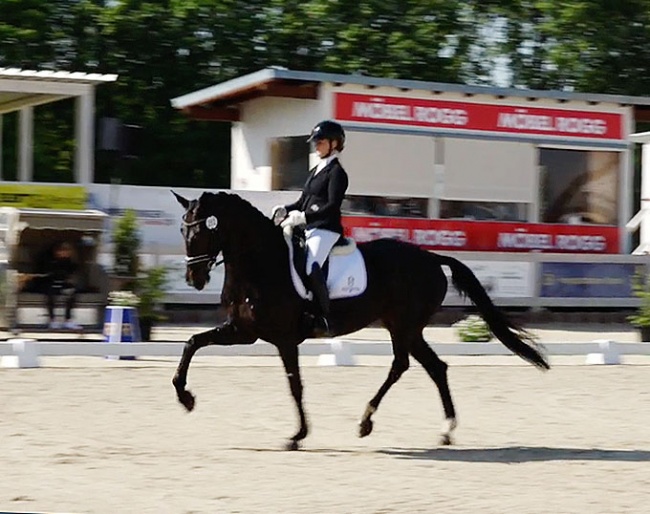 The 5-year old La Santiana and the 6-year olds Firefly and First Rock Star became the winners of the Bundeschampionate qualifier held at Winterlingen Winners Dressur at Andy Witzemann's yard on 1 June 2023. 
5-YO: La Santiana
In a field of 9 competitors Julia Kühn impressed judges Tim Koch, Heinrich Geigl, and Ina-Katrin Schmid the most aboard Rudolf Machat's Holsteiner mare La Santiana (by Secret x Lauries Crusador xx). The pair won the L-level dressage horse test with 8.4 points after receiving 7.5 for walk, 9 for trot, 8.5 for canter, 8 for submission and 9 for general impression. 
Katrin Burger and Markus Schetter's British bred Oldenburg Woodlander Sequoia (by Secret x Imperio) were second with 8.3 points. They got 8 for walk and trot, 9 for canter, 8 for submission and 8.5 for general impression. 
6-YO: Firefly & First Rock Star
 After winning the Ludwigsburg qualifier, Anna-Lisa Schepper and Gestut Birkhof's DSP gelding Firefly (by Fair Game x Furst Heinrich) are on a roll and claimed victory in Winterlingen with 8.0. She had to share the win, though, with Rudolf Widmann on First Rock Star (by For Romance x Rock Forever), who scored the same winning mark of 8.0.
Judges Geigl, Schmid and Koch gave Firefly 7.5 for walk, 8.5 for trot, 8 for canter, submission and general impression. The Oldenburg stallion First Rock Star got 8 for walk and canter, 8.5 for trot, 7.5 for submission and 8 for general impression. 
Results - 2023 Bundeschampionate Qualifier - Winterlingen
5-year olds
Rider - Horse - Trot - Walk - canter - submission - general impression - total
1  1 Julia Kühn - La Santiana (by Secret / Lauries Crusador xx) - 9 7.5 8.5 8 9 --- 8.4
2 Katrin Burger  - Woodlander Sequoia (by Secret / Imperio) - 8.0 8 9 8 8.5 --- 8.3
3 Maren Schatz  - Svenson F (by Secret / Sandro Hit) - 8.5 8 9 7 8 --- 8.1
4 Chiara Rüesch  -  First Finesse VEC (by Fürstenball / Don Romantic) - 8 8 8 8 8 --- 8
4 Leonie Moll  - Soccx S (by Secret / United) -  8 7.5 8.5 8 8 --- 8
6 Luisa-Danielle Stohldreier  - Bon Fire (by Bon Coeur / Lord Fantastic) - 7.5 7.5 7.5 7.5 7.5 --- 7.5
7 Anna Riepl  -  Doristo (by Durello / Pentagon's Peron) - 7.5 7 7.5 7 7.5 --- 7.3
8 Charlyn Zehetbauer  - Donatella (by Don Martillo / Desperados) -  7 7 7 6.5 7 --- 6.9
Nicole Hofmann  -  Ehestetten 367 Tilly 39 S / DSP / 2018 / Thiago / San Amour ) - RET
6-year olds
Rider - Horse - Trot - Walk - canter - submission - general impression - total
1.  1 Anna-Lisa Schepper  - Firefly (by Fair Game / Fürst Heinrich) -  8.5 7.5 8 8 8 --- 8
1 Rudolf Widmann  - First Rock Star (by For Romance I / Rock Forever) - 8.5 8 8 7.5 8 --- 8
3 Doris Heizmann  - Vitali (by Vitalis / Licotus) - 8.5 7.5 7.5 7 8 --- 7.7
4 Linda Knoll - For Westfalia (by For Dance / Scolari) - 8 7.5 7.5 7 7.5 --- 7.5
5 Laura Weiss -  Fortune & Fame (by Fürstenball / Sandro Hit) - 7.5 7 7.5 7 7.5 --- 7.3
6 Nicole Hofmann  - Dassia (by Fahrenheit / De Niro) -  7 7 7 5.5 6.5 --- 6.6
6 Gina Rempfer  - Zarif (by Zalando / Denario) - 7.5 7 7 5 6.5 --- 6.6
8 Luisa-Danielle Stohldreier  - Flaconi (by Fürstenball / Wolken-Hit) -  7 6.5 6.5 6 6.5 --- 6.5
Related Link
Eurodressage Coverage of the 2023 Bundeschampionate