2023 Swedish Pony Championships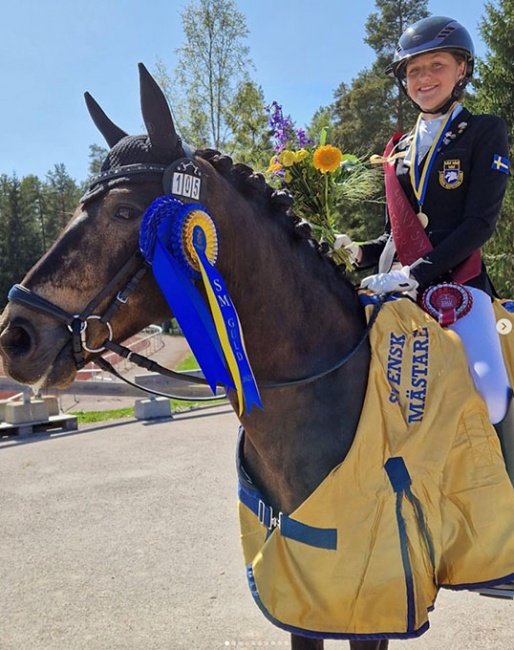 Ronja Kardos surfaced at the top of the leader board and crowned herself champion of the 2023 Swedish Pony Championships held at the Falu riding club in Falun on 18 - 21 May 2023. 
The Swedish Pony Nationals included divisions across the levels for ponies of all sizes, but the feature division was the FEI level pony class for the tallest ponies from which the best combinations traditionally end up making the team for the European Pony Championships later this summer. 
Gold for Kardos
The 13-year old Kardos crowned herself champion in although she never won one of three rounds. However, the experienced international pony rider proved consistency aboard the 13-year old Swedish Connemara registered pony Nice One (by Sjodalens Magnet x Rolls Royce), who bred and owned by Sara Liew. She placed fourth in the first round 71.143%, second in the second round 71.306% and second in the third round 73.170%. Her total of 215.619 points was the highest in the field, which put Kardos on the gold step of the podium for the title.
"My dream has come true! Nisse and I are Swedish champions," Ronja took to Instagram. "I just love this pony so much
Trained by her mom Camilla Axelsson, Kardos began her international pony career in 2021 and has already competed no less than 5 ponies at CDI shows across Europe.   In 2022 she made it to the European Pony Championships on Brannornas Rigoletto (by Verdi RP x Derano B). Nice One arrived in her barn as a sales pony but he was so good that they decided to buy him herself. 
Pettersson and Hokfelt On the Podium
The 14-year old Vida Nordling Pettersson and the 10-year old German Riding Pony Dreimalhoch S (by Dreidimensional x Benedict) landed second place and the silver medal. The pair climbed their way up the ladder, placing sixth on day one with 70.952%, third on day two with 70.991%, but were back to fifth in the freestyle with 72.305%. Their total of 214.248 points made them the runners-up in the field.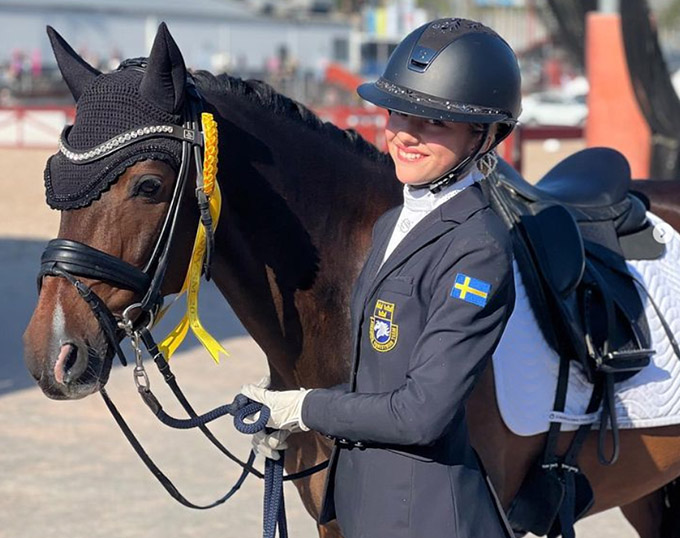 Trained by Jennifer "Ninni" Svensson, Vida and her bay gelding are aspiring Swedish team selection and made their CDI debut in Tolbert in April.  "I'm so grateful for my wonderful pony, mother and trainer," said Vida. "And of course all the friends and family who have cheered us on."
The bronze medal went to Tilda André Hokfelt, daughter of international Swedish professional dressage rider Pernille André Hokfelt. Aboard the 13-year old Swedish bred Hamilton's I Did It My Way (by Verona's Bo-Gi x Bayron) Tilda placed seventh (70.048%), fourth on day two (70.540%), and won the freestyle (73.555%). She totalled 214.143 points.  The 14-year old Tilda previously competed this pony in the Children division and made her CDI debut in Flyinge in 2022.
Photos © private
Results - 2023 Swedish Pony Championships - Falun
1 Ronja Kardos - Nice One -  71.143 71.306 73.170 --- 215.619
2 Vida Nordling Pettersson  - Dreimalhoch S  -  70.952 70.991 72.305 --- 214.248
3 Tilda André Hokfelt  -  Hamiltons I did it My Way  -  70.048 70.540 73.555 --- 214.143
4 Wilma Bornhager  -  Frans Isak  -  71.143 70.045 72.510 --- 213.698
5 Wilma Holmgren  - Casino Royale K  - 68.953 71.622 72.680 --- 213.255
6 Juni Skobe Rosén  - Carpe Diem E  -  66.857 68.784 71.530 --- 207.171
7 Annie Walfridsson Torsby  -  Dogge Doggelito  -  67.571 69.144 70.095 --- 206.810
8 Ellen Jakobsson  - Duke of Diamond  - 67.524 69.279 69.355 --- 206.158
9 Julia Sundell Täby  - Minigårdens Kapten Krok  - 67.000 66.712 69.985 --- 203.697
10 Alma Sjöblom Särö  -  Vanity Fair  - 66.000 67.207 69.170 --- 202.377
11 Filippa Lyrå  -  White Love B  - 64.809 65.361 70.585 --- 200.755
12 Cornelia Seaton  - Schierensees Mithril  - 67.333 65.225 67.960 --- 200.518
13 Ebba Södermalm  -  Keizerskroon Finn  - 64.238 66.847 69.095 --- 200.180
14 Isabelle Lindstedt  -  Falco  - 64.952 66.036 66.410 --- 197.398
15 Emla Vilhelmsson  - Arragon  - 64.333 66.306 65.555 --- 196.194
Complete results here
Related Links
Elliot Nilsson Wins 2020 Swedish Pony Championship
Sandgren and Berglund Bergakra Win 2018 Swedish Pony and Children Championships
Barnestam Olssen Wins 2017 Swedish Pony Championships
Pettersson, Bergakra Berglund, Gyllensward, Mathisen Win 2017 Swedish Dressage Championships
Egholm Hebsgaard Wins 2015 Swedish Pony Championships
Andersson, Mattsson, Aspnas Win Gold at 2012 Swedish Youth Riders Championships
Marina Mattsson Wins 2010 Swedish Pony Championships