NRPS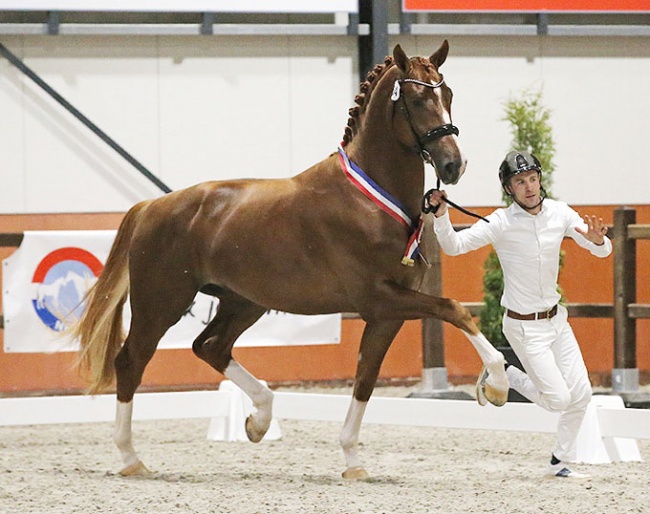 Toto Pacha was named the champion of the 2023 NRPS Stallion licensing which came to a conclusion with a final phase in Dronten, The Netherlands on 25 March 2023.
No less than 20 dressage bred stallions were accepted for breeding with the NRPS studbook; a smaller Dutch breeding society which used to rely on a more Anglo Arab influx into its bloodlines, but now mainly accepts KWPN bred horses. 
The final phase included the 16 stallions that were already approved on 18 February as well as a few more that were accepted at home licensings the past month. 
Toto Pacha was considered the most "complete" stallion. He is bred by F and S al Sabah and is by Toto Jr x Charmeur
The licensed colts are:
D'Obsession A (2019, Dream Boy x United)
Fine Prestwick (2020, Fontaine x Guardian S)
Fort Potencion (2020, For Ferrero x Ferdeaux)
Firestarter (Forty x Ampère)
Gibson (2020, George Clooney x Glamourdale)
Gallagher (2020, Glamourdale x Kennedy)
Glamrock (2020, Glamourdale x Jazz)
Hitchcock(2020, Hitmaker x Uphill)
J Prime Time Beca (2020, Jameson x Apache)
Luganas AVE (2020, Lantanas x Tuschinski)
Lucky L (2020, Livius x Charmeur)
Rover EPJ (2020, Revolution x Ferdeaux)
Sylvester Son ACB (2020, Tørveslettens Sylvester x Krack C)
Toto Pacha (2020, Toto Jr. x Charmeur)
Toto Partout (2020, Toto Jr. x Vivaldi)
Lorenzi (2020, Le Formidable x Sir Donnerhall)
Le Phorce One (2020, Le Formidable x Tolando)
Tulsa King (2020, Toto Jr. x Sir Sinclair)
Kane (2020, Kjento x Rousseau)
Hexagon's Ich Weiss (2013, Rubiquil x Negro)
Related Links
Sixteen Colts Pass the 2023 NRPS Stallion Licensing
Topgun, Champion of the 2022 NRPS Stallion Licensing
Fourteen Colts Accepted at 2022 NRPS Stallion Licensing
S'Next Generation, Champion of the 2021 NRPS Stallion Licensing
Licor, Champion of the 2020 NRPS Stallion Licensing
Glamourboy, Champion of the 2019 NRPS Stallion Licensing
D'Joep, High Scorer of the 2019 NRPS Stallion Performance Test
D'Joep Named Champion of the 2017 NRPS Stallion Licensing
Nagano, High Scorer at the 2017 NRPS Stallion Performance Testing
Fideniro, Crowd Favourite of the 2014 NRPS Stallion Licensing
Guidam's Willow the Second, Champion of the 2013 NRPS Stallion Licensing
Thirteen Stallions Approved at 2012 NRPS Stallion Licensing
Twenty Colts Accepted at 2011 NRPS Stallion Licensing
Twenty-Five Colts Approved at 2010 NRPS Stallion Licensing
Fifteen Stallions Approved for the NRPS Studbook
Sunliner, Champion of the 2009 NRPS Stallion Licensing
Ferrero Wins 2006 NRPS Stallion Licensing