2023 CDI Wellington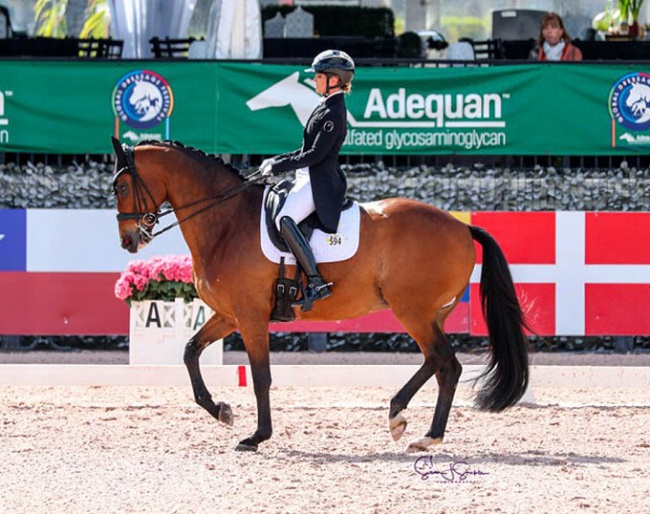 -- GDF press release, edited by Eurodressage
France's Morgan Barbançon brought victory home on her own Bolero, leading a robust line-up of twenty horse-and-rider combinations in the Grand Prix 3* for Special at the 2023 CDI Wellington on 16 March 2023.
Barbançon and the 17-year-old KWPN gelding (by Johnson x Vincent) rode to a score of 71.152%, the only pair to touch 70% in the class, and the last combination to go.
 Second place went to Dong Seon Kim (KOR) and the 13-year-old Westphalian gelding Bohemian (by Bordeaux x Samarant) with 69.978%. Third place was awarded to the USA's Susan Dutta riding the 13-year-old Hanoverian gelding (by Der Designer x Sir Donnerhall) Don Design DC to a 68.739%.
"Everything Was Good"
"Today, the piaffe was really good," said the French Olympian, who is currently coached by Gareth Hughes via online teaching. "The pirouettes, too. Everything was good today, the two tempis could have been straighter, but everything else was solid and he put in a solid test. I'm so proud of him. He carried me through that test today. I was really not mentally on my game based on my other rides I've had this week, so I'm super proud of him."
Barbançon and Bolero are no strangers to the international ring together, marking over 50 CDI starts despite an injury that sidelined the gelding for two years. "Bolero had a long-time injury," Barbançon explained. "But he is back in shape now and feeling great, and he proved that again today. He's a very solid, consistent horse, I know that he's not always a high scorer, but he is always there to do his job and is very consistent. He gives me the mileage and show experience which is really important."
Barbançon, who is based in Switzerland, is having a successful first season in Wellington with several mounts. "I'm super happy with my season," she noted. "The horses have improved tons. The horses that I have now are not indoor horses, they are sensitive horses, so I am happy to be competing outside, and we are now going to be ready for the outdoor season; the horses will already be in the mood for the shows. I don't need to show them so much in Europe to get ready for the Europeans, because they are getting their mileage and experience now."
 Kohmann and Five Star Win One-Star Prix St Georges
In the  Prix St. George 1*, Kevin Kohmann (USA) and Equitas LLC's 13-year-old KWPN stallion Five Star (by Amazing Star x Jazz)  came to shine, besting the class of 31 with a score of 73.284%.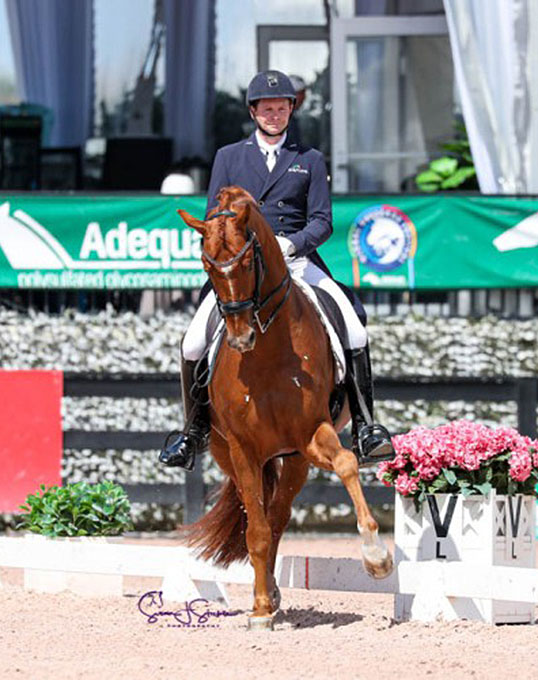 "I think some highlights today were my trot work," said Kohmann. "There were highlights in the canter, and the extended canter – that's always a highlight with this horse – I've gotten 10's on that movement before with him. All the extensions he loves, anything really forward. The walk is amazing on the horse, normally his extended walk and extended canter is the highlight with him.
"The horse was simply amazing," continued Kohmann, who trains with Christoph Koschel. "He really helps me in the ring all the time, which is so nice."
Second place in the  Prix St. Georges  1* was captured by Denmark's Alexander Yde Helgstrand on Belantis, a 14-year-old Danish Sport Horse gelding (by Benetton Dream x Expose) with 72.647%. Third went to Kristina Harrison-Antell (USA) and Jocelyn Towne's 10-year-old American bred Dutch Warmblood gelding I Felix (by Fidertanz x UB40) with 71.569%.
Dropping Down a Level for Pan Am Dream
Out of 25 international starts together, the pair has had 15 wins. The pair moved to national Grand Prix level in 2022 and has a full year of Grand Prix competition down their belt, but for 2023 they dropped down a level to pursue Pan American Games team selection. 
"We have not been riding Prix St. Georges/I1 for a long time at this point," he explained. "We have been showing nationally at Grand Prix but it is not quite right in the big ring yet, and in going back to small tour, we might have a chance to qualify for Pan Am Games. After the CDI's we will just see where he's at and evaluate, but he's basically ready for it."
The pair will finish out their season here in Wellington next week, and then head north to Ocala to continue their campaigning.
"We are going to do every CDI that's left now," Kohmann concluded. "There's one next week and then we will go to both CDIs in Ocala and try to collect the points we need."
Photos © Sue Stickle
Related Links
Scores: 2023 CDI Wellington
Barbançon and Buffini Best the Field in Double Grand Prix at 2023 Palm Beach Derby