Westfalian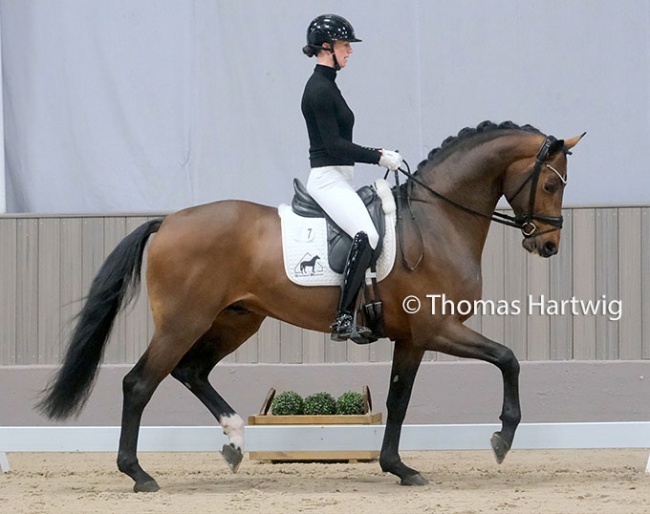 Escaneno became the high scoring stallion at the Stallion Sport Test which was held in Münster on 29 - 31 January 2023. 
There were two groups based on age. In the 4-year old group there were 14 stallions who participated and one stallion dropped out. In the 5-year old group there were four participants. The test rider was Richard Hannöver.
4-YO: Escaneno
The Westfalian bred Escaneno (by Escamillo x Veneno x Ravallo) scored a total 9,09 points with 8.8 for walk, 9 for trot, 8.8 for canter, 9.5 for rideability and 9.2 for general impression.
He was one of six (!!) reserve champions at the 2021 Westfalian Stallion Licensing and is bred and owned by stallion keeper Tobias Schult. He was not offered for sale in the auction but the stallion moved to Klosterhof Medingen to stand at stud.   A few weeks after the licensing in 2021, the stallion lost his licensed stallion as he had tested positive to the antipsychotic fluphenazine. A few months later he was re-licensed after a successful second presentation to the licensing committee. 
Hannah Laser presented him in the sport test.
4-YO:  Del Sogno and St. Emilion
The second best score was achieved by Del Sogno (by Dante's Junior x Lauries Crusador xx x Worldly), owned by Sönke Rothenberger.  He scored a total of 8,60 points with 8.7 for walk, 8.0 for trot, 8.5 for canter, 9 for rideability and 8.6 for general impression. 
One point behind him was Klosterhof Medingen's St. Emilion (by Suarez x Dante Weltino x Rubinstein). Bred in Sweden by Nina Sixtensson, he scored a total of 8.59 points with 8.7 for walk, 8.6 for trot, canter, general impression and 8.5 for rideability.
4-YO: Etienne
The drop out in the 4-year old group was Etienne (by Escolar x Sir Donnerhall x Laurentianer), bred by  Franz Remmersmann and owned by Gestüt Gut Neuenhof.
Presented by Simone Pearce in the sport test, Etienne did not get a score because unauthorized tack was discovered at the bit check. The official score sheet stated this with the words "ohne Ergebnis aufgrund unerlaubter Ausrüstung." According to Zuchterforum, the horse was ridden in an unauthorized snaffle.
Etienne is the full brother of Eternity, who won gold and bronze at the Bundeschampionate and then went on to win bronze at the 2021 World Young Horse Championships in Verden. The bay gelding is owned by sales yard Helgstrand but so far has not been t sold despite all his accolades in the show ring. In 2022 Helgstrand rider Anne-Mette Strandby competed him at national small tour level in Denmark.
5-YO: Infantino
In the small group of four 5-year olds, the top scorers was Infantino (by Ibiza x Sandro Hit x Weltmeyer). He scored a total of 8,43 points with 8 for walk, 8.5 for trot, 8.2 for canter, 8.8 for rideability and 8.5 for general impression. Presented by Martin Determann, he was ridden by Kira Wulferding. 
The second best score was for St. Athletique (by Blue Hors St. Schufro x Hofrat x Wie Weltmeyer) who got 8.02. 
Complete results here. 
Related Links
Escaneno Tests Positive to Fluphenazine at 2021 Westfalian Stallion Licensing
Jovian, Emperor of the Day, Takes 7-YO Title at 2021 World Young Horse Championships
Ten Colts Pass 2023 Hanoverian Stallion Approval and Late Licensing