Germany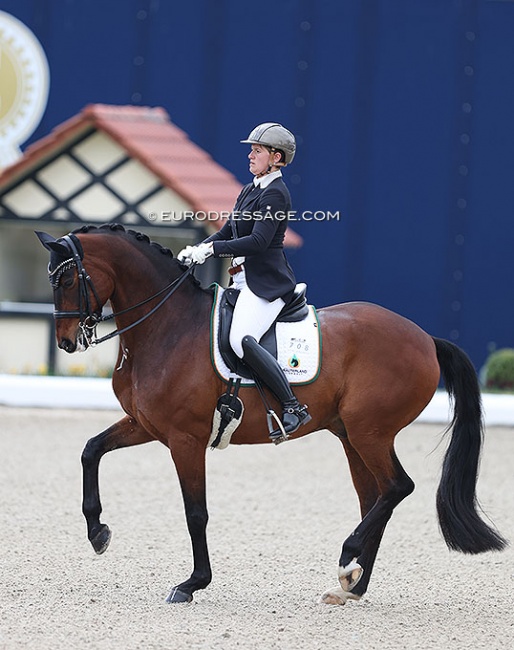 Queolito, a 2022 Louisdor Cup finalist, has moved stables and received a new rider. Nina Kudernak said goodbye to the bay gelding and Bianca Nowag welcomed him in her barn in Warendorf. 
Queolito is an 11-year old Hanoverian gelding by Quaterhall out of Feolito (by Furst Romancier x Warkant). He is bred by Christine Richter. 
Claudia Feldmann
The bay gelding began his competition career as a 4-year old in 2016 under Claudia Feldmann. 
She took him from the riding horse tests in to the dressage horse L-level tests in 2017. 
Feldmann's last show was in September 2017 after which owner Melissa Grasser found a new rider for him.
Nina Kudernak
The 28-year old professional dressage rider Nina Kudernak took over the ride.  She made her show debut on Queolito in April 2018 at M-level. 
In 2019 they moved up to small tour level and by May 2021 they reached Intermediaire II level.
The pair's best season was in 2022 when they showed in the Louisdor cup qualifiers at high profile national competitions in Darmstadt, Wiesbaden, Balve, and Kronberg, and cracking the 70% barrier. They won the last qualifier in Donzdorf. 
At the 2022 Louisdor Cup Finals for developing Grand Prix horses in Frankfurt, the pair finished 10th with 65.160% after the horse had difficulties coping with the electric atmosphere in the warm-up round (63.893%).
For 12 years Kudernak was based at Conrad Schumacher's Hofgut Neuhof in Dreieich, where she trains with Ellen Bontje. Since 2019 she got coaching from German U25 team trainer Sebastian Heinze.  On 1 July 2022 Kudernak moved to the riding club in Neu Isenburg. Since January 2022 she has been working with Monica Theodorescu.
Bianca Nowag
Shortly after the New Year, Grasser moved the horse from Kudernak to Nowag, who also trains with Sebastian Heinze.
Photo © Astrid Appels
Related Links
Finalists for the 2022 Louisdor Cup in Frankfurt
Borsalino and Finest Pearl Win 2017 Wolfskehlen Bundeschampionate Qualifier