Oldenburg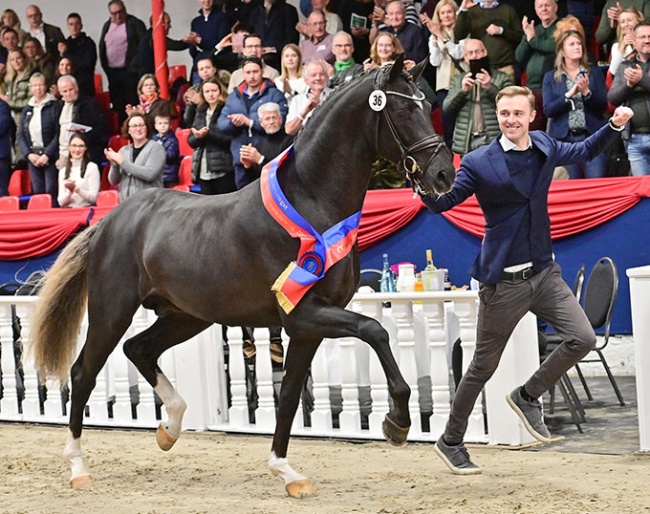 A gorgeous liver chestnut with flaxen mane and tail (by Bon Courage x Sezuan) has been named the champion of the 2023 Oldenburg Stallion Licensing in Vechta on Saturday morning 14 January 2023. 
A collection of 49 dressage bred horses was selected for this licensing. In the end, 42 completed all three inspection days. Twenty-two were licensed.
Eurodressage annually visits the Oldenburg stallion licensing and turns the three day trip into a wonderful social event, meeting breeder friends from across the world while watching wonderful stallions. Here are our impressions. 
From November to January
For the first time the OIdenburg auction was pushed back by two months, moving from November to January, to allow the young stallions two more months time to grow and develop. This decision is based on a new animal welfare law in Germany. Oldenburg is the only auction which moved its licensing by two months, while the other major breed societies only moved their auction by a few weeks, or not at all.
It would be a really brave move if next year, Oldenburg and other breeding "verbands" would push the auction to an even later date, let's say March, or why not be crazy and give these horses actually the time to become a real 3-year old and do the licensing at the end of their third year in November?
Bon Esprit - Brioni - nr 36 - the Flaxen tail one
Another rule change that would make it easier on the human's brain would be for these stallions to actually be named, either the name the breeder gave them or the owner, instead of having to refer to horses as "catalog number 36" or "the flaxen tail one".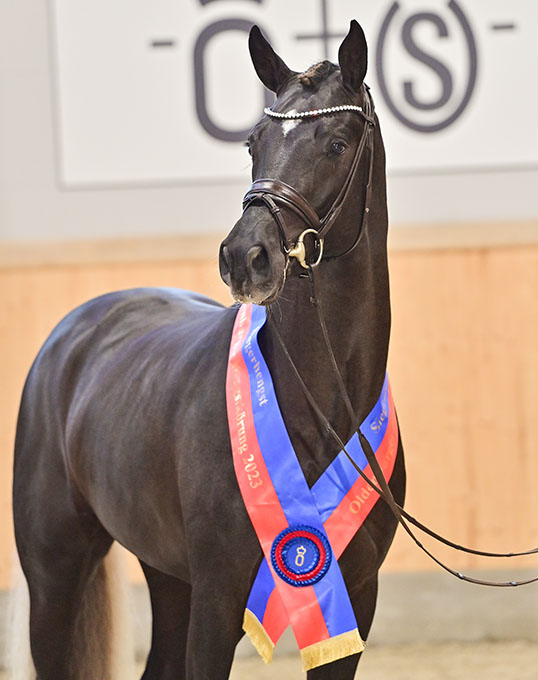 The stand-out horse from start to finish this year was nr 36, an impressive, superbly modelled Bon Courage x Sezuan x Dimaggio son, bred by Jürgen Fetzer and owned by Sönke Rothenberger's horse investment company "Rothenberger ventures".
The very masculine stallion moved with much self awareness, was spectacular in trot with an ever engaged hindleg, had a very ground covering, well suspended canter and in the walk he was not outstanding, but definitely good. On the lunge line he was handled by Johannes Westendarp, known as the master of lunging, and presented himself with good balance and a wonderful carrying and powerful hindleg. 
Originally named Bon Esprit by the breeder, Sönke named him "Brioni". He was the undoubted champion of the 2023 licensing and gave a good boost to sire Bon Courage's reputation, who also presented an excellent first crop at the 2022 Hanoverian stallion licensing at the beginning of November. (editor's note, 22 January: Schönweide has decided to keep the breeder's name: Bon Esprit it is!)
The grapevine was buzzing with assumptions who would secure this stallion for their roster and the names Helgstrand and Glock were flying through the room. In the end it was Swiss Adrian Gasser, who operates Gestut Schönweide in the north of Germany, that was able to buy this colt at auction for a record price of 1,250,000 euro!
For breeder Jurgen Fetzer this is his second champion stallion in a decade. In 2012 he had the licensing champion with Follow Me. He is also the breeder of the 2019 Oldenburg main premium title winner Follow Him's Schönweide. 
Bonds x Bretton Woods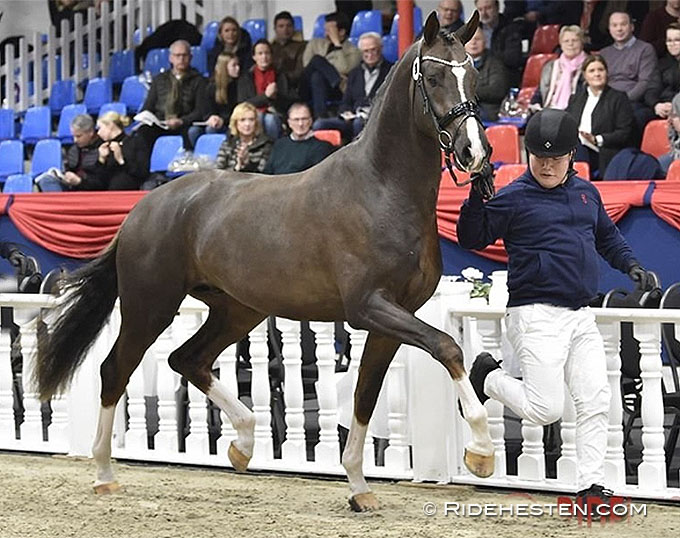 The Oldenburg stallion licensing committee, which includes Oliver Oelrich, Ute von Platen, Bernhard Thoben, Evvelin Schlotmann, and Josef Freese, saw the reserve champion in catalog nr 38, a Bonds x Bretton Woods x Gribaldi. 
Bred and owned by the Fürst & Besecke duo, the tall liver chestnut stallion certainly had plenty of frame and size and caught the eye. To my feeling, this handsome lad could have had more roundness in the canter and was a bit tight in the hocks behind with the right hind leg moving out, but he presented a good walk and was certainly a good looking lad. 
He sold at auction for 255,000 euro and moves to the Moritzburg state stud.
Total Caledonia, Made in Scotland
I would have preferred Total Caledonia to have received the reserve champion's title.
Sired by Totilas out of elite mare Sugar Plum Fairy (by Sir Donnerhall x Don Schufro x Friedensherr), this black stallion might not have that 'grand' size and frame as the Bonds x Bretton Woods, but the quality of movement and the fabulous temperament of this Scottish bred stallion were superior. 
Both in freedom and on the lunge line, the stallion moved with great functionality, a lot of balance and cadence in trot. He flexed the hocks well and was very light and elastic on his feet. Overall the canter could have been a bit more uphill. The walk had plenty of ground cover and a good rhythm although on the third day it didn't stay as secure in the rhythm. What really stood out was the mentality of this horse: he appeared very sane in the brain and with good overview throughout the three stressful days.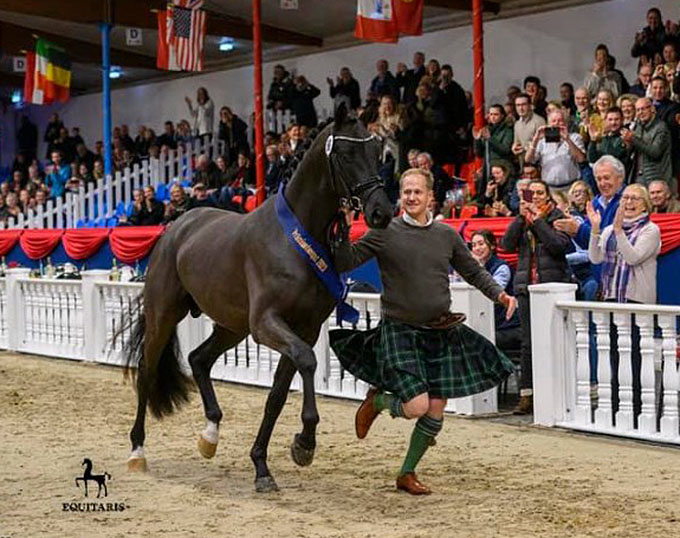 Total Caledonia is bred by Reay Campbell in Scotland. New Zealand born, Reay and her husband Pete run Caledonia Sport Horses in a picturesque location near Invershin, Scotland. Campbell began her dressage breeding programme twenty years ago after she rescued 12 emaciated mares out of a bankruptcy. The mares were sired by Friedensherr (by Wanderer x Gotthard) and had thoroughbred dam lines. From there she built her dressage line using Don Schufro and Sir Donnerhall. Despite the remoteness of Campbell's yard, top dressage riders and investors have found their way to Caledonia, just like Matthias Rath who bought Total Caledonia as a foal and will stand him at stepmom Ann-Kathrin Linsenhoff's Gestüt Schafhof. For Campbell the year has been a coronation of her breeding efforts. Total Caledonia's full sister, Shadow Fairy Caledona, was a bronze medalist at the 2022 Oldenburg elite mare show in Rastede.
The photo of the 2023 Licensing was snapped during the premium prize giving, in whoch both Pete Campbell and Matthias Rath appeared in kilts for the ceremony. A bet was made at the 2022 CDI Frankfurt in December that Rath would were a kilt if their stallion was to become a premium stallion. Rath put his money where his mouth is and wore the 100-year old kit of Pete's great grandfather J R Campbell.
Viva la Vida Z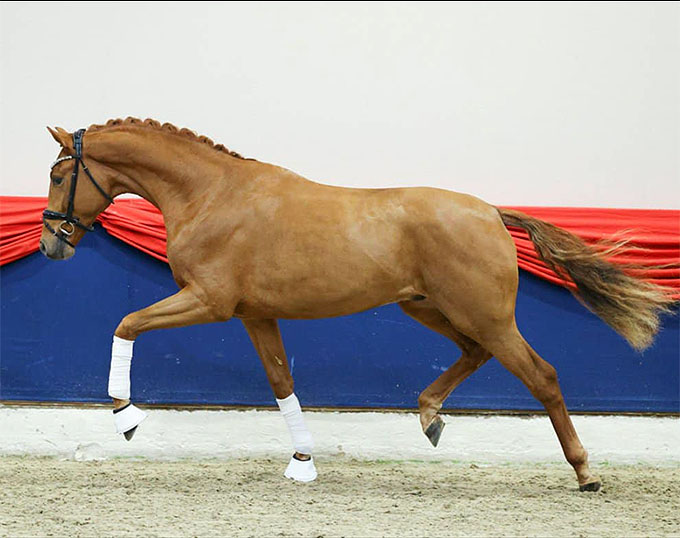 The fourth ranked premium stallion was catalog nr 77, Viva la Vida Z, a chestnut by Viva Gold x Sir Donnerhall x Rubinstein x Ramino. Bred  and owned by Julia Hermann, this colt was one of four Viva Golds in the licensing; two of them were premium, the other two weren't licensed.
The Viva Golds underwhelmed on the lung line in my view. They appeared flat and quite unbalanced, but it was amazing to see how much better and more elastic they moved in freedom. They really upgraded themselves in freedom and particularly Viva la Vida Z was quick behind in trot, although in canter he stayed a bit horizontal in the topline. I would have liked to see him carry more from behind, but of course this boy is still very young. 
He sold for 65,000 euro at auction to Julia Voigtländer and has been renamed Villeroy. He will stand in Neustadt/Dosse
The Surprise in the End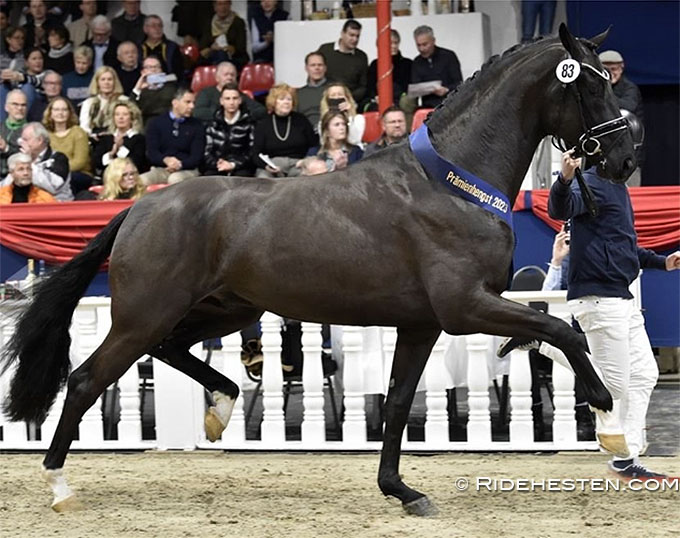 Friday's marathon day of the presentation in freedom started at 8h30 AM and lasted until 21h00 in the evening. With a huge group of dressage horses presented in the arena one by one, it had one's head spinning at the end of the day, and I didn't even watch the show jumpers. Fortunately the last one to go, catalog number 83, was worth the wait. What a horse!
The black Zarenball (by Zenon x Furstenball x Londonderry x Werther) is bred by Arndt Schwierking and sold a month before the licensing by Lukas Fischer to Berlin horsewoman Julia Voigtländer. There are two licensed  Zenons out there: the 2004 born KWPN bred Zenon (by Rousseau x Whinny Jackson), who sired Susan Pape's Grand Prix horse Eclectisch. This Zenon totally disappeared and is in the U.K. with his owner, Wayne Channon. And there is the now more well known Zenon VDL (by Zonik x Don Schufro), the sire of nr 83. 
This large-framed, modern black had hindlegs always reaching under. The trot was ground covering with good mechanics. He was uphill in canter. The walk was ok, at times could have more V-moment in the rhythm. 
He was not for sale.
Three Sixth Ranked Stallions
Three premium colts were "unranked" or tied in sixth place.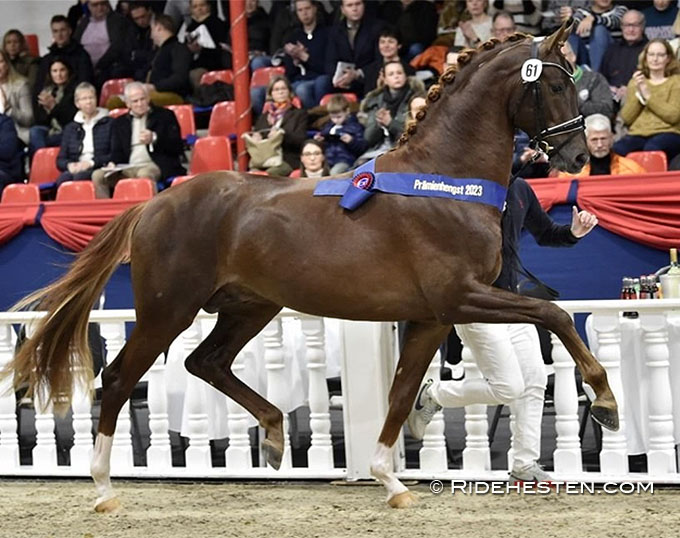 The tall and very handsome L'Avenir (by Le Formidable x Sir Donnerhall x Don Schufro) is bred by Christine Arns-Krogman and has Weihegold as grand dam. As a foal this chestnut was a sensation on social media and sold to Le Formidable's owner Saskia Poel and her friend Karel Gerrits in The Netherlands. On the lunge line the tall liver chestnut showed elegant, lightfooted trot work and an uphill canter even though he was still a bit weak behind. Also in freedom, the colt was pretty but a bit wild and rambunctious in his behaviour. He was more impressive in freedom than on the lunge, with a very elastic trot. His left hind leg sometimes articulated differently from the right hind. His walk was good.  This colt was not for sale.
The chestnut Viva Niro (by Viva Gold x De Niro x Rubinstein x Admiral I), bred and owned by Austrian Martin Resch, also clinched a premium title. This chestnut with thin stripe on his face produced well cadenced trot work, both on the lunge and in freedom. In canter on the lunge he got unbalanced at times and there could have been a rounder stride, but his development will certainly be interesting to follow.  He sold at auction for 70,000 euro to German Nicole Derlin.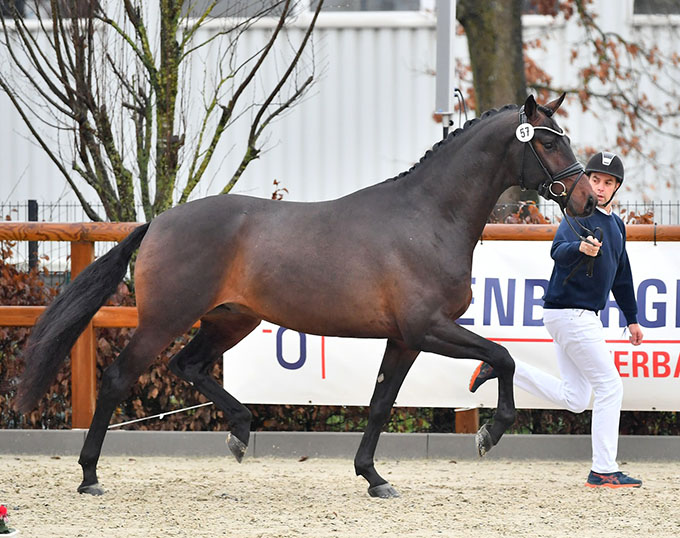 The dark bay Global Player x Furstenball x Sandro Hit, bred by Arnold Wegbünder and owned by Helgstrand Dressage, picked up the last premium title. The tall dark bay colt showed very nice mechanics behind in trot: an active, strong hind leg, very regular, well suspended and much ability to carry. In canter on the lunge line and in freedom he could have engaged the hindlegs more under the body. The walk, however, underwhelmed with the rhythm easily getting compromised in its clarity.The colt sometimes carried his tail in a stiff way. Nonetheless he is a very interesting colt in which especially the trot stood out. He was not for sale.
Dutch Warmbloods
Dutch breeders and owners of KWPN bred stallions have found their way to Vechta with no less than 9 KWPN colts in the catalog.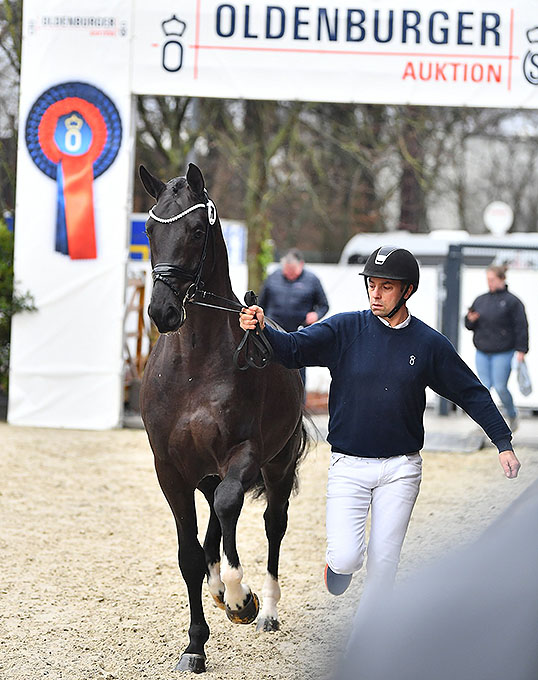 The best one of that lot was without a doubt, Parero (by Toto Jr x Negro x Mataro/T). The black is bred by T. Bergmans in Holland and owned by Helgstrand Dressage, who bought him online in the 2020 Midden-Nederland Foal Auction for 41,000 euro. Parero takes more after Negro than Toto Jr, especially his face and neck conformation, but he is a beautiful sporty type with good movements, though a slight left paddle. In canter he jumps under the body every stride, is quick, uphill and easily changes lead. In walk he was often tense and did not show much overtrack, but Parero was certainly one of the best moving horses in the lot. Not even aged 3, this colt has a busy few weeks ahead as he was also accepted at the KWPN pre-selection. There is no rest for the weary as he needs to be back in action in two weeks at the Dutch licensing in Den Bosch. 
Gert-Jan van Olst brought the very tall, long-lined bay Power Dancing (by Glamourdale x Johnson x Rohdiamant) to Vechta. Bred by Freek Hoogenboom and owned by the breeder in partnership with Van Olst, this colt is also on double duty as he will re-appear in Den Bosch in two weeks. This weekend he was already approved for Oldenburg. On the lunge line he showed much activity, energy and uphill tendency. In freedom he got a bit hectic - stop and go - and did not really show off his gaits that well. The canter was often tense and tight in the back, but it was clear that the horse has a lot of engine behind and has an eye-catching frame. 
A horse who did not get licensed but definitely stood out on the lunge line was the KWPN bred Picasso KL (by Le Formidable x Johnson x Future), bred by R. Lunenberg and J. Korsten and owned by Korsten and horse dealer Peter Wetzelaer. The gorgeous dark bay looks like a top model and in trot really showed a good hindleg that reached under the body. In canter he was quite unbalanced. Unfortunately the horse knicked himself on the lunge line and was withdrawn for the freedom phase. 
The KWPN bred Palm Beach (by Toto Jr x Grey Flanell x Foundation) was accepted for Oldenburg breeding. Bred by Bockxgrave and Van der Voort and owned by Bockxgrave in partnership with Paul Schockemöhle, this colt looked tall and handsome and impressed with a particular lightness in his forehand. He movd quite tight in the hocks and in walk he could flex the hocks more, but the overtrack was good. 
More Auction Results
The auction following the licensing was of course sensational as a record was set with the 1,250,000 euro sale of the Bon Courage to Gestut Schönweide.
Sönke Rothenberger started his "Rothenberger Ventures" only two years ago and is massively successful with it. He began by buying 10 - 20 colt foals a year, which he rears and then prepares for licensing. In his first year he not only had the licensing champion, but he also presented a premium licensed show jumping, Chacco Minelli (by Chacco Blue out of his show jumping mare Liza Minelli). The third stallion he presented was a black Vitalis x Desperados x Fürst Heinrich, bred by Clemens-August Berding. This horse was huge - 176 cm at age 2.5 - and did not have the prettiest face, but he was such a good mover with a lot of power from behind and always maintained a good overview over the arena and stayed calm. Lovely. He sold at auction for 200,000 euro to a dressage lover with a company in Cyprus.
Other best sellers in the auction were the licensed Le Formidable x De Niro x Figaro, bred by Jens Pax, and owned by Pax & Johannes Westendarp. An American buyer secured him for 100,500 euro through an online bid.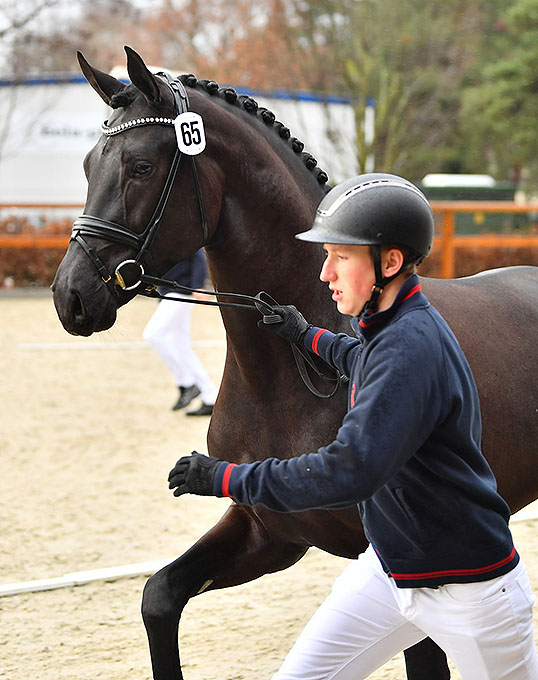 The non-licensed Viva Gold x De Niro x Placido, bred by Zuchthof Up 'n Sande and owned by Gestut Westfalenhof, sold for 105,000 euro to the U.S.A. Also moving to America is the licensed Secret x Feedback x De Niro. Bred by Claudia Brinkmann and owned by Thorsten and Sabine Lang, this lovely black with an amazing temperament sold for 65,000 euro to dressage rider Marne Martin-Tucker. 
The OL stallions generated total sales of 2,440,500 euro. The average price of the licensed stallions was 236,000 euro (of course an average boosted by the price highlight). For the non-licensed stallions, it was around 31,500 euro.
Photos © OLD Art - Ridehesten - Equitaris
Overview Licensed Stallions
Premium
1. Bon Esprit / Brioni (by Bon Courage x Sezuan x Dimaggio) - Breeder: Jürgen Fetzer - Owner: Rothenberger
2. nn. (by Bonds x Bretton Woods x Gribaldi) - Breeder & Owner: Först & Besecke GbR 
3. Total Caledonia (by Totilas x Sir Donnerhall x  Don Schufro) - Breeder: Reay Campbell - Owner: Gestüt Schafhof
4. Viva La Vida Z / Villeroy (by Viva Gold x Sir Donnerhall x  Rubinstein) - Breeder: Julia Hermann  - Owner: Hermann & Zissel
5. Zarenball (by Zenon x Fürstenball x Londonderry) - Breeder: Arndt Schwierking - Owner: Julia Voigtländer
6. L'Avenir (by Le Formidable x Sir Donnerhall x  Don Schufro) - Breeder: Christine Arns-Krogmann - Owner: S. Poel & K. Gerrits
6. Viva Niro (by Viva Gold x De Niro x Rubinstein) - Breeder & Owner: Martin Resch
6. nn. (by Global Player x Fürstenball x Sandro Hit) - Breeder: Arnold Wegbünder - Owner: Helgstrand
Licensed
nn (by Bon Vivaldi x Fürst Romancier x Rubin-Royal) - Breeder: Matthias  Krug - Owner: Heinz Ahlers
nn. (by Bonds x Desperados x Brentano II) - Breeder: Mirjam-Mathilde Drenth - Owner: Drenth & H. Gießelmann
nn. (by For Romance x Charmeur x Goodtimes) - Breeder: Stal Zwaansbroek - Owner: Reesink
nn. (by Glamourdale x Johnson x Rohdiamant) - Breeder: Freek Hoogenboom - Owner: Van Olst & Hoogenboom
nn. (by Glamourdale x Sir Donnerhall x  Bonifatius) - Breeder& owner: Henrik Klatte
nn. (by Le Formidable x De Niro x Figaro) - Breeder: Jens Pax  - Owner: Pax & Westendarp
Mourinho (by Maracaná x Diamond Hit x Royal Hit) - Breeder & Owner: Jürgen Summen 
Sanobub (by San Amour x  Fürst Heinrich x Sevillano xx ) - Breeder: Anke Schulze Henne - Owner: Helgstrand
Palm Beach (by Toto Jr. x Grey Flanell x Foundation) - Breeder: Bockxgrave & van der Voort - Owner: Bockxgrave & Schockemöhle
nn. (by Vitalis x Desperados x Fürst Heinrich) - Breeder: Clemens-August Berding - Owner: Rothenberger
nn. (by Vivino x Royal Classic x Fürst Piccolo) - Breeder: Arndt Schwierking - Owner: Helgstrand
Parero (by Toto Jr. x Negro x Mataro) - Breeder: T. Bergmans - Owner: Helgstrand
nn. (by Secret x Feedback x De Niro) - Breeder: Claudia Brinkmann - Owner: Thorsten & Sabine Lang
nn. (by Zackerey x Londonderry x Weltmeyer ) - Breeder: Andrea Eilfort-Böcker - Owner: Blue Hors
Complete licensing results here - auction results here.
Related Links
Incredible, Champion of the 2021 Oldenburg Stallion Licensing
Fortunate, Champion of the 2020 Oldenburg Stallion Licensing
Bellany Named Champion of the 2019 Oldenburg Stallion Licensing
Global Player, Champion of the 2018 Oldenburg Stallion Licensing
Benefit, Champion of the 2017 Oldenburg Stallion Licensing
Furst Fabrice, Champion of the 2016 Oldenburg Stallion Licensing 
Bonds, Champion of the 2015 Oldenburg Stallion Licensing
Morricone, Champion of the 2014 Oldenburg Stallion Licensing
Don Deluxe, Champion of the 2013 Oldenburg Stallion
Follow Me, Champion of the 2012 Oldenburg Stallion Licensing
For Romance 2011 Oldenburg Licensing Champion, Tight Junction Steals the Show
De Martino Captures Champion's Title at 2010 Oldenburg Stallion Licensing
Fairbanks, Champion of the 2009 Oldenburg Licensing
Furstenball, Champion of the 2008 Oldenburg Stallion Licensing
Sieger Hit, Champion of the 2007 Oldenburg Stallion Licensing
Sandro Hit Euphoria At 2006 Oldenburg Stallion Licensing
Marketing Above Quality at the 2005 Oldenburg Stallion Licensing
Furst Heinrich Fledglings Fly High at 2004 Oldenburg Stallion Licensing
Don Kennedy, Champion of the 2003 Oldenburg Stallion Licensing