PRE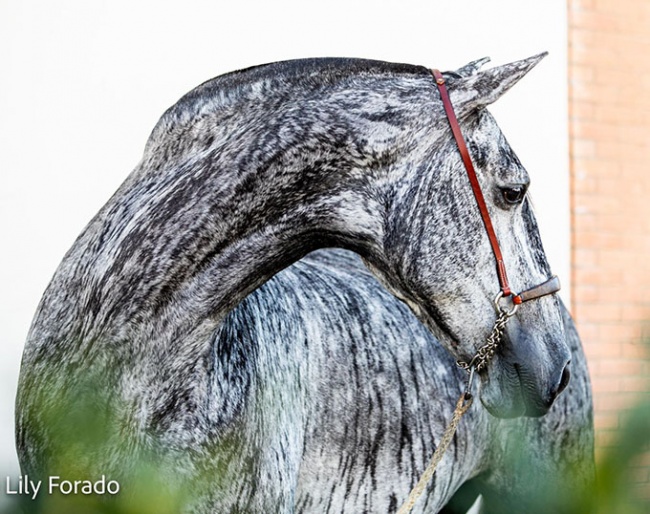 SICAB, the annual PRE horse breed World Championships in Seville, Spain, brings together lovers of the PRE breed and puts breeders, riders and trainers on the edge of the knife as they compete with their pure bred horses for the World Champion's title in morphology, movement, and dressage classes. 
SICAB, Celebrating the PRE Purebred
SICAB is a unique event that makes the blood of Spaniards and global PRE horse lovers course faster through their veins. As the third biggest fair hosted in Seville (ESP) each year, the venue attracts more than 200,000 visitors in one week time and is an extravaganza that centres around the horse. 
Organizer ANCCE, the official PRE horse breeding society, has set clear standards - an 80 page book of rules - of the PRE ideal and breeders strive and breed for the highest standard. In addition, all PRE registered horses have undergone a genetic analysis and only the breed's purebreds are allowed in the registry and can compete in SICAB. 
The Experiment Draws Attraction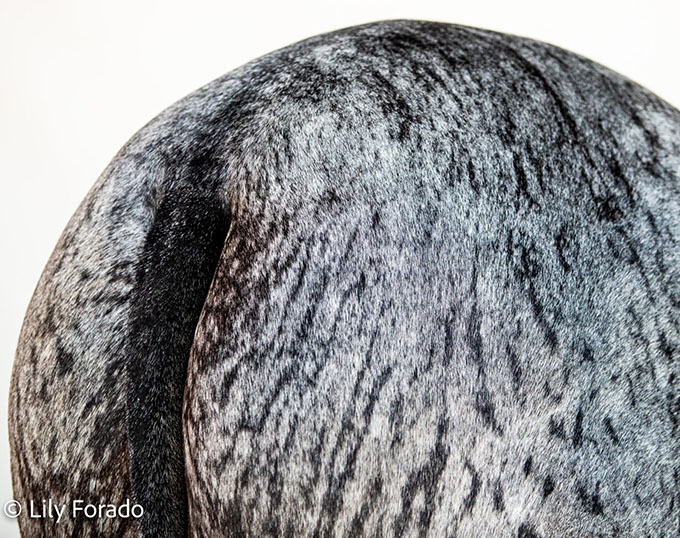 However, that does not mean that PRE breeders are afraid to colour outside the lines and at this year's SICAB, one horse in particular became the eye-catcher of the fair, although she never officially was shown in the competition arena. 
Brought along for display, breeder Yeguada Kanel showcased Unica K in the stables outside in between the official indoor exhibition halls. The stables are accessible for all SICAB visitors, who want to meet and greet the horses, or convene for coffee, drinks and churros in fresh air. Riders and trainers just bring out there horses, park them in the middle of the crowds to be adorned by the fans. 
Show stopper Unica K is a silver brindle, a colour pattern not allowed by ANCCE, but that does not make her visually less magnificent. 
Unica K, a Rarity Amongst PRE's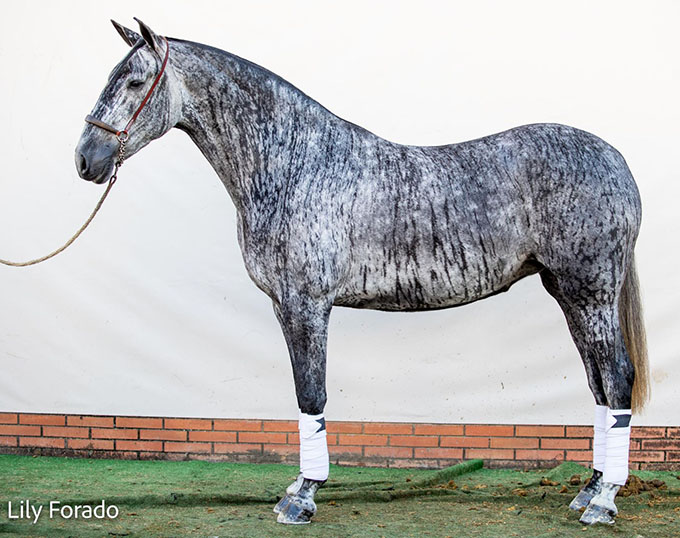 "Unica K" is registered in the PRE studbook with the colour "torda" (grey), but ANCCE does not accept this coat in the PRE breed prototype (grey, chestnut, black and brown are the predominant PRE colours). 
Coat connoisseurs know there are several breeds, such as Paint Horse, Arabians, Thoroughbred, Mustang and Quarter Horses, that call this coat colour "brindle". 
Brindle is a rare color pattern of stripes and unusual hair texture in horses. The unique coloring often looks like dark paint spilled over the horse. However, the cause of this distinctive coat pattern isn't wholly understood, but there is evidence linking it to genetics. Brindle horses have a unique gene that gives them their distinctive color patterns which are created by two alleles or variations on chromosomes represented as BR1. To create this special coloration in foals, its parent must have the BR1 alleles.
French Bred at Yeguada Kanel
Born in 2018,  the 4-year old Unica K is bred and owned by Yeguada Kanel of French breeders Benjamin and Jean-Marc Kanel. Her pedigree features the black sire Querido XVII, while her dam is the grey Gavina B (by Jaleo B x Rebelde VII). 
"For us, having a mare like Unica K is an incredible opportunity," Kanel told Lily Forado. "So far our stud farm has done very well, but with the presence of Unica K at SICAB, it allowed us to make ourselves known worldwide. There is only the magic of breeding to create this kind of dream, we will be eternally grateful."
Handler Mario Palomino got to know the Kanels at the breed show in Beaucaire, France. He met Unica for the first time in 2021 and first thought her coat was just wet. Upon closer inspection he realized she was a brindle. He convinced them to bring her to SICAB this year. 
Unica K already caused a sensation on social media, but at SICAB she was the great attraction. The orchestra of photographers wanting to take pictures was a testimony to that. The mare is now rumoured to have been sold to Dubai. 
Photos © Lily Forado - No reproduction allowed
Related Links
Kimberly Van Kampen: "SICAB is a Constant Celebration of the Values of a Past Time"
10 Reasons Why You Cannot Miss 2022 SICAB
Kim van Kampen reported on SICAB for Eurodressage: The State of SICAB 2010 and The PRE Improves, but Time Stands Still at 2011 SICAB
International PRE Trade Fair SICAB Celebrates 25th Anniversary
Jose Daniel Martin Dockx' Grandioso Retired at 2016 SICAB
Annual Iberian Horse Extravaganza at SICAB
SICAB and Working Equitation: The Ultimate Iberian Experience
Control Anti-doping verification at the SICAB 2018 Conformation Final
North American Breeders Shine at 2020 SICAB