Education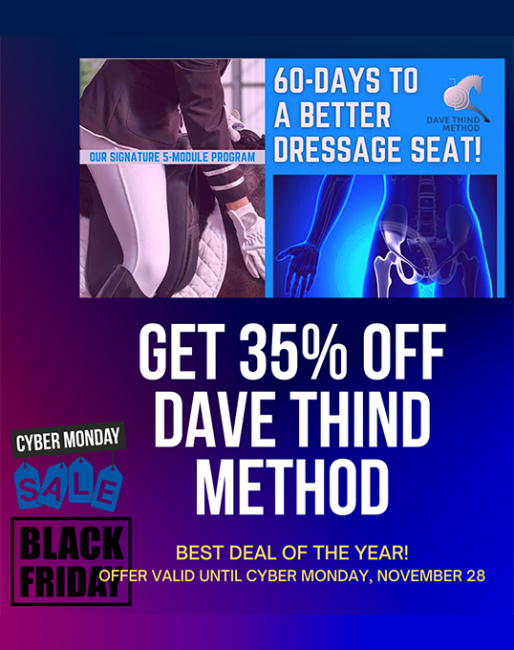 "I love helping horses and riders. It doesn't have to be normal for riders to have back, neck or hip pain, or for them to regress with age or struggle with having the seat they wish to have," said seat instructor Dave Thind. 
Thind announced a special savings of 35% discount, valid through Cyber Monday, for his online seat instruction programme "Dave Thind Method."
The discount comes with a promise to improve one's riding, no matter what level or age. "And there may be other benefits. Grab our best deal of the year and enjoy immediate and long term benefits: from better riding, to improved comfort. The possibilities are endless," Dave vowed. 
Immediate Benefits & Solutions to Long Term Issues? 
Earlier this week, FEI Trainer and "S" Judge Susan Buchanan (USA) posted on her social media about the program:
"To all my fellow riders, I encourage you to check this out!   Following this program has helped me ride with better alignment and self-awareness. Even better, it has relieved some of my chronic hip and neck pain!"
Well known for his positivity, Thind stated that there's no better time than now to fast track your path to self-improvement in your riding and more comfort in your body!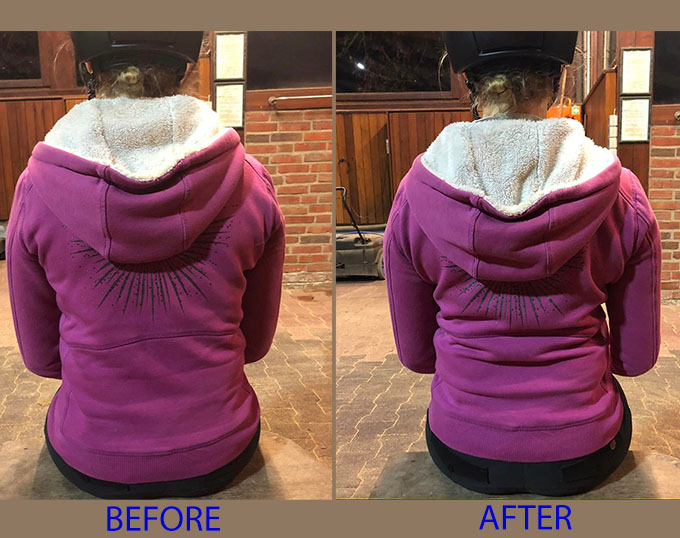 Professional dressage rider Viola Abrahams (GER) also stated, "many different methods are helping us to keep our bodies healthy and work even better in the ability to fulfil our dreams. We want our body to work in way which allows our horses to give and show their best, without being disturbed by us humans and our stiff bodies. The Dave Thind Medhod is definitely a great way. We can recommend it absolutely and Dave is a fantastic teacher. I'm looking forward to a clinic in spring at our riding club."
How to Get Started
Dave suggests to his new clients (online or in person), regardless of age, what level they ride at or even their own personal issues, to start with his 60 Day program.
Designed as a 60-day program, the course can be completed in a time frame that suits the client, but ideally the plan should be done under 3 months. It is comprehensive and will help riders tackle their own personal seat and body issues or pain points.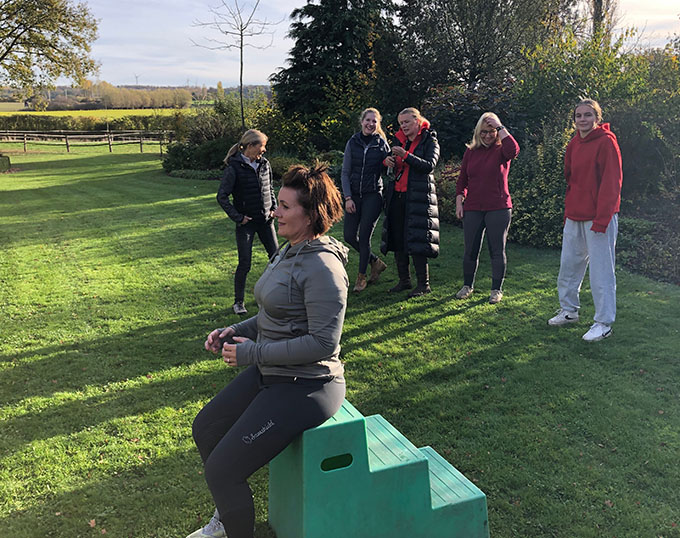 "I absolutely love my work, and I love helping riders and their horses feel and perform at their personal best," said Dave. "Through their own improved biomechanics as well as personal comfort levels, riders learn to more fully inhabit their own bodies, which then directly helps their horses. A win, win."
"Most students continue to use the course, either running through the whole program several times, or simply choosing lessons they like, some even doing random lessons, with success," Thind added.
Interested riders can sign up at www.davethindmethod.com and get the discount by using coupon code: BF25
Who is Dave Thind?
A Guild Certified Feldenkrais Method® Practitioner, German "Trainer A", equestrian biomechanics authority Dave Thind currently keeps his 4-year old talent, Shakar (by Secret) in training with three-times Olympic Gold Medalist, Monica Theodorescu, who is also German Team Trainer.
>Currently based in Germany, Dave has been assisting top German athletes of various equestrian disciplines, sharing his expertise in world renowned stables.  Although Canadian by birth, Dave is also co-owner of Aspire Farm, in Walpole MA, USA.
By special request of the German Equestrian Federation, Dave is writing a book to share his expertise with an even larger audience. This winter he'll be available for clinics and seat sessions in Wellington, Florida.  
Thind has received impressive recommendations from Dr. Hilary Clayton (veterinarian, researcher and rider), who said "I love the DTM focus on the pelvis which research shows is the key to riding success. His lessons will help all of us to reach our full potential in the saddle."  German international dressage judge Christoph Hess stated, "Dave is an expert on schooling riders. He is brilliant in teaching the correct rider's position in a friendly and positive way and his students have good positions in the saddle - he himself also! I suggest that many of us should use the opportunity to train with Dave. Dave's training will make you happy and especially your horses happy."
For more information, visit  www.davethindmethod.com. His 60-day program comes with a risk free Money Back guarantee.