Swedish warmblood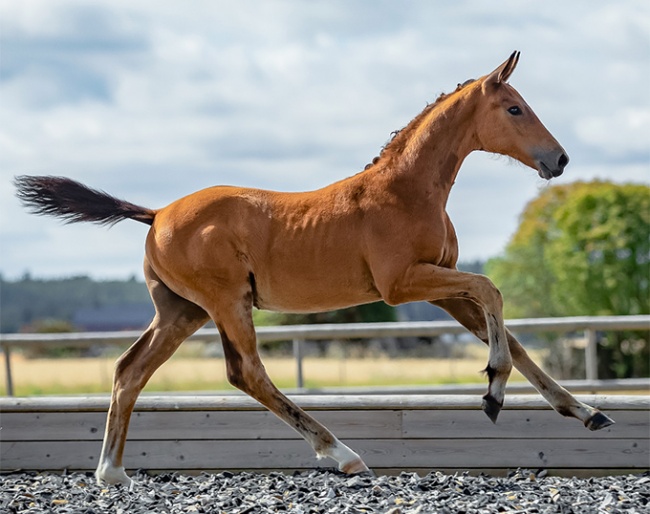 The colt Bijou became the price highlight of the 2022 Swedish Warmblood Elite Foal Auction which took place in Flyinge on Friday 30 September 2022. 
The auction was held in a hybrid format with online bidding available during the live auction in the indoor arena of the former state stud in Flyinge.  A collection of 27 foals was sold for an average price of around 15,000 euro. 
Bijou (by Be Sure x Totilas) was the selling foal, fetching 67,000 euro. The bright bay foal is bred by Maria Hedvall and sold to Helgstrand Dressage.
The second most expensive dressage foal was BE Florida (by Franklin x Dalwhinnie). This foal sold for 22,500 euro to the United States.
Colt Eccentric CML (by Glamourdale x Totilas) will stay in Sweden for 21,000 euro. The same price was paid for Kanelia HPK (by Kane x St. Schufro) by Finnish Maucca Karkki and the American Hyperion Stud. 
Gustaf Johansson and Tobbe Larsson sold their foal To Be Glamour GJ (by Glamourdale x Gribaldi) for 20,000 euro.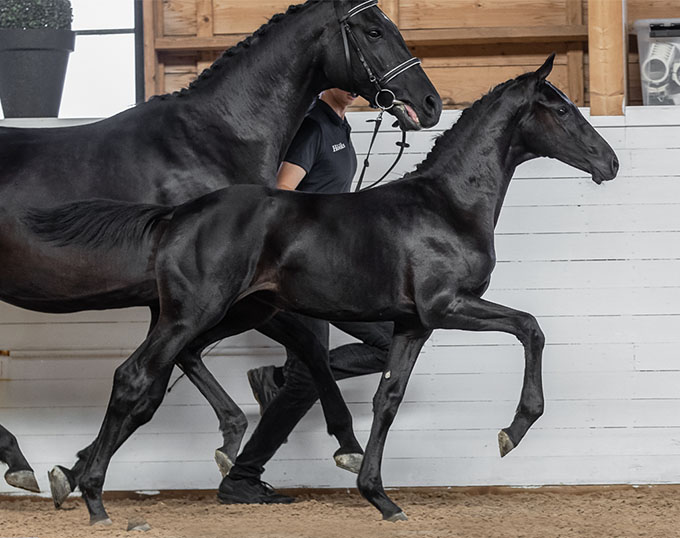 Semillon VH (by So Perfect x Furstenball) sold for 18,500 euro, while Supersticious (by Springbank II x Grand Galaxy Win), presented by Ulrika Jacobs, sold for 17,500 euro to Helgstrand Dressage.
Chanel (by Lord Europe x Revolution), bred by Marie Knutsson, fetched 15,500 euro. Soqrateous (by So Perfect x Johnson), also bred by Ulrika Jacobs, sold for 14,500 euro to Swedish Grand Prix rider Emma Jonsson.
Two foals sold for 14,000 euro: Sancerre II (by Springbank II x Morricone) and Be Mine (by Be Sure x El Capone). Vigeur (by My Vitality x Richfield) sold to American dressage rider Rebecca Cohen for 13,000 euro. Cohen also bought Miss Belice EQ.
BLS Rocker af Sol (by Rockabye S x Ampere) found a new owner for 12,500 euro, Total Perfect (by Totilas x Furst Romancier) and De Janeiro (by Jameson x Flemmingh) both sold for 11,000 euro while Super-Nosa BD (by Jovian x Expression) had a top bid of 10,500 euro.
Related Links
Find Your Next International Future Star at the 2022 SWB Elite Foal Auction
Ebbot F, Price Highlight of the 2021 Swedish Warmblood Elite Foal Auction
Faithful YL, Top Seller of the 2019 Swedish Warmblood Elite Foal Auction
Prelude CML, Top Seller at 2018 Swedish Warmblood Elite Foal Auction
Radius, Best Seller at the 2017 Swedish Warmblood Elite Foal Auction
Fabulous M, Top Seller at the 2016 Swedish Warmblood Elite Foal Auction
Deorro Magi, Price Highlight of the 2015 Swedish Warmblood Elite Foal Auction
Kordoba For U, Price Highlight of the 2014 Swedish Elite Foal Auction
Donna Antique, Price Highlight of the 2013 Swedish Warmblood Elite Foal Auction
Swedes and Americans on Shopping Spree at 2020 Swedish Warmblood Elite Foal Auction