Bits 'n Pieces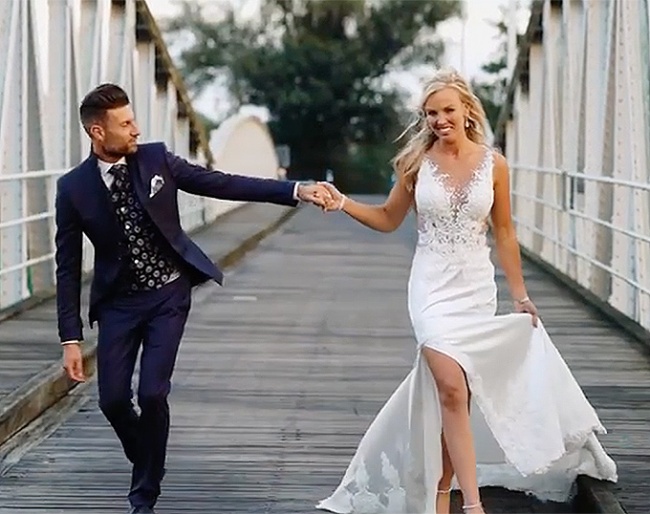 Belgian Grand Prix rider Isabel Cool married her partner, Preben Pirlo, on 10 September 2022. Cool got married in a Nicky Vankets couture gown and her Grand Prix horse Constand was waiting at the church to salute the newly wed couple. The evening party was held at De Koolputten in Waasmunster and the creme de la creme of Belgian dressage got invited. The happy couple is now on honeymoon in Mauritius. 
German Grand Prix rider and former team member Fabienne Lutkemeier-Müller and her husband Ingo Müller are expecting a second child. The couple, which married on 5 May 2018, welcomed their first born, a boy named Benn, in November 2020. 
Danish born U.S. squad rider Charlotte Jorst has added a new Helgstrand horse to her string. Jorst had been a loyal customer at Helgstrand with Nintendo, Akeem Foldager, Zaphlin Langholt and Grand Galaxy Win as her most "famous" acquisitions. The  entrepreneur bought many more there, and returned a bunch of them, some resold but three of her purchases have not yet found a new buyer (Lorenzo, Deep Impact, Quarton). Newest addition to her string is the 8-year old Westfalian bred Federle (by Furstenball x Farewell III), bred in Germany by Walter Droege. The dark bay mare made its show debut in Germany under Droege's stable rider Claudia Ruscher, before Hedda Droege took over the ride in 2020. She showed the mare for two years before she moved to Denmark to be sold.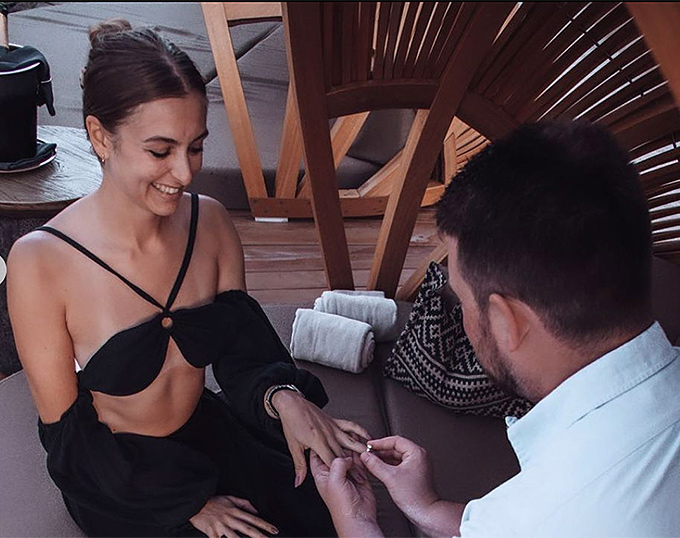 Remember British pony and junior rider team member Maisie Scruton? The British who competed at two European Pony Championships (on Rembrandt DDH) and two European Junior Riders Championships (on Hot Chocolate) hasn't competed internationally since 2014 but is still involved with horses. Currently based in Geilenkirchen, Germany, as her life partner Michael works for NATO, Maisie is still riding and training ponies for the famous pony breeding farm Gestut Bönniger. On 7 September during a holiday to Crete she said yes to Michael's proposal for marriage. Congratulations!
Belgian international youth rider Ann-Sophie Goethals has taken up the position of assistant rider at Arie Yom Tov's sales and training facility Sport Pro Horses in Uden, The Netherlands. She will begin on the job in October 2022. The 22-year old Goethals began competing internationally on ponies in 2015 with Castenrayseweg Evita (by Hagelkruis Valentijn x Leuns Veld's Lord) and Timberland (by Top Natrejo x Diskus). Eldorado-A (by Vivaldi x Sandreo) took her into the junior division in 2016 and up to Young Riders in 2019. Last year she competed him and Incognito (by Sorento x Fidermark) at Young Riders' level. Goethals discovered the job opening in the Eurodressage Job Corner.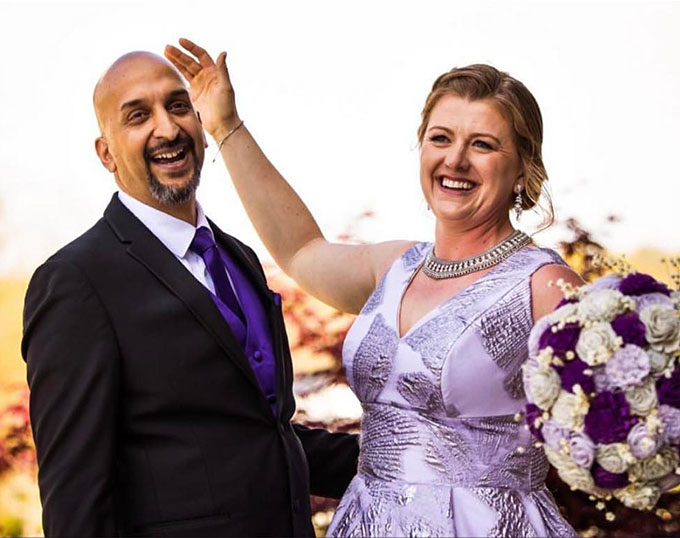 American Grand Prix rider Lauren Sprieser married her fiancé of two years, Ravi Perisastry, and shared these wedding photos, taken by Rhinehart photography, on her social media. Almost two years ago the couple got engaged and at the time Lauren wrote this witty blog about it. She said, "A little more than four years ago, I matched on a dating app with a funny Indian engineer with a big nose, holding a bottle of Zima—the disgusting Sprite-and-rubbing-alcohol-esque garbage that teenagers got drunk on in the 90s—in his profile picture. Our first date was at a local pizza place, and I left thinking that he was nice, well-adjusted and responsible, and more than a little afraid of me—in other words, absolutely not my type. But he wanted to see me again and take me to a REALLY nice restaurant in town, and I figured hey, dinner there is NEVER a bad idea. His name is Ravi, and as of last week, he's my fiancé." Read Sprieser's full story on The Chronicle of the Horse. 
German junior rider Lynn Suckow has acquired the 9-year old Westfalian mare Desperada (by Dowload x Ehrenmarsch) from Dutch Myriam Kusters. The mare was sourced at Marlies van Baalen's stable. The 18-year ols Suckow used to work with Claudia Haller and is now trained by Johan Zagers. She has competed in one CDI in her career, so far, the 2020 CDI Lier on Denver Star (by Don Primero x Leibniz). Most recently she has been competing the Bundeschampionate finalist Beau Monde (by Bordeaux x Weltmeyer) at national junior level.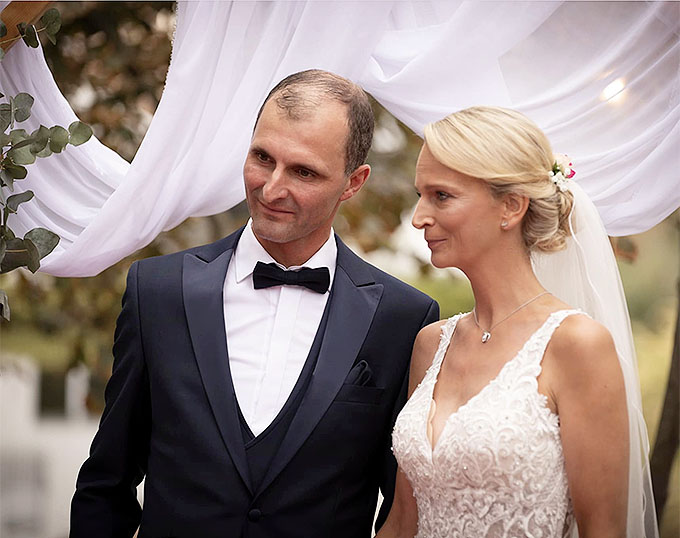 Mareike Mimberg and Philipp Hess got married on Saturday 24 September 2022. The couple, which got engaged on 18 December 2021,  are both young horse trainers with Mimberg based in Bielefeld and Hess working out of Göttingen. The church wedding was followed with a big evening party and lots of dancing. "The most beautiful day in your life. This is what it should be and that's what it was," said Mimberg. "Nobody was scared of crunching miles to be here. I have the best friends and the party was legendary."
American 5* dressage judge Janet Foy fractured her arm. "50 years of riding with no broken bones. Today (27 September) a sprinkler hit me in the face. I stepped back fell backwards into a window well. Landed on my ribs arm .. broken forearm but lucky no surgery. Super painful ribs. Typing with left hand," Foy took to Facebook. Get well soon!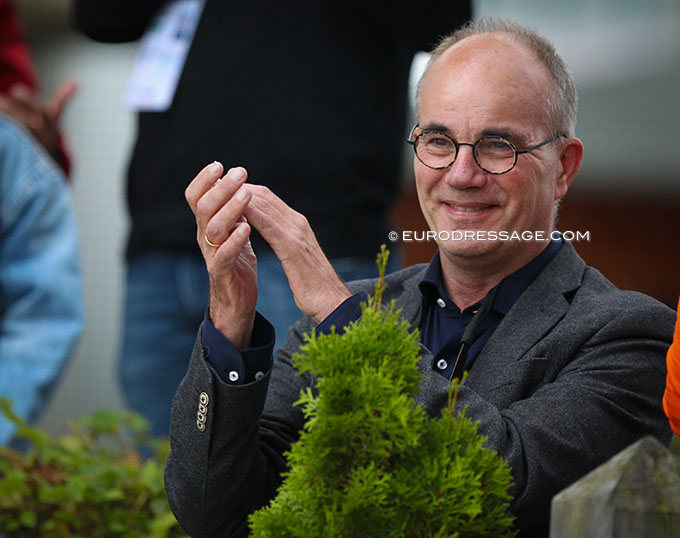 Willem Luiten, father of 2021 European Young riders champion Marten Luiten, has passed away on 26 September 2022. He was 59 years old and lost his brave battle to ALS. Luiten contributed to Dutch horse sport as an FEI steward and as a huge supporter of his son's equestrian career. He served as chair of the International Jumping Organizers Club (IJOC) and was a recipient of the IJOC Award  and of the KNHS golden pin. He leaves behind his wife Hilda and two sons Marten and Gijs. 
The disciplinary committee of the Bavarian Riding and Driving Association has ruled that a German international dressage rider has to pay a fine of 1,500 euros and will be banned from competition for a three month period following an incident at a regional show in Brunnthal-Riedhausen on 25 June, where this professional rider is said to have abused his horse on the warm-up arena, by hitting it repeatedly, also on the head. The accused and nine witnesses appeared before the disciplinary commission of the Bavarian Riding and Driver Association on 14 September 2022. The hearing lasted more than five hours, after which the disciplinary commission sat together for another hour and discussed the verdict. The rider can appeal this decision. Read the full story on St. Georg.