2022 Balkan Dressage Championships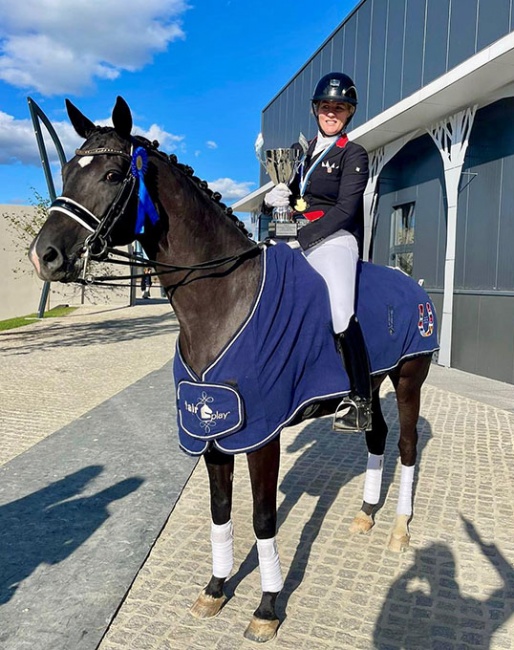 Canadian born Croatian Karen Pavicic has made her first international championship start for Croatia and turned it into a winning one at the 2022 Balkan Dressage Championships in Baicoi, Romania, on 16 - 18 September 2022.
The Balkan Dressage Championships had six countries attending: Romania, Bulgaria, Turkey, Greece, Slovenia and Croatia. The starters field included 52 combinations that compete in the children, junior, young rider and small tour divisions.  Many riders used the CDI Tsaratsovo in Bulgaria the week before as a warm-up show for the 
Romania Host Country
The 2022 edition of these Balkan Championships took place at the Phoenix Riders Club Baicoi, an equestrian facility owned by Apostolescu family, and was supported by the Romanian equestrian federation.
Romania's most famous dressage personality is without a doubt the late legendary trainer Georg Theodorescu, whose daughter Monica is a German team Olympic medal winner and the current German team trainer.  Romanian Anghel Donescu won silver at the boycotted 1980 Olympics in Moscow and in the 2000s Romania's top riders included Sorin and Selina Alexandrescu.
For the 2022 Balkan Dressage Championships, the national federation invited experienced judges Henning Lehrmann (GER),  Elke Ebert (Germany), Clive Halsall (Great Britain), Eva Maria Vint-Warmington (Estonia), and Carlos Lopes (Portugal).
Officials such as Teodor Sheytanov (sport development manager of the European Equestrian Federation), Marilena Mladin (president of FER), and Claudiu Selistean (Secretary of the Romanian Equestrian Federation) were in attendance. 
Pavicic Sets the Tone 
The Balkan countries are still very heavily developing dressage nations, but the presence of a naturalised, experienced World Championship team rider such as Karen Pavicic gave lustre to the competition and a role model for those riders to look up to.  Pavicic represented Canada at the 2014 World Equestrian Games before declaring for Croatia in 2018. 
Aboard loaner horse, Arie Yom Tov's 8-year old Fire Toti (by Fairytale x Totilas), Karen achieved a hattrick winning all three small tour classes for the senior riders. She scored 68.333% in the Prix St Georges, 67.647% in the Intermediaire I, and 70.285% in the Inter I Kur to Music.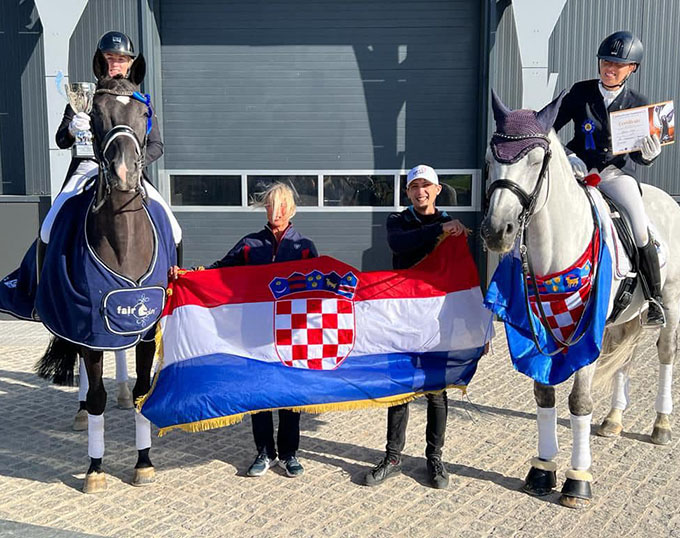 "It was a pleasure to ride Arie's Fire Toti," Karen told Eurodressage. "At only 8 years old and with very little competition experience, he behaved super well. He is a lovely horse with a great future and Cristophol (his regular rider) has done a very nice job developing him thus far. I think it was a very good experience for Fire Toti and I'm super grateful to Arie for so generously allowing me the ride! Toti gained more confidence each day."
Karen has represented Croatia at several international shows in the past four years and was happy to represent the country at an FEI endorsed championship for the first time. 
"It was very special at the Balkan Championships with other riders also competing for Croatia," she said. "Sadly we did not field a full team (especially for the seniors ), but the small but mighty group all rode well! Hopefully this will a boost to the dressage community in Croatia!"
Karen added that the Phoenix Riders Club was  "an outstanding facility" that was still partly under construction.  The event was a great learning experience for the Romanian equestrian federation, who faced several issued during the course of the show that could be valuable lessons for the future. 
Paliciuc and Sachinoglou In Her Wake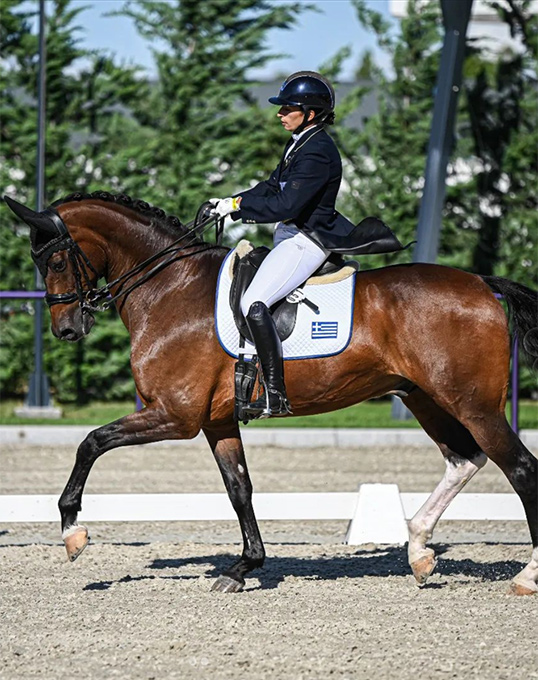 The two riders that put most pressure on Pavicic's shoulders were experienced Greek rider Christina Sachinoglou and former international Romanian Young Rider Daria Maria Paliciuc. 
In the Prix St Georges it was Slovenian Anja Gerjevic aboard the 13-year old chestnut Slovenian bred Vigo de Janeiro (pedigree unknown) who was the runner-up with 66.716% with Christina Sachinoglou behind her (65.392%)
In the Intermediaire I Daria Maria Paliciuc proved that her 13-year old KWPN gelding Everton (by Wynton x El Corona) has recovered completely from the injury he sustained at the European Young Riders Championships in Oliva Nova last year. After a fifth place in the Prix St Georges, they moved into second place in the Inter I (64.902%) and were second in the freestyle (68.60%).
Sachinoglou and  Myrto-Irini Koubatsi's 14-year old KWPN gelding Damor (by Wynton x Krack C) were third in the Prix St Georges (65.392%), third in the Inter I (64.265%) and third in the Kur to Music (65.13%)
Great Interest for Youth Competition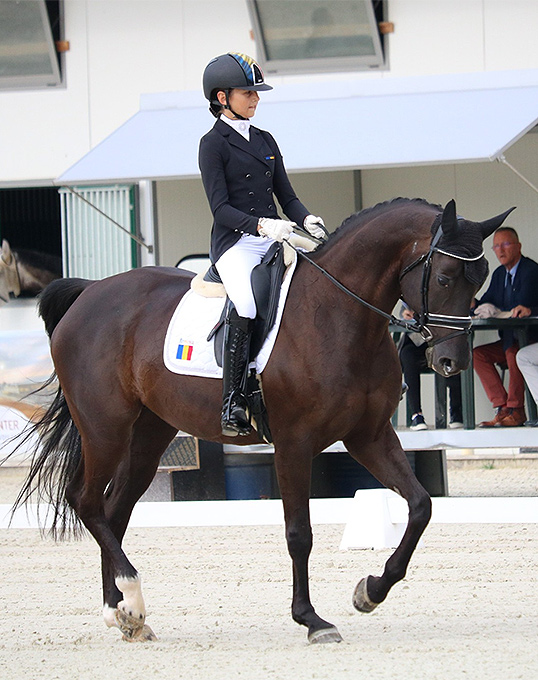 The 2022 Balkan Dressage Championships showcased a great interest in dressage sport from the younger generation.  Seventeen combinations contested the children classes, twelve lined up in the junior division, and there was one young rider. 
In the children division homside hero, 14-year old Romanian Irina Alexandrescu, reigned supreme and won all three children tests on her 11-year old Hanoverian Donabella Zodiac Casino (by Sir Donnerhall). She scored 78.875 % in the preliminary test, 76.650% in the team test, and 75.506% in the individual test. 
The ruling riders in the junior division were Greek Alexandros Pantelis Katsikis, the British based Croatian Kaya Probst, and Greek Zoi Tertipi. Pantelis Katsikis won the team test with 67.172% aboard Evanthia Karadontis's 8-year old Oldenburg Barthez (by Bretton Woods x Don Schufro). Probst, who recently competed at the European Junior Riders Championships in Hartpury on the 20-year old schoolmaster Rotspon's Rockin, saddled her own 19-year old Oldenburg Mister Cool (by Mon Dieu x Prinz Gaylord) and won the individual test with 65.392% and the Kur to Music with 68.44%.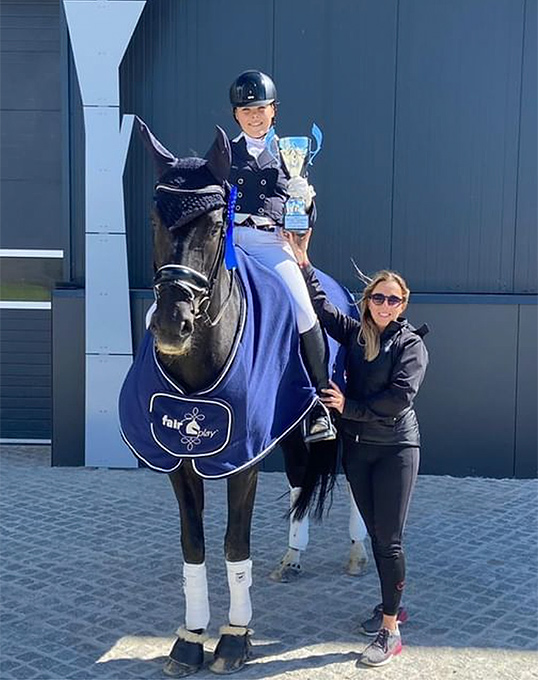 "We gave it our best shot and Cool gave me his all," said Probst. "I've had the best week surrounded by an amazing team and so much support from friends everywhere. A special thank you goes to Mija Brnic, who always goes above and beyond for me and Cool, prepared me for all my classes whilst also competing for herself at the same time, coming to an amazing 4th place both individually and in the freestyle in a strong field! My constant support and has brought our partnership to where it is right now, I don't know where I would be without her. As always the amazing Babić family who gifted me Cool 3 years ago and allowed me to take on this journey with him."
There was only one young rider competing at the Championships, Romanian Iulia Caba and the 14-year old Hungarian bred Csillogo. She scored 62.157% in the team test and 59.461% in the individual. 
Related Links
Scores: 2022 Balkan Dressage Championships
Scores: 2021 Balkan Dressage Championships
Scores: 2019 Balkan Dressage Championships
Milan Djordjevic: "Sustainable Development of Equestrian Sport and Horsemanship in the Balkan Region"
Greece and Romania Share the Gold at 2018 EEF Balkan Dressage Championships
Tourkomani, Macropoulou, Ravini, Sauer Win Individual Gold at 2017 Balkan Dressage Championships
Huge Haul of Gold for Greece at 2016 Balkan Dressage Championships
Double Gold for Bulgaria and Turkey at 2015 Balkan Dressage Championships
Greeks Back on Golden Form at 2014 Balkan Dressage Championships
Bulgaria, Greece and Turkey share the spoils at 2013 Balkan Dressage Championships 
Greek Riders Claim Lion's Share of Medals at 2012 Balkan Dressage Championships
Double Gold for Greece and Turkey, but Romania's Alexandrescu Secures Senior Title
Greek Riders Dominate But Romania's Alexandrescou Takes Individual Gold