2016 Balkan Games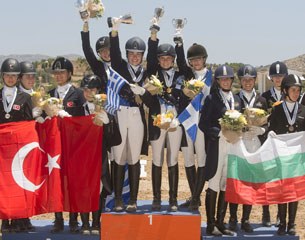 It was a glorious weekend for Greek athletes as they claimed gold in nine of the 10 categories at the 2016 Balkan Dressage Championships  on home ground in Athens (GRE). However Vanda Ljolje ensured it wasn't all one-way traffic when taking the Children's Individual title back to Croatia following a stunning final performance with her brilliant Belgian-bred pony mare, Ashen Dew Drop.
Judges Orsolya Hillier (HUN), Yang Chamg-Kyoo (KOR), Natalia Rubashko (BLR), Fouad Hamoud (ALG) and Anne Prain (FRA) had a busy time of it, with a full-on three-day programme of competition. The event was staged, for the second time, at the Olympic Equestrian Centre in Markopoulo, with competitors from Bulgaria, Croatia, Romania, Serbia and Turkey taking on the host nation contenders.
The FEI Balkan Dressage Championships celebrated their 49th anniversary this year.
First medals
The first medals of the 2016 edition were presented on the opening day last Friday, when the Junior and Senior team results were confirmed.
Greek athlete, Theodora Livanos, was impressive here when leading her team to victory with a mark of 67.014 partnering her 12-year-old grey Lusitano stallion Zidane. And the Greeks did well to come out on top after Eleni Retsou was eliminated with Fairytale. However team-mates Lavinia Macropoulou with Widoc Timbre and Elisavet Maika with Sir Kavalier scored 67.014 and 62.297 respectively to leave the hosts on an aggregate score of 63.437 percent. And this gave them just over a single percentage point advantage over the silver medallists - Dila Akbacakoglu (Amore E Gloria), Irem Kaplan (Zayson) and Derin Lara Ekici (Polygraf) - from Turkey. Bronze went to Bulgaria's Katerina Tsvetanova (preslav), Mirela Raikova (Ludrecia), Stephanie Nesheva (Don Corleone) and Irina Nikolova (Marc Antony Z).
The highest score of the Junior Team competition was posted by Serbia's Bojana Stojanov with Hamlet VD Stuyver, with Livanos next best on that occasion. But the Greek rider reigned supreme in Saturday's Individual medal decider and then came out to add Sunday's Freestyle honours in convincing style. Livanos steered Zidane to a mark of 74.600 to finish more than three points ahead of Stojanov who claimed individual Freestyle silver, while a score of 66.104 was good enough to put Turkey's Dila Akbacakoglu and Amore E Gloria into bronze.
Privilege

"To be a competitor at the Balkan Championship here in Athens at the Markopoulo Olympic Equestrian Centre has been a privilege for me as a member of the Hellenic Dressage Team!" said 14-year-old Livanos. "The organisation of this event has been impressive and the support shown to me by fellow Greek team members has been overwhelming.
"The culmination of many months of hard work by my support team came together and the results Zidane and I achieved in the Team, Individual and Freestyle tests have been an outstanding success. It has been an honor for me to finally compete as part of the Greek team and I hope it is the start of more events together in the future.
"I would like to add that clearly this is a team sport, however, as a rider the hours of dedicated work and the partnership between horse and rider is invaluable. The key to a successful dressage rider is the total union between rider and horse, not only in the competition but before and after. I believe that relentless hours preparing before and during the event are critical to a successful programme" she said.
And she added "I would like to thank the Greek Federation, our Chef d'Equipe Eleni Myrat and the FEI for their continued support and to all the organisers, stewards and vets at the Markopoulo Arena. I look forward to competing here again in the future."
Senior Team
An average score of 63.367 secured the Senior Team title for the host nation also, with the 65.105 posted by Christina Sachinoglou and Rafaello 4 topping the leaderboard. Team-mates Evangelia Koupenou (Huligan), Stelios Stavroulakis (Baiao) and Antonio Tsamandoura (Hope for the Future) rounded up the solid Greek result which left them with a significant three-point advantage over Bulgarian silver medallists Raiko Ganukov (Ambrozia), Veselina Sokolova (Haga) and Boriana Kroumova (Riverdance) while bronze went to Turkey's Sarkis Mura Saricoban (Santos), Melda Alaluf (Clockwork) and Ebru Adas (Pluto 79). There was very little between the Bulgarian and Turkish sides who performed extremely well considering they were fielding only three riders as opposed to the four on the winning Greek team.
Sachinoglou had to yield to fellow-countrywoman Angela Sklavounos who posted a strong 67.842 to win Saturday's Intermediate 1 for the Individual title. Sachinoglou's 65.921 clinched the silver here ahead of team-mate Evangelia Koupenou who posted 63.368 for the bronze, but Sachinglou turned the tables once more in Sunday's Freestyle when seeing off all her rivals with the winning mark of 68.725. And it was Koupenou who claimed silver this time out while Sklavounos had to settle for Freestyle bronze.
Very satisfied
"I am very satisfied with the result and the performance of my horse, Rafaello" said the 27-year-old Freestyle champion. "Each day our results were consistently better, culminating in the Freestyle. To receive such positive comments and scores from recognised international judges is a very important recognition. Rafaello is a very proud horse and without him I would not have accomplished so much.
"This year's Balkan Championship, however, was a challenge and I put a bet to myself to manage a very good appearance, in both the team and the individual competition. Therefore the hard work and preparation for months before proved that success was our only option. I want to thank my trainer Anthony Vragkos for his dedication, my club, Rhodes Equestrian Center, which always supports me and my family who are on my side and support my choices. Also a big thank to the whole group of people who support me such as doctor, farrier and my sponsor" Sachinoglou said.
Young Riders and Children
There were only three Young Riders in contention for medals, and the host nation's Isabella-Nina Ravini first scooped the Individual title before returning to also earn Freestyle gold.
Her opponents in the Individual competition were Turkey's Merve Ozgundogan who took silver spot with Di Cabrio and Bulgaria's Krassina Krusteva who claimed the bronze with Cerano. However Ravini was the only one of the three to score over 60 percent, her mark of 61.158 therefore putting her through to Sunday's Freestyle as the sole contender. And she claimed the Freestyle gold medal with a mark of 61.450.
It was only in the Children's category that the tables were eventually turned on the Greek hosts, but not until they had already acquired four more gold medals thanks to the great team victory posted by Despoina Sidira (Nocsley), Eirini Retsou (Grace), Goivi Algiannaki (Cassian) and Natalia Fragiadaki (Odysseas) whose combined average mark was 60.733. This left the Greeks almost three percentage points ahead of their only rivals from Bulgaria - Yasna Sredkova (Fantastico), Ivet Georgieva (Capuchino), Ava Hristozova (Roccabella) and Madlin Naydenova (Living on the Moon) whose combined average mark was 57.889.
Colossal score
The Greeks took three of the top four places in the Individual Children's Final but came nowhere near the colossal score of 73.438 posted by the winning Croatian pair. Vanda Ljolje and her lovely mare, Ashen Drew Drop, were simply in a class of their own as they left Greece's Sidira and Algiannaki almost 10 points behind in silver and bronze.
But Greek Chef d'Equipe, Eleni Myrat, was understandably delighted with the performance of her squad throughout this extraordinary weekend. "It was a very successful championship for us" said the multi-medalled Greek athlete. 
"Greece won first place in all team competitions, and in the individual - gold in the Juniors all three first places in the Seniors, gold in the Young Riders and silver and bronze in the Children's class - I am extremely proud of all my riders! They all gave their best and rode well. The team was very united, supporting each other wherever needed. I want to congratulate all participants. It was a great event!" she concluded.
Related Links
Scores: 2016 Balkan Games
Greeks Back on Golden Form at 2014 Balkan Dressage Championships
Greek Riders Claim Lion's Share of Medals at 2012 Balkan Dressage Championships
Double Gold for Greece and Turkey, but Romanio's Alexandrescu Secures Senior Title
Greek Riders Dominate But Romania's Alexandrescou Takes Individual Gold
Angela Sklavounos, Overcoming Dyslexia with Dressage