2022 British Dressage Championships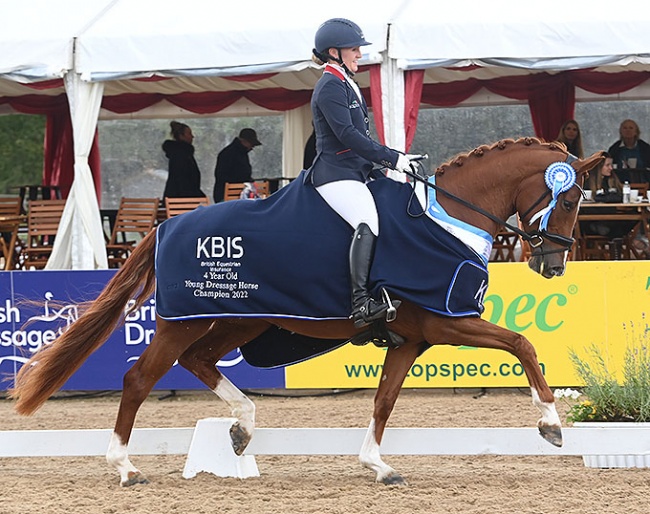 The 4-year old MSJ Viva Dannebrog, the 5-yer old Iceland Girl PS, the 6-year old Full Moon II, and the 7-year old MSJ Encore became the champions in their respective divisions at the 2022 British Young Horse Championships.
The Young Horse Nationals were held during the 2022 British Dressage Championships at Somerford Park on 15 - 18 September 2022.
The 7-year olds competed on Saturday in the 7-year old FEI Finals test (Advanced Medium level) to determine the winner, while the four best 4,5, and 6-year olds went before the panel of David Hunt, Ulf Möller and test rider Leonie Richter on Sunday.  Peter Storr officiated in place of David Hunt for the judging of the five-year-olds.
4-YO: MSJ Viva Dannebrog
The four-year-old finals got underway with four outstanding contenders in Ivicii RMD, Fever Tree, MSJ Viva Dannebrog, and Nightrider.
Test rider Leonie Richter (GER) took time with each horse and carefully considered their attributes before reporting back to fellow judges David Hunt (GBR) and Ulf Möller (GER). The winner for the panel was MSJ Viva Dannebrog, presented by Holly Woodhead and owned and bred by Emma Blundell of Mount St John Equestrian LLP. Ulf Möller summed up the panel's winner after the announcement of the final placings: "It was the rideability that gave us the decision. They were close together, and any could have been a winner, but the rideability made the decision for us.
"She was so with me, but really electric and waiting for every aid," commented Leonie after dismounting from her test ride, praising the chestnut mare's willingness and trainability. "For the rider, she responds so well. She is doing everything really easily, and I really like her."
"I haven't done pure dressage for a very long time," smiled Holly, who is caretaker rider for MSJ Viva Dannebrog (by Vitalis x Don Schufro)  while sister Amy Woodhead awaits the arrival of her first child any time now. "I last did it when we were in Ponies – that was a long time ago. I'm ever so grateful for one, my sister being pregnant so I get the ride, and two, to Emma [Blundell] for allowing me to ride these amazing mares.
"I've ridden her (MSJ Viva Dannebrog) for the whole of this year now. When I first rode her, she was petrified of everything, but she's amazing – I'm really proud of her. I've been spending the majority of my time getting to know her. We've been jumping and we do a lot of cantering around the field. I think that being a 'normal' horse has brought out the best in her.
"She's very on side, and she wants to please," continued Holly. "She will never give up, she just gives and she gives, and that's why I haven't overdone it with her this year. To hear the judges' comments means a lot, because I like the horses to feel good in themselves. I like them easy enough, so they are always with you, but happy with their work - I think that is so important. I was also in awe of Leonie riding her."
Second place was awarded to Mark Forrest and the talented British-bred black gelding Ivicii RMD (by Ibiza x Don Schufro), owned and bred by Rosie Moreton-Deakin. Carl Hester, watching on from the commentary box alongside the Radio Nationals duo of Kim Ratcliffe and John Bowen, remarked on how short-coupled the horse is, with the hind legs already in the right place.
At the start of the test ride, it started to rain heavily, and the horse became a little unsettled. "He was a little confused, but towards the end of the ride, he was good," commented Leonie. "He's a lovely horse, a hot horse, a really nice horse."
Nightrider (by Secret x Sandreo), an impressive Dutch gelding owned by Heather Bryson and Rowan Bryson, and presented by Katie Bailey, was awarded third place. Leonie was impressed with the horse's ability to concentrate and focus on his rider. She also explained that he feels very safe, but that you don't feel that you have to push him.
Fourth place was awarded to Fever Tree (by Foundation x Dayano), a super gelding bred by David Stone and owned and presented by Dannie Morgan. Carl Hester was impressed with the horse's biomechanics, and Leonie found him 'much fun to ride'. "There was a little tension at the start of the test ride; however, he relaxed, allowed me to put my leg on and gave me a great feeling in the end." 
5-YO: Iceland Girl PS
The middle group of young talents were five-year-olds Iceland Girl PS, Hawtins Sarocco, Magic Dream, and My Pride.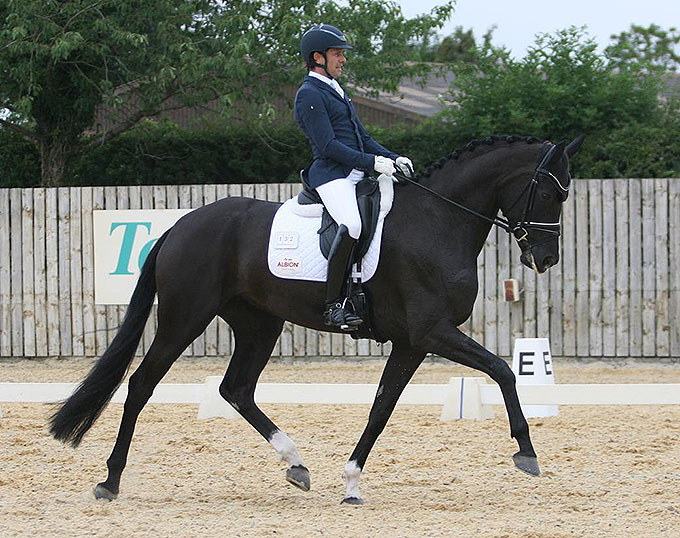 The winner for the panel, comprising Peter Storr, Ulf Möller and Leonie Richter, was Deborah Cunningham's beautiful black mare Iceland Girl PS (by Ierland x Londonderry). Bred at Gestüt Lewitz in Germany, and ridden by Tom Goode, head rider for Emile Faurie, the horse has a super uphill tendency and an outstanding canter.
"We like the horse a lot," commented Peter Storr. "She is very impressive - a very nice mare – she is supple, elastic and rhythmic."
"She was really nice to ride," reported Leonie. "I could feel she has a lot of potential for everything. She is easy to collect, and, in the canter, she gives the feeling that you could ride a pirouette now. The trot is great too and she really tries her best."
"She's owned by Deborah Cunningham, and we've had her a year," said Tom. "She came to us a week before the Nationals last year. We fell in love with her as soon as we saw her when we tried her in Germany. She has a good brain, she loves to show off, and she's so easy to train at home. It's inbuilt in her. Everything you ask of her, she just does it really naturally and gives an amazing feeling.
"She shows all the attributes to make a really top Grand Prix horse," concluded Tom. "She finds the collection really easy, and she just has so much power and athleticism."
Judith Davis's Hawtins Sarocco (by Sezuan x Belissimo M) made an impression for second place. The elegant dark bay gelding, working in a lovely frame, showed his undoubted potential with Hawtins Stud rider Lucinda Elliott and also under Leonie Richter.
Jo Cooper's chestnut mare Magic Dream (by Governor x Swarovski), ridden by Becky Moody, took third place. "I really liked the horse," commented Leonie. "She was lovely to ride. First, she was a little strong in the contact, but it became much better. I felt that she wants to try for the rider."
Fourth place was awarded to Elite Dressage's Dutch-bred bay gelding My Pride (Toto Jr x Dayano). "I really like this type of horse," said Leonie. "He needs to learn to swing more through the body in the trot, however, the walk and canter both give a good feeling."  
6-YO: Full Moon II
The final group of horses to come forward for judging on Sunday were six-year-olds Full Moon II, Forest Hill, Total Impact II, and MSJ Gold Standard.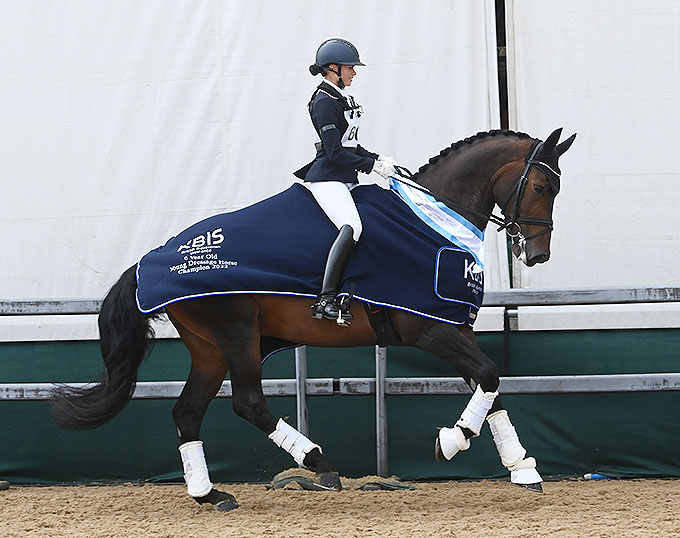 All four showed much potential, but it was Ursula Bechtolsheimer and Laura Tomlinson's Full Moon II who was declared champion.
David Hunt remarked on how all four horses were impressive, well-matched, and all in good self-carriage. Ulf Möller pointed out the big influence of the stallion Fürstenball on the breeding of all four horses in the arena, citing the rideability that he gives to his offspring.
Ursula Bechtolsheimer and Laura Tomlinson's Full Moon II (by Fürstenball x Gribaldi), bred by the late Dr Wilfried Bechtolsheimer, was the first horse to come forward for the test ride, after which, Leonie praised the way the horse has been produced; "I'm really happy, he's a well-trained horse, and I have a really good feeling in all three gaits." David Hunt commented on what a well-balanced, elegant horse he is, with good swing in the trot.
"Today, I was really pleased with him," said Sarah. "I feel that every time I get on that horse, I am super-pleased with him! He gave a really good feeling in there, and I'm just really pleased that the test rider also had a super feeling and could feel our correct training, and that he's a talented horse for the future.
About the positive comments from judges, Sarah said; "It is so rewarding, especially when you've ridden the horse since three years old and he's a home-bred. It's rewarding when you feel them develop, particularly when it's a horse that has so much potential and quality. He's just such a joy to ride.
"He's got a very special presence – even in the stable," continued Sarah. "It's impossible to walk by him without him drawing you in. He's just got something very special. He's got a very kind heart and is my boy – I love him.
"He's showing already great potential for the canter pirouettes, the changes and lateral work. He's also showing huge quality in collection, but we're also taking our time with him as he's such a big horse. We just want to give him the time to develop correctly."
Another to impress was Emile Faurie's Total Impact II (by Top Gear x Foundation), ridden by Christian Lovell into second place. The rain started to fall at the beginning of the test ride, resulting in a small misunderstanding between horse and rider. "That that is absolutely acceptable," commented Ulf. "We want sensitive horses, so we have to accept sensitive horses."
"He has a lot of potential for the future in the trot and canter," said Leonie after dismounting. "He's sensitive, but in the end, he was with me, and I could feel the potential."
Forest Hill (by Fürsten-look x United), who followed ridden by Lara Butler, was awarded third place. The bay gelding, another bred by the late Dr Wilfried Bechtolsheimer, is a lovely type with a lot of natural swing and energy. "He is a really well-trained horse," commented Leonie. "He is comfortable and gave a really nice feeling."
Holly Woodhead presented chestnut mare MSJ Gold Standard (by Governor x Fürstenball) to take fourth place. Bred and owned by Emma Blundell of Mount St John Stud, the mare allowed Leonie to 'access' her straight away. "It speaks for the training that the horse allows the rider in straight away," commented Ulf, "and the horse developed even more cadence and freedom after the canter."  
7-YO: MSJ Encore
In the seven year old class Nicky Hannam's MSJ Encore (by Escolar x  Caprimond) topped the podium, ridden by Michael Eilberg.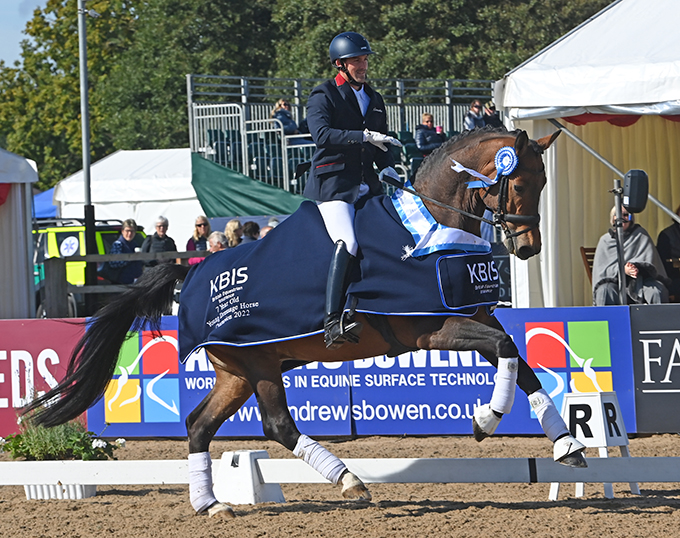 "I've had him since a foal, he's always been a cool dude and is such a lovely character," Michael fondly told us about the gelding known at home as Eric who earned a 78.90% awarded by judges David Hunt, Ulf Moller and Judy Harvey.  
"He's so very trainable. He finished second here last year in the six year old so it's nice to come back and win as a seven year old, a real bonus." Michael has been busy over the last few days with many rides here under his name, but this is his first win at the LeMieux National Championships. 
The pair showed off to the crowd in the earlier Saturday morning where the sun was shining at Somerford, "he had really consistent marks today, he was in the eights for all his gaits. He's got a bit of a special canter and a lovely trot to ride and he walked especially well today. Everything was really good in there today." 
The Young Horse Classes are a great experience for all abilities of horse at this age and it's great to see a partnership like this succeed. "I'll keep training him and like all the others, just see how far we go, he's got the brain for it," Michael told us. "He's such a lovely character and he really tries to understand everything you try to teach him. I always find myself coming out of the ring with a smile on my face with this one." 
It was an over 70% podium with Robert Barker and Herbstrot (by All Inclusive x Herbstonne) awarded second place with 75.84% alongside Charlotte Dicker and Catherston Timeless (by Timolin x Breitling) who went home in third on 73.95%. 
Results - 2022 British Young Horse Championships
4-year olds
1. Holly Woodhead  - MSJ Viva Dannebrog (by Vitalis x Don Schufro )
(2. Mark Forrest  -  Ivicii RMD (by Ibiza x Don Schufro)
(3. Katie Bailey  - Nightrider (by Secret x Sandreo)
4. Dannie Morgan  -  Fever Tree (by Foundation x Dayano)
5-year olds
1. Tom Goode - Iceland Girl PS (by Ierland x Londonderry)
2. Lucinda Elliot - Hawtins Sarocco (by Sezuan x Belissimo M)
3.  Becky Moody - Magic Dream (by Govenor x Swarovski)
4.  Beth Bainbridge - My Pride (by Toto JRN x Dayano)
6-year olds
1. Sarah Rogers  - Full Moon II (by Fürstenball x Gribaldi)
2.  Christian Lovell - Total Impact (by Top Gear x Foundation)
3.  Lara Butler -  Forest Hill (by Fürstenlook x United)
4.  Holly Woodhead - MSJ Gold Standard (by Governor x Furstenball)
7-year olds
Rider - Horse - Trot Walk Canter Submission Perspective Technical -  technical score at E    C ----Total
1. Michael Eilberg - MSJ Encore (by Escolar x Caprimond) - 8.5    8.2    8.6    7.8    8.5 - 83.200 -  74.605 ---- 78.903
2. Robert Barker - Herbstrot (by All Inclusive x Herbstonne) - 8.2    8.2    7.5    7.8    7.5 - 78.400 -  73.289 ---- 75.845
3. Charlotte Dicker - Catherston Timeless (by Timolin x Breitling) - 8    7.5    7.4    7.5    7.5 - 75.800 - 72.105 ---- 73.953
4. Jezz Palmer - King IV (by Governor x Johnson) - 8.5    7.5    8.5    6.8    8.0 - 78.600 - 68.684 -  73.642
5. Alex Baker - BKS Furst Encore (by Furstenball x Rubin Royal) - 7.8    8.5    7.6    7.5    7.8 - 78.400 -  67.500 ---- 72.950
6. Tom Goode - Furstenrausch PS (by Furstenball x Festrausch) - 8.2    5.0    8.8    8.0    7.0 - 74.000 -  69.605 ---- 71.803
7. Jezz Palmer - Ketcher B (by Negro x Stedinger) - 6.7    7.8    6.7    6.8    7 - 70.000 -  67.237 ---- 68.619
8. Alejandro Farina - Warjag WD (by Walchensee x Raissa) - 7    7.4    7    7    7        2 - 66.800 -  65.921 ---- 66.361
9. Louise Bell - Zinkwasi (by Blue Hors zack x Wesuvio) - 7.5    5.8    7.2    6.8    7-  68.600 -  63.289 ---- 65.945
10 . Kirsten Mayne - Waverley Dancing in the Dark (by Danciano x Rhodiamant) - 7.4    7.5    7.4    5.0    7.2 - 69.000 - 56.842 ---- 62.921
11. Stephanie Wood - WGS Kapri (by Dream Boy x Don Graphit) - 6.5    5.5    6.5    6.5    6.5 - 63.000 - 59.868 ---- 61.434
Related Links
Mon Amour, Tiger, Swanmore Dantina Win 2021 British Young Horse Championships
Mount St. John Diamonds are Forever, Waverley Fellini, High Hoes Estelle, MSJ Dante Win 2020 British Young Horse Championships
Special Diva, Hawtins Lirica, Freeman Win 2019 British Young Horse Championships
Hawtins Lirica, Izonik, Hawtins San Floriana Win 2018 British Young Horse Championships
Waverley Dante, Hawtins San Floriana, Mount St. John VIP Win 2017 British Young Horse Championships
Hawtins San Floriana, Mount St. John VIP, San Marco Win 2016 British Young Horse Championships
Hawtins Duchessa and Florentina Win 2015 British Young Horse Championships
FJ Veyron and River Rise Escarla Win 2014 British Young Horse Championships
Eldorado and Romanno Stromboli Win 2013 British Young Horse Championships
Romano Ruinart, Zolansky, Royal Concert Win 2009 British Shearwater Young Horse Championship
2007 British Dressage Young Horse & Breeding Championships
KBIS Takes over Sponsorship from Shearwater to support British Young Equine Stars