F.O.C.U.S.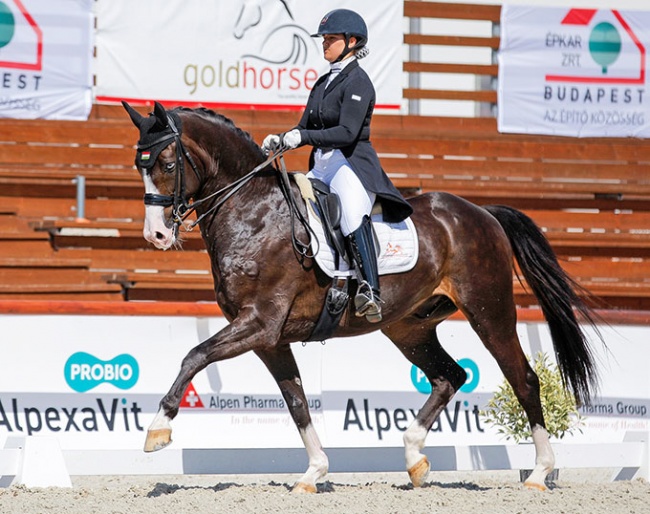 Hungarian Jazmin Yom Tov qualified two horses for the 2022 European Under 25 Championships in Pilisjaszfalu (HUN) next week and has decided to pilot her heart-horse Foy Joy. He is the first horse she has trained up to Grand Prix level herself. 
The 2022 European Under 25 Championships are taking place on 24 - 28 August 2022 and are hosted at her father's yard Stable Unikornis on the outskirts of the capital Budapesst. 
Jazmin will be competing at her eighth (!) European Youth Championships in her career and her fifth (!) at Under 25 level, having represented Hungary non-stop at U25 level since 2018 when she was 16. 
The now 20-year old Yom Tov is making the most out of her time as a youth rider and is a clear example of a young professional who has come through the system, gaining experience the competition arena from ponies to Grand Prix. 
Discovered in Germany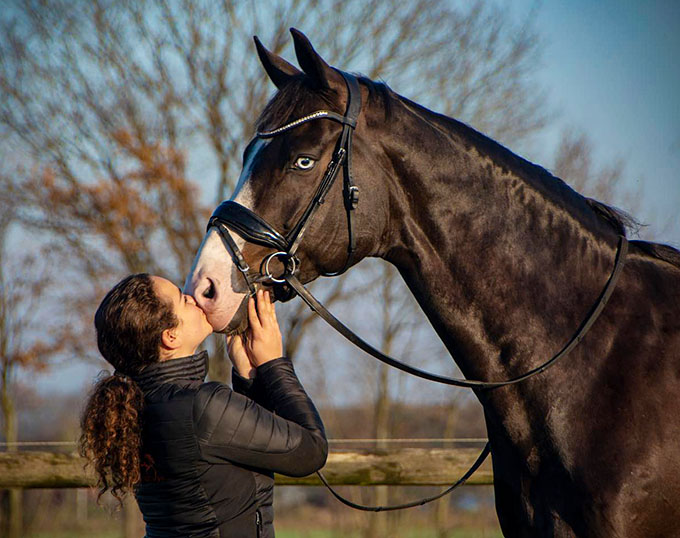 Her Grand Prix rides in the past were schoolmaster Hexagon's Zodinde and more recently Hexagon's Grandville, but in 2022 she focused on Foy Joy, a 9-year old Westfalian by Feedback x Donnerbube II, which her father discovered as a 3-year old in Germany and bought untested. 
"My father brought two horses to Holland and I tried both of them, but I clearly remember the feeling when I first trotted For Joy," Jazmin reminisced. "I looked in the mirror and felt "yes, this is it"! I never had that feeling, it was definitely love at first sight. It's not difficult when you look in his beautiful blue eye."
The striking dark bay with big blaze and blue eye became the charmer of Jazmin's gang. Nicknamed George, the gelding had his quirks at the start but he soon gelled with his young rider, who is based in The Netherlands at stable Sport Pro Horses in Uden. 
"He was not the easiest young horse," said Jazmin. "However he is so smart and willing. He is also the first horse I rode from a young age, so we grew together. He loved people from the first moment, he trusted me with every single thing we did."
From Ermelo to Budapest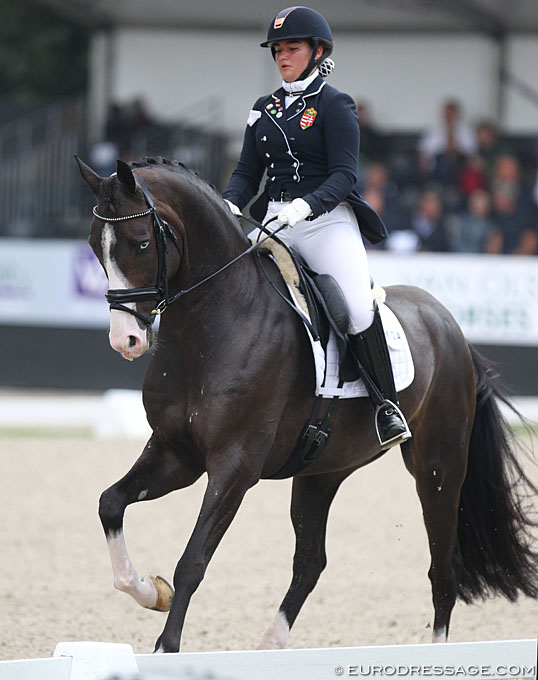 Jazmin and For Joy made their international show debut in the 5-year old classes at the 2018 CDI Wiener Neustadt and in the summer captured the Hungarian Young Horse Champion's title. A year later they were selected to represent Hungary at the 2019 World Young Horse Championships in Ermelo, where they scored 77.200 in the consolation finals, a valiant achievement for such a young duo. 
"The World Young Horse Championship was a big dream I never thought I could get to," Jazmin admitted. "I felt so intimidated, but in a good way, because I was surrounded by so many amazing riders that I look up to. I was only 17 at the time so I definitely felt like I was living a dream."
They rounded out 2019 with their second Hungarian Young Horse Champion's title. In 2020 Jazmin and the 7-year old For Joy moved to small tour level and campaigned in the Young Riders division. The young horse was only lightly competed with one CDI start that year, followed by only one start in 2021.
In 2022 they moved up to Under 25 level with their CDI debut in Lier, Belgium, followed by a start in Opglabbeek to clinch the selection for the 2022 European Under 25 Championships next week.
The Road to Grand Prix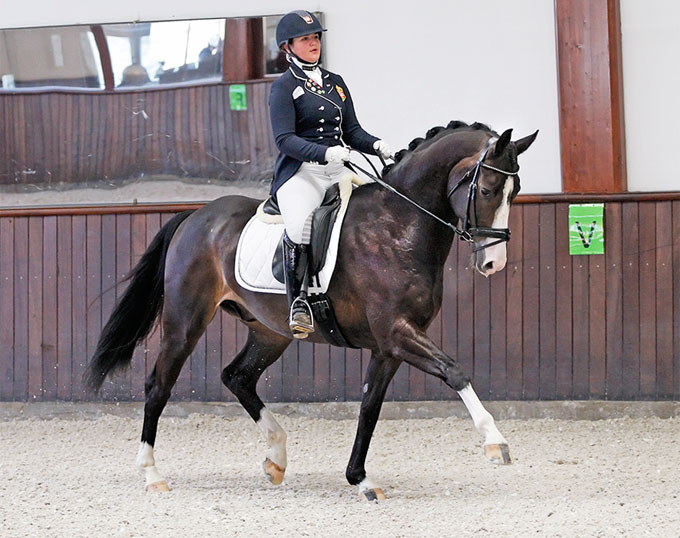 Having competed three made Grand Prix horses in the past - Sierappel, Zodinde, and Grandville - Jazmin produced For Joy up the levels herself under the watchful eyes of her trainer, Sjef Janssen. 
"We achieved to get to Grand Prix level, the two of us. He was always so willing. Every time I thought 'okay maybe we can try this,' he just did it," Jazmin explained. "Then I thought, okay now maybe we try that, and he just did that too. He loves to learn and loves to please. We work as a team. I feel that he wants to work with me and improve together, and I thank him for that every singe day."
The pair confirmed their readiness in July when they won the 2022 Hungarian Under 25 Championships in Budapest. 
"He improved so much over the last months He scored 70.8% in the inter II, 70% in the short Grand Prix, and 75,250 %in the freestyle . I was crazy proud of him, especially because we did this whole journey together, him and I, from the beginning until the Grand Prix," said Jazmin. "I think it's a lot of riders dream to make a Grand Prix horse and I'm so grateful to him, that he made it possible for me."
Ready for the Euros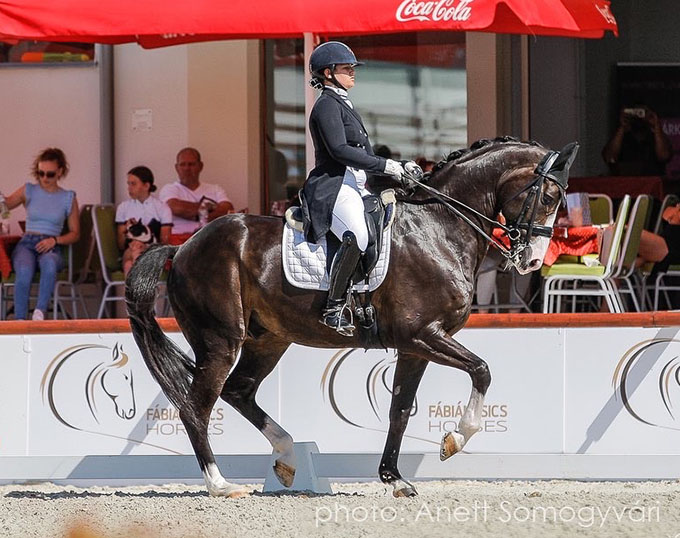 Instead of her partner at last year's European U25 Championships, Grandville, with whom she also won the 2022 Hungarian Senior Grand Prix Champion's title, Yom Tov has chosen  For Joy for the 2022 Euros. 
"I am aware that it is a risk taking For Joy as it will only be his fifth ever U25 competition, but he is such an elegant, super horse, I thought he deserves the chance to represent Hungary this year," said Jazmin. 
The combination has begun the journey from Holland to Hungary after a final preparation with her coach.
"We are working with Sjef to make everything precise, letter to letter and smooth going," she said. "For the freestyle I will use the one of Zodinde which lays close to my heart. I rode it two years ago at the 2020 European Championship in Hungary and it fits For Joy like a glove. It's a difficult freestyle and it shows his highlights. It would be so much fun to ride it with him and show the best we can."
Photos © Astrid Appels - Anett Somogyvári - Lindi Janssen
Related Links
Major, Czerna, Felvinczi, Ambach, Yom Tov Win 2022 Hungarian Dressage Championships
Jazmin Yom Tov Takes Over Hexagon's Grandville, European U25 Championships Next
Malaczkov, Felvinczi, Ambach, Szokola, Yom Tov Win 2021 Hungarian Dressage Championships
First Look, Francois, For Joy, Vivaldo's Sun Win 2019 Hungarian Young Horse Championships
Francois, For Joy, Jamiroquai Win 2018 Hungarian Young Horse Championships