World Championships Dressage - A Look Back in History
- Text © by Anne-Grete Jensen for Eurodressage
The World Championship competitions in 1986 was the last World Championship competition in which dressage was the only discipline. That meant that the whole focus was on dressage. The venue was a wonderful farm in Cedar Valley, Canada, owned by the Pracht family. The riders all stayed in a big hotel in Toronto, Inn on the Park. The Danish team had two Audi cars that the organizer allowed us to use between Toronto and the show ground, there were no shuttle service driver so we had to rely on ourselves to drive, but it all went very well once we got used to Canadian driving rules, for example not having to stop for red light if we wanted to make a right turn.
We went of course to the show ground and rode the horses every day and there was intense focus on my preparation of Marzog all the time and everything was filmed on video by a professional video company. It must have been one of the most boring videos on Marzog ever, seeing us training. I never did many movements. I knew that he could do all the exercises and that would not be a problem so I focused on keeping him through over the back, engaged from behind and subtle. The training video was on sale but I can hardly think it was a sales success.   
We experienced all kinds of weather, mostly sunny and hot, but also with a heavy thunderstorm which caused the arenas to flood and all tents and judging huts were flying around. Fortunately it was during the night before the Grand Prix and Hermann Duckek and his team could get everything fixed so that conditions were top after a small delay on the first day of competition.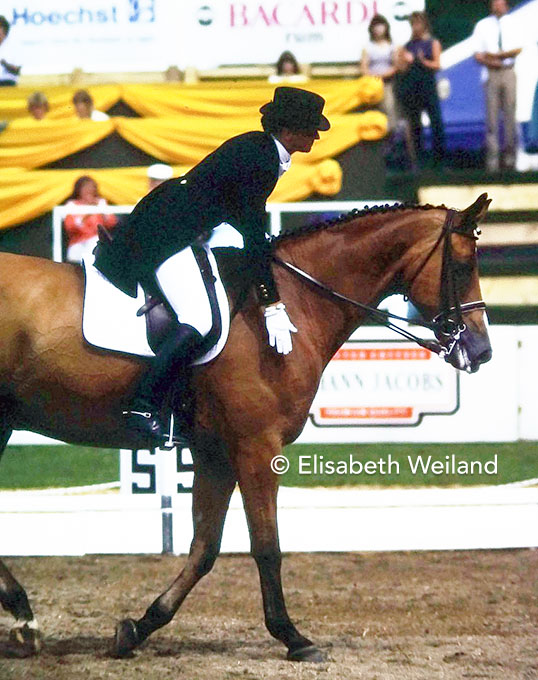 Marzog had been winning everything that year, World Cup Final and the CDIO in Lausanne and he was among the favourites to win even if all the best dressage riders were in the starting field. I also knew that it would be the last chance to win a World Championship title with that horse, since he would be too old next time there would be another World Championships. It gave me an extra energy and focus and I was determined to do my very best.
Competition was close with Christine Stückelberger, Johan Hinnemann, Dr. Reiner Klimke, Cindy Ishoy, and Margit Otto Crepin in the lineup. I remember clearly the feeling when I rode up the centerline in the Grand Prix Special, thinking "it is now or never". Marzog was a friend and he gave me a very good ride and I could top his career with this World Championship title.
The celebration in Toronto was not easy, because all restaurants were closed Sunday evenings. Finally we found a Chinese restaurant that opened specially for us and gave us, the Danish Team, and supporters a fantastic evening.
Coming back to Denmark we were received at the airport by lots of friends and fans and we were invited to a big celebration party at the Tuborg brewery.
Photos © Elisabeth Weiland / Jorgen Olsen - No reproduction without written permission/payment 
Related Links - World Championships Series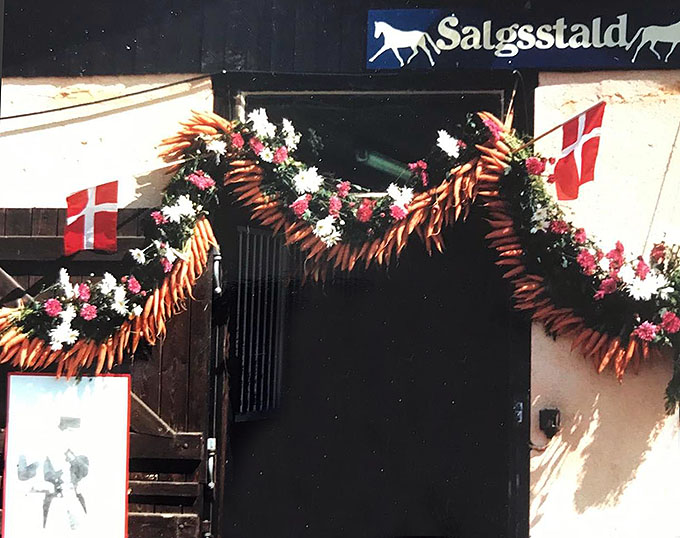 1986 World Championships Cedar Valley - Marzog Reconfirms Supremacy
1982 World Championships Lausanne — Again Dr. Reiner Klimke
1982 World Championships Lausanne Through the Eyes of Nicky Kelly and Claudia Rosner
1978 World Championships in Goodwood - Dressage in the Park
1978 World Championships Goodwood Through the Eyes of Christine Stuckelberger
1974 World Championships in Copenhagen: The Most Picturesque World Championships
World Championships Copenhagen 1974 Through The Eyes of Ruth Klimke
1970 World Championships in Aachen: Soviet Union Defeats Germany
World Championships Aachen 1970 Through The Eyes Of Ulla Hakanson
Finally Official - The First Dressage World Championships 1966
World Championships Berne 1966 Through The Eyes Of…