2022 Belgian Young Horse Championships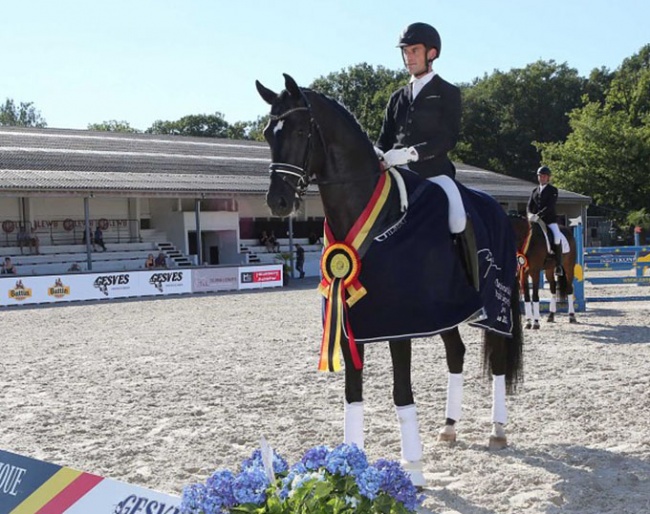 The 4-year old Nacho, the 5-year old Eros Krack van het Klaverhof, the 6-year old Zonik Plus, and the 7-year old Jack Daniels N became the winners of the 2022 Belgian Young Horse Championships held in Gesves on 12 - 15 August 2022. 
All young horses competed in two rounds, a preliminary warm up round and the finals, which counted for the medals. 
4-YO: Nacho
In the 4-year old division Belgian Olympian Larissa Pauluis came home from the 2022 World Championships in Herning, Denmark, to get astride of the 4-year old LWPN bred Nacho (by Secret x Tango), the newest acquisition of Belgian Grand Prix rider Alexa Fairchild. The chestnut gelding who was previously shown by Saskia van Es, in The Netherlands, won the 4-year old final with 89.100 and kept all competition far at bay.
The silver medal went to Grand Prix rider Isabel Cool aboard the KWPN bred stallion Netallic (by Franklin x Jazz), who judges Saleh, Bouvy, Leyman and Van Biervliet ranked second with 85.000%. The bronze was for Aure Spleeters on Baton-Huwart's KWPN bred New Diamond (by Daily Diamond x Apache). Trained by Stefan van Ingelgem, Spleeters piloted New Diamond to an 84.20% score, edging out Belgian U25 team rider Suraya Hendrikx on Sacramento van het Bloemenhof (b y Secret x Quaterback). 
5-YO: Eros Krack van het Klaverhof
In the 5-year old division, Belgian Rio Olympic individual rider Jorinde Verwimp steered her own Oldenburg registered and Belgian bred Eros Krack van het Klaverhof (by Easy Game x Veneziano) to the gold medal after posting a winning score of 83.200%. Eros Krack van het Klaverhof is bred by Nicole Vercalsteren, who has produced numerous decorated mares and stallions for the Oldenburg breed. The formerly licensed and internationally competed Ampere Krack (aka Ampere's Diamond) is from her breeding programme. 
The Luxembourg based Belgian Jerome Schneiders finished in silver medal position with the Oldenburg mare Escada (by Escolar x Furst Romancier) on a score of 82.600%. Lore Vandenborne, who made her Grand Prix senior team debut at the 2022 World Championships in Herning just a few days before Gesves, is proving that she can also train and compete young horses. She scored bronze aboard Rudi Hendrikx' BWP bred Reliv van 't Amaryllishof (by Ferdeaux x D-Day). 
6-YO: Zonik Plus
Justin Verboomen and his own, Portuguese bred Hanoverian stallion Zonik Plus (by Zonik x Hohenstein) were no match to the competition and finished at the top of the board with 85.000% for the gold medal. The pair renewed its title, won last year in the 5-year old division. The AES licensed Zonik Plus was scouted in Portugal as a 2-year old by Verboomen. The stallion is a maternal half brother to Portuguese youth team horse Fidelio Plus (by Fidertanz), who represented Portugal internationally with four different riders: Nuno Chaves, Mateus Abecassis, and Sebastiao Lucas Lopes. 
Belgian young horse routinier Nick van Laer rode his own KWPN bred gelding Ludo B (by Glamourdale x Krack C) to silver on an 80.20% score. Van Laer trains with Jan Bemelmans. Belgian Under 25 team rider Laura Luyten scored bronze aboard her home bred KWPN gelding Lotus Elan J2L (by Ferdeaux x San Remo) with a score of 77.000%
7-YO: Jack Daniels N
In the 7-year old division Nick van Laer navigated his long-time equine partner Jack Daniels N (by Apache x Welt Hit II) to the title and gold medal with 77.379%. Bred by Jean van Laer, the SBS registered stallion was also the Belgian Young Horse champion in 2019 as a 5-year old. The pair has represented Belgium at the 2021 World Young Horse Championships in Verden and are set to return to the WCYh in Ermelo in September. 
Former Belgian young rider team member Tahnee Waelkens and their home bred KWPN gelding Kumami AQQ (by Fidertanz x Riant) was very closely on Van Laer's heels and missed the gold by a hair's breadth with 77.343%. Jorinde Verwimp and her father Wim's home bred Zangersheide registered New Berry Z (by Negro x Weltmeyer II) were good for bronze on 75.172%.
Results - 2022 Belgian Young Horse Championships
4-year olds
1 Larissa Pauluis - Nacho (by Secret / Tango) - 89.100%
2 Isabel Cool - Netallic (by Franklin / Jazz) - 85.000%
3 Aure Spleeters - New Diamond (by Daily Diamond / Apache) - 84.200%
4 Suraya Hendrikx- Sacramento vh Bloemenhof (by Secret / Quaterback) - 84.000%
5 Pauline Leclercq -  Magellan (by First-Step Valentin / Lord Leatherdale) - 83.600%
6 Nils Debo  -  Infinity de Fascyne (by Don Martillo / Sir Donnerhall) - 81.200%
7 Louise Mourlon Beernaert  -  Next Level (by escolar / ferro) - 80.800%
8 Nils Debo -  Dalma Sia Ballante (by Secret / Diamond Hit) - 80.400%
9 Ruut Pasgang - Virano (by Vitalis / Don Romantic) - 79.200%
10 Tahnee Waelkens -  Souplesse HTC (by Foundation / Florencio ) - 76.000%
5-year olds
Jorinde Verwimp  - Eros Krack v/h Klaverhof (by Easy Game / Veneziano) - 83.200%
2. Jerome Schneiders  -  Escada (by Escolar / Fürst Romacier) - 82.600%
3. Lore Vandeborne  - Reliv Van 't Amaryllishof (by Ferdeaux / D-Day) - 81.400%
4 Amber Heidbuchel - Rianta Van De Kempenhoeve (by Indian Rock / Quarterback) - 79.600%
5 Lore Vandeborne  - Remember Me Van De Hondsbossen (by Quanto Curo v/h Bloemenhof / Horatio) - 79.200%
6 Claudia Dorpmans  -  Fritz-Mann. (by Florencio 1 / Furst romancier) - 78.400%
7 Pieter Foets  -  Romina v/h Kolisbos (by Glamourdale / Camus) - 71.400%
8 Margaux Nicolay  - Mister President (by Franklin / Painted Black) - 70.400%
9 Aurelie Missinne  - Vintage (by Vitalis / De Niro) - 67.000%
10 Laurent Paquot  - Full Quality (by Le Vivaldi / Fürst Romancier) - 66.700% 
6-year olds
1. Justin Verboomen  -  Zonik Plus (by Zonik / Hohenstein) - 85.000%
2. Nick Van Laer - Ludo B (by Glamourdale / Krack c) - 80.200%
3. Laura Luyten  -  Lotus Elan J2L (by Ferdeaux / San Remo) - 77.000%
4 Jasmijn Den Herder  -  Lumina (by Governor / Ampere) - 76.400%
5 Rob Van Puijenbroek  - Le Premier Begijnhoeve (by Millennium x Tango) - 76.400%
6 Brecht D'Hoore - Let's Go v/d Wolfshoeve (by Go on Top MP / Rousseau) - 75.200%
7 Nick Van Laer - Quintina van kinschot (by Apache / Bon bravour) - 4.800%
8 Birgit Ceuleers  - Queensley B vh Rigelhof (by Dante Weltino / Camus) - 72.800%
9 Nicky Peeters  -  Brixten (by Borsalino / Belissimo M) - 71.400%
10 Nicky Peeters  - Qadance (by Johnson / Florencio ) - 71.200% 
7-year olds
1. Nick Van Laer  - Jack Daniels N (by Apache / Welt Hit II) - 77.379%
2. Tahnee Waelkens  - Kumami ADQ (by Fidertanz / Riant ) - 77.343%
3. Jorinde Verwimp  - New Berry Z (by Negro / Weltmeyer II) - 75.172%
4 Rob Van Puijenbroek - Karma Begijnhoeve (by Desperado / Negro) - 74.458%
5 Larissa Pauluis  -  kheops d 'hathor (by Toto JR / Amsterdam) - 72.808%
6 Linda Meisch  - Patty's Mistake (by De Niro / Tuschinski) - 72.329%
7 Dominique D'Hoore-Van der Horst  - Wolfshoeve's Kenzo (by De Niro / Jazz) - 72.143%
8 Brecht D'Hoore  - Kings-Dream WH (by Everdale / Gribaldi) - 71.458%
9 Klara Hulselmans  - Babette (by Fürsten Look / Sandro Hit ) - 69.586%
10 Aurelie Missinne  - Koko Negro (by Toto Jr / Negro) - 65.607%
Related Links
Rianta van de Kempenhoeve, Zonik Plus, Kumami ADQ, Boateng Win 2021 Belgian Young Horse Championships
Jack Daniels N, Oblix van de Kempenhoeve, Conan di Fonte Abeti, Mac Donovan Win 2019 Belgian Young Horse Championships
San Lora, Irish Coffee, Belaggio, Go on Top Win 2018 Belgian Young Horse Championships
Irish Coffee, Belaggio, Aragon, Kastar Hof ter Zeedycke D Win the 2017 Belgian Young Horse Championships
Belaggio, Genie, Barroso, El Corona Texel Win 2016 Belgian Young Horse Championships
Basali, Die Wette, Dolce N Win 2015 Belgian Young Horse Championships
Quaterdance, El Capone, Double Dutch Win 2014 Belgian Young Horse Championships
El Capone, Dolcherie and Sir Donovan Win 2013 Belgian Young Horse Championships
Roberto Cavalli, Zunora, First Junior Win 2009 Belgian Young Horse Championships
Weltmann, Saros and Rosantica, 2000 Belgian Young Horse Champions
Sentio, Rockefeller and Quavarotti win 1999 Young Dressage Horse Circuit