2017 Belgian Young Horse Championships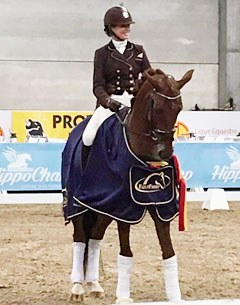 The 4-year old First Step Irish Coffee, the 5-year old Belaggio, the 6-year old Aragon, and the 7-year old Kastar Hof ter Zeedycke D became the winners of the 2017 Belgian Young Horse Championships held in Gesves, Belgium, on 10 - 13 August 2017. These four horses were all the high scorers of the Finals test in their age division.
In the 4-year old category Larissa Pauluis and her own Dutch warmblood First Step Irish Coffee (by Winningmood x Cabochon) were the supreme winners in their division scoring 84.60% in the finals test and leaving all competition far behind them. Nick van Laer and the Dutch warmblood Idool TC (by Bretton Woods x Wolkentanz II) scored the silver with 79.60%, while Tom Franckx and the Westfalian stallion Quanto Curo van het Bloemenhof (by Quotenkonig x Weltino) were good for bronze with 77.40%.
In the 5-year old division German Andrea Muller-Kersten steered the American owned Hanoverian Belaggio (by Belissimo M x Ehrentanz) to his second, consecutive Belgian Young Horse title. The pair scored 86.60 points in the finals and edged out Philippe Jorissen on the Belgian warmblood mare Miss Dior van den Bruel (by Special Agent Amour x Florestan) on 82.60%. German Marco Ulrich and Finaud (by Fidertanz) were good for bronze with 78.00% in the Finals test. 
In the 6-year old category Loranne Livens and the home bred Rhinelander stallion Aragon (by Aaron x Lord Loxley) won the duel with Flore de Winne on the 2015 Belgian Young Horse Champion Basali, a Belissimo M x Weltmeyer offspring. Aragon scored 80.40% in the finals for gold, Basali got 80.20% for the silver. Ine Vandecapelle and the Dutch warmblood Generaal (by Oscar x Negro) grabbed bronze with 76.000%
Belgian Olympian Jorinde Verwimp topped the board in the 7-year old division with the Belgian warmblood Kastar Hof ter Zeedycke D'12 (by Gameboy x Bonheur) on a score of 75.562%. Larissa Pauluis and the German bred stallion Barroso (by Bordeaux x Saros xx) were second with 73.929%. Barroso sold at the 2017 Excellent Dressage Sales two weeks ago, but still seems to be with his rider. Françoise Hologne Joux and Mrs. Niclaus' Portuguese Sport Horse bred Alquazar de Massa (by San Amour x Landim) were good for bronze with 70.214%
Results - 2017 Belgian Young Horse Championships - Gesves
4-year olds
1. Larissa Pauluis - First Step Irish Coffee - 84.60
2. Nick van Laer - Idool TC - 69.60
3. Tom Franckx - Quanto Curo van het Bloemenhof - 77.40
4. Pia Tonniges-Schneiders - Fitzroy - 77.40
5. Flore de Winne - Furstin Floribelle - 76.20
6. Sarah van den Bergh - Don Fredo - 75.00
7. Jan Michiels - Ronaldo - 73.80
8. Eefje Appelmans - Inspire - 69.60
9. Vicky Smits - Islero SW - 69.00
10. Nour Sclachmuylders - Diva de Chapelle - 62.000
5-year olds
1. Andrea Muller-Kersten - Belaggio - 86.60
2. Philippe Jorissen - Miss Dior van den Bruel - 81.60
3. Marco Ulrich - Finaud - 78.00
4. Jerome Schneiders - Blueberry Dream - 76.40
5. Klaartje Dumon - Secret Agent Amour - 74.40
6. Nick van Laer - Golddream van de Kempenhoeve - 74.20
7. Veerle Oostvogels - Just a Gigoloe - 71.20
8. Shana de Ben - Haddonfield VDW - 64.60
9. Maarten Borgheys - Mazarine ter Dolen - 63.80
6-year olds
1. Loranne Livens - Aragon - 80.40
2. Flore de Winne - Basali - 80.20
3. Ine Vandecapelle - Generaal - 76.00
4. Jerome Schneiders - Duncan - 75.80
5. Denis Bervoets - Lars van het Krisoffelhof - 74.00
6. Charlotte Vets - Fahrenheit Biolley - 71.80
7. Mieke Cappon - Laquino - 67.60
8. Tess Rutten - Quando Z - 67.20
9. Nick van Laer - Quinto - 64.80
10. Shawnee Martel - Furst de Niro - 63.60
7-year olds
Related Links
Belaggio, Genie, Barroso, El Corona Texel Win 2016 Belgian Young Horse Championships
Basali, Die Wette, Dolce N Win 2015 Belgian Young Horse Championships
Quaterdance, El Capone, Double Dutch Win 2014 Belgian Young Horse Championships
El Capone, Dolcherie and Sir Donovan Win 2013 Belgian Young Horse Championships
Roberto Cavalli, Zunora, First Junior Win 2009 Belgian Young Horse Championships
Weltmann, Saros and Rosantica, 2000 Belgian Young Horse Champions
Sentio, Rockefeller and Quavarotti win 1999 Young Dressage Horse Circuit